The coat I can't live without
This blog post contains affiliate links which means if you purchase from a link, I may get a very small percentage as a reward.
Back with another classic. This time it's all about the camel coat. As specific as it sound and as much as it would appear a darker coat may be more versatile, trust me when I say a camel coat is one of the most useful things you will buy.
For me - they're the epitome of style. They can elevate plain black, navy, khaki or grey to an outfit that exudes class and elegance. I also (don't laugh) find something serene and calming about it.
BUT it's often a shade that - especially for Winter skin - something people find diffcult and quite unflattering to wear next to the face.
However, in Winter, with jumpers and scarves, so long as there's another shade between the camel and our skin, it's perfectly easy to wear.
I found, last year THE perfect camel coat from Jigsaw. I had hankered for years after a MaxMara teddy coat but apart from the prohibitive for me, price point, I wasn't sure about the new style of them. THEN I found the most ideal coat ever last year.
And I am asked again and again for similar options so - voila - a whole post dedicated to the elusive item.
AND RESULT!
I've found a couple that look almost identical to the Jigsaw one I have.
THIS ONE! It says it's oversized already but if you're tall, I would probably go up another size (I'm 5ft10 for reference).
ASOS DESIGN Oversized brushed coat £75
My tip would be if you like the oversized look to... drum roll.. size up (not rocket science there!) and secondly I took the belt off mine as frankly it just looked like a dressing gown with the belt on.
ASOS DESIGN brushed belted coat £70
And another version at Topshop (from ASOS as it's sold out on the Topshop site).
Topshop Textured Coat £85
This one is double bubble as you get two coats for the price of one. A checked coat (I have them coming up) and a plain camel one. Genius!)
Wool Checked Reversible Overcoat from M&S £129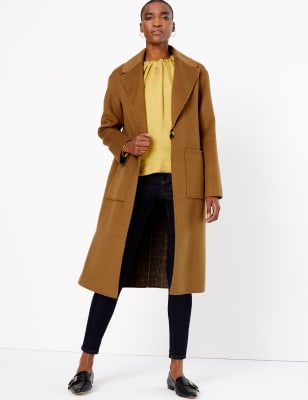 Similar darker shade of camel at Topshop.
Camel Slouchy Coat from Topshop £85
Possibly one of my favourites now from New Look. Hooded jumpers coming soon...
New Look tailored maxi coat £55.99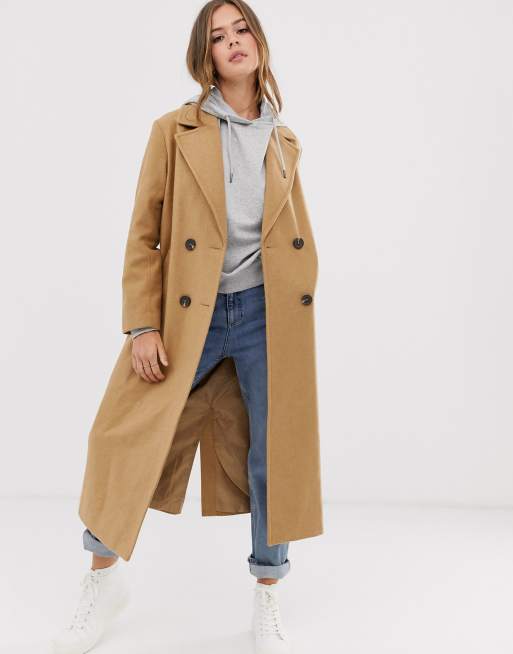 Paler now and single breasted, again at M&S.
Wool Blend Tailored Herringbone Coat £69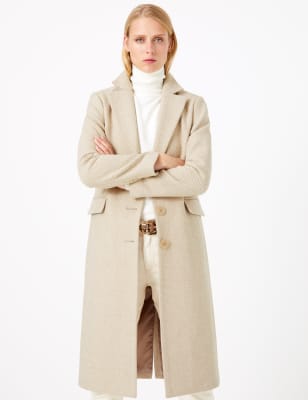 A shorter, darker version, almost like a longline blazer at Warehouse.
Single Breasted Camel Coat £79
And then the camel teddy bear versions.
Faux Fur Coat from Warehouse was £89 now £62.30
Or the classic one from M&S. I would definitely recommend sizing up in this.
Faux Fur Boyfriend Teddy Coat from Autograph at M&S £99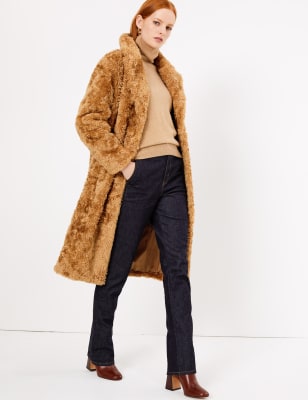 And finally - not a coat coat but one of my favourite fabrics - the double faced version... a BARGAIN at John Lewis.
Winser London Double Faced Coat was £229 now £99
So lots to choose from... but is it your coat of choice this season? If not, what is the colour that you're going to get most wear out of.
Here I am in mine from last year.
Coat - Jigsaw (aw18)
Jeans -Tu at Sainsburys (from paid partnership 2yrs ago)
Boots - Celtic Co (from paid partnership 2yrs ago)
Bag - APC at Coggles (3yrs ago)
Hat - Somerville Scarves (gift 2yrs ago)
Jumper - hush (from paid partnership 4yrs ago)
Glasses - Victoria Beckham (3yrs ago)
I will be back with more coats shortly and fear not, there will be some party wear on the horizon!