Check these babies out
Yes that is rubbish, isn't it? I'M SORRY. But when you come across a whole host of check coats that you just salivate over - well, I need to share them. As I'm typing, I appreciate this is absolutely no excuse for the utterly cringe worthy title, but - well frankly, I'm all out.

Coats that are unashamedly in your face. And that's the whole point. Like me and my pathetic attempt at a witty blog post title, these make NO apology for being out there. For being bold and brash and statement.

Does that mean that they're limiting when it comes to putting them in an outfit? Does it heck as like. You can wear these with everything. As - like I have said one or a million times this season (I'm boring myself..!).. anything goes. The more it clashes, the better an outfit it is.

On the other hand, if this is too much for you right now, then fair enough, it doesn't mean though that you shouldn't consider them. Just pick one of the colours in the check and roll with it. Jeans are a given and select a top or jumper in a tonal or matching colour. And you're off.

I am itiching to get cracking on this one as I have seen a couple which are just blooming amazing and I need to share!

First up - this from New Look.



It's the green in this that I LOVE and think makes it look a lot more expensive than it is.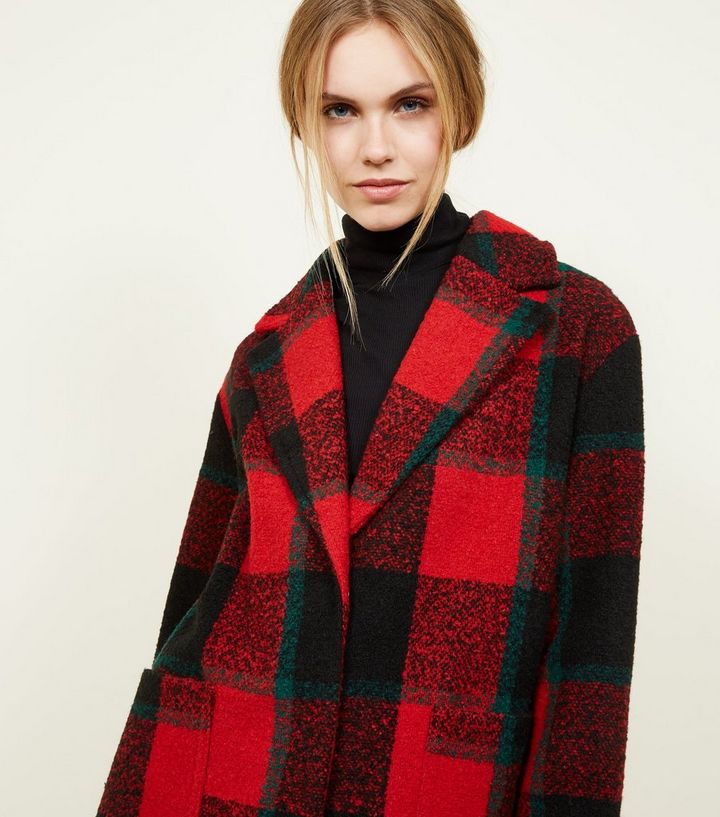 This is verging on coat porn for me.. asking for a friend.. how many would be too many?
Check Coat £95 from Topshop
Brushed Check Coat from Topshop £159
Interesting back detail... although I do sort of struggle to see the point (could I sound more geriatric?). The zip... I assume it's purely decorative as why anyone would need half a coat is totally beyond me.
However this is the one I caved on. I am going to totally admit, I saw this on someone at a Press Day the other week and nearly wept over it - assuming it had cost eleven billionty pounds from somewhere incredibly exclusive. But no. No no no - it was TOPSHOP. I then tried to forget out it. And couldn't. I say this every now and again - there are things you see that you completely fall in love with. That you can't live without.
Shorter now... but they'll still be able to see you coming.
ASOS DESIGN double breasted check coat £85
Shorter double breasted in red - as my versions of check coats go - this is quite subtle!
Double breasted coat from Monki £60
Or then there's a check Teddy version. High five.
ASOS DESIGN
Check Borg Coat £75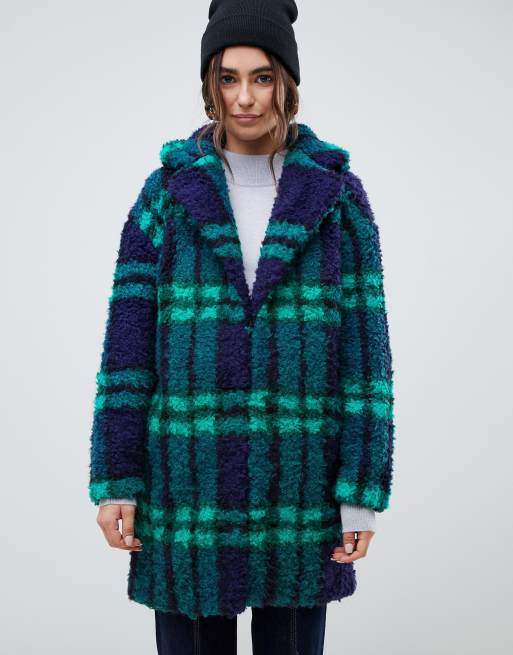 And even BRIGHTER at Monki.
Super soft fluffy coat £65
And then we have a more subtle check. I did buy one of these from M&S earlier in the season which I love - definitely less in your face and more of a tweed vibe than a - some might say - children's TV presenter gig. I have to say, personally I don't have a problem with the latter but I can appreciate it does lack a little sophistication.
Topshop Checked Coat £89
Or in navy.
ASOS DESIGN Rainbow check coat £85
And a much lighter version of a coat in a gingham check. Totally inspired by the pink and red outfit underneath....
Monki Longline Coat £60
And finally I have a coat on that matches the theme!
Alas this is old M&S from September, so is long gone now. Which is a shame as it was a corker but I DID include it in a blog post (not a paid partnership one - I just bought this).
Jumper and Skirt - Rejina Pyo from Label Mix at Next (from paid partnership current)
Boots - ASOS (current)
Coat - M&S (aw18)
Bag - Loewe from Matches (aw17)
This is the outfit that I wore yesterday to go and see Hamilton in London with my three children. If you haven't seen it - Go. There really isn't anything else I can say with regards to explaining how incredibly amazing it is, It is indescribable. Suffice to say I have never seen anything like it - it's genius. It's pure pleasure and joy and JUST FABULOUS. I think I could see it every single night. If you get the opportunity, grab it with both hands and run straight to Victoria - settle down and enjoy the night of your life.
I am now off to make a difficult decision on which coat to buy...!