A whole new look (which works if it's dry)
I'm not going to lie - this is a rubbish winter look if it's raining. Soggy trouser bottoms are no fun. And wide legged trousers (oh yes folks - move over cigarette pants - there's a new trouser in town) need to worn long which equals disaster zone if it's damp outside.

However let's assume that we have days and days of bright, crisp, sunny winter days and these are going to be perfect. I'm embracing my inner Hepburn along with my inner something else and my ideal look for the wide legged trouser would be with a pair of flat sneakers. I would go so far as to say skater shoes, even dragging my New Balance out of the unloved pile and definitely, oh definitely my white leather tennis shoes .

In fact it was this look that I saw at Me+Em that first started me thinking - l could get into this. Really really love it. (to be honest, I'd pretty much wear anything from the entire Me+Em collection. They have my beloved crepe swing "doesn't go in the washing machine so don't love it quite as much as I could" dress back in stock in the black and the most divine blue shade....)

These are the pants which have started my mini obsession. And hopefully a new look. Whilst the boyfriend jeans have made a bit of different, I've been wearing straight leg turned up and skinnies for so long now that a wider leg seems very alien. We're not talking a skinny flare here - we're talking full on wide.

Me+Em tailored man pant in stretch twill tailoring £118 I should point out at this juncture that these are in fact machine washable. Which puts a whole new level of interest on it for me.



And in navy (although I do think they need to be a little bit longer... .in this pic apparently she's 5ft 10 and I think they'd work better on someone with slightly shorter legs.)
In the navy - again £118
Here they are in white in all their glory (not even I could entertain the thought of white for the A/W.... but oh my lord I love this look)
The white ones above are definitely better length wise and I think these below are slightly better from ASOS. Now we know I'm not a big fan of the colour wine generally but stick it next to camel and stop the clocks - this oozes class for me. It's a complete classic whilst being different at the same time (in my head that is - you guys may all think it mings)
Of course, the look is finished with the obligatory white tennis shoes - at this rate there're going to be hauling me out in a box with mine on.
ASOS Wide leg Trousers with piping £38
They also do a navy pair which epitomise the look I love and hit the nail on the head for length. This has Katherine Hepburn written all over it to me. The fact she's wearing a rather fabulous breton top (which I think I may have featured actually - this pic is very very familiar) is neither here nor there.
ASOS wide leg trousers with piping £38 I just think they look so much better (too) long.
A black pair from ASOS - ok now these are too long. Looking like you're gliding around on castors is too long.
Length wise though, if we need different lengths then the two best places for tailored trousers are Next and M&S.
And I think I'm going to have to order these from Next for £20 as they get great reviews online - I can't believe they're going to be super great fabric for that price but I'm willing to give it a go.
Black slouch trousers from Next £20
Black wide legged trousers from Next £28 These with a little turn up look great as well.
I did go and try some on in M&S. However - sorry M&S but you do ask for it - this is what greeted me trouser wise.
This is their rack of trousers that includes - slim leg, wide leg, short, medium and long in sizes 8 to 22. There was this rack and another that looked identical. REALLY M&S? Was your visual merchandiser having the week off? I made the effort to trawl through all of them, I was looking for a 10 long wide leg. Which I did find - HURRAH. It did however nearly cut off all blood circulation to my fandango when I did them up. And was there a wide leg in a 12 long? Was there heck as like. But I will say that if you can get your hands on them, like the culottes, the quality is pretty darn fabulous and you'd never know you can machine wash them.
Wide leg Trousers £35 I simply can't put a photo on of the model wearing them as it is tragic. In fact if you look up the definition of tragic in the dictionary, there should be a pic of the poor model in these trousers (let's just say they're not advertising very well the fact they do them in different lengths) Click on the link for a laugh - I dare you... But believe me please when I say that in the right length, these are great.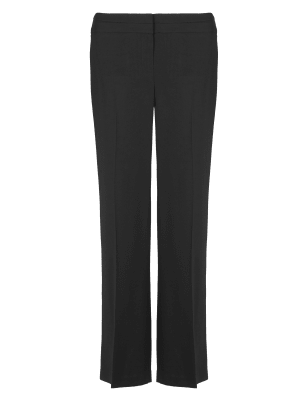 I don't have any (yet...) but in the meantime, I did remember a vintage (they must be vintage - they're 8 years old) pair of Whistles wide leg jeans that I have stashed in my "I may wear them one day" pile at the back of the wardrobe.
Which got me to thinking about wide leg jeans as an option. This is a hard one as really the fabric does need to be quite fluid for a good drape on the leg and denim generally is a much stiffer fabric that you'd like. But a good worn and loved denim fabric could definitely work. As could a chambray.
I'd probably like something a little more structured but I do quite like the look of these.
Weekday Wide leg jeans £45
And here I am in my old Whistles ones which are a thicker fabric than a chambray but a very soft denim. On Sunday - day out with the 10 and 6 yr olds as The Husband took the 8 year old to rugby (smallest had a rugby pass out as there wasn't any training for his age group this week. I could not have been more happy about this news).
Grey tee - H&M
Pink and grey cardigan - Hush
Wide leg jeans - Whistles
White leather tennis shoes - Zara
Tan belt - Primark
Camel bag - Prada
I think I'm going to try them with a blazer tomorrow and see if I can get into the wide leg thing before it starts to pour with rain for the foreseeable future. I may even drag the New Balance out......
Anyone else on the wide leg trouser train?
Lots coming up on the blog - the weather is finally a turning which means we can really get into coats and boots season properly. Gawd, I guess I have to start thinking about practical things. Yawn. It must be done though. And dare I even start to mention the Party season? As I said - I think we might be having a quiet year but that doesn't stop me looking at all things sparkly.