Can you have a wardrobe without blue denim?
A new concept. Which I'm going to try for a week.

So we're away on holiday now and hey ho, I do not have one pair of blue denim jeans or shorts with me.

And here we have a suitcase devoid of blue. Entirely grey, black and white with a tonal colour of khaki. Some coral sequins and a yellow scarf added in for interest. I honestly can't remember the last time I wore warm clothes that didn't include a pair of jeans for any length of time.


Why am I doing this? Well, I did put some blue jeans into the pile and I have to say, I found them a bit jarring. Yes they're a neutral but they somehow made my grey and black look much.... dare I say cheaper... than when I teamed them with each other. Or with khaki.
Clearly I am in the quagmire of revision hell and may well be overthinking this (not to mention spending an entire summer with only a couple of days away from the Aspie 8yr old - we've been trying to teach him various coping mechanisms with his anger. These have mostly involved me drinking......) but I'm looking forward to the challenge.
I often pack - get on hols and think - errr I don't want to wear any of this, but I have much much higher hopes for this time round.
It also got me to thinking how much I completely adore (as I may have mentioned once or 25 times this season) my off white All Saints boyfriend jeans. I love the shape, I love the no muffin factor, I love the slight tapering and I love the straight finish to the hem. I would go for a turn up or roll up but these were too short so I had to unroll them and I think they've really worked.
So can we find other jeans that will take me into the Autumn as well as these off white ones...that aren't blue denim.
It wasn't as easy as I thought.....
But starting with some bargain sale ones from Me+Em (and oh my lord - go and have a look at the remains of their sale. Some amazing, amazing bargains)
Slim Boyfriend jeans in grey from Me+Em were £9 now £25
But I will say, I do prefer a slightly more lived in look for looser jeans.
Waven True Boyfriend Jeans with ripped knees £45 Ok... so yes "lived in", but I am scarred by all mention of ripped knees, I won't lie to you. But I'm figuring that not even mine can do their Les Dawson impression through baggy jeans.... (jeez louise if they do, I'm booking in for surgery)
Some great options at Gap so long as you're not too long in the leg. If you're short in the leg though, then these could definitely be the ones for you as they do them in a petite. But they don't do them in a tall. Slightly peeved to say the least......
1969 authentic boyfriend selvedge jeans in grey were £54.95 now £42.99
The other option is black. Now, yes I would prefer a grey or a charcoal as I am a huge black blazer fan and black on black can be slightly meh. However, on thinking about this for all of five seconds, I have a gazillion other jackets that will go with these so bring on the black denim.
Jake Slim Boyfriend-Fit jeans was £199 now £119 from JBrand
These below are a lot more but honestly (I know this is BONKERS) for designer jeans, these really aren't that expensive. And (as I bang endlessly on as per usual about) cost per wear.... if I wore these as much as I've worn my All Saints ones, these would be definitely worth it. I fear for me, they are slightly on the short side. Inside leg measurement of 28.5cm which is slightly less cropped and more pedal pusher length on me.
Balenciaga Straight Leg jeans £225
At the other end of the spectrum - for £11 it may be worth giving these a go. Yet again not sure they'd be long enough for me (there is only so much flesh you can have on show between the top of your boots and and the bottom of your jeans...) and I'm not sure if they're loose enough - but to be fair, if you size up slightly as they only have even sizes (no 27 for example), you may get the right level of slouch.
ASOS Thea Girlfriend jeans in washed black with shredded knee were £45 now £11 (if it helps, my old Saxby jeans were the same level of bargain a couple of years ago from ASOS in the dregs of the sale. They are THE best jeans and I am constantly asked where they're from. So don't be afraid that they are so reduced and there are so many left!)
I'm sort of assuming that these will be loose enough for my Les Dawson knee not to look like he's wearing a Hannibal Lector style mask with the shredded patch.....
These, are probably the most similar shape actually to my All Saints ones and I'm rather partial to the non turn up/roll up on it as it's just that bit different. A proper crop.
And a ripped knee version again £11 from £38 (and different leg lengths in these)
However I did find in my dressing room under a pile of rubbish coated/now not coated jeans that I need to fling, a pair of old Topshop Baxters. Do NOT confuse these with the Baxters of today. Some 21 yr old numpty in TS has got hold of the old, fantastic, relaxed skinny design of the original Baxters and taken away a third of the fabric and reduced the cut to minge flashing. Do not buy them (unless you want a spray on muffin splaying pair of jeans.)
The old ones rock. And these are the ones I have. I am going to live in these this Autumn *small skip*. However this doesn't help anyone else since you can't get them anymore. But I have found the best alternative.
Me+Em High Rise Slim Straight Jean in Smoke Grey £98
A more reasonable version can be found at M&S.
Relaxed Skinny jeans in medium grey from M&S £25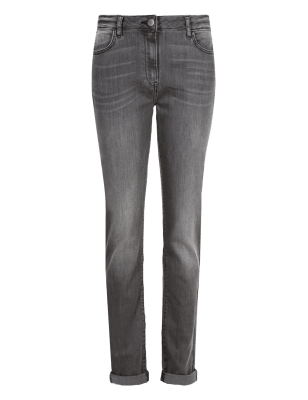 They also do these in a black. I've had a think actually and I reckon if you did one big turn up as opposed to a roll up, these would look a shed load better. Or that could be my personal taste.
In black £25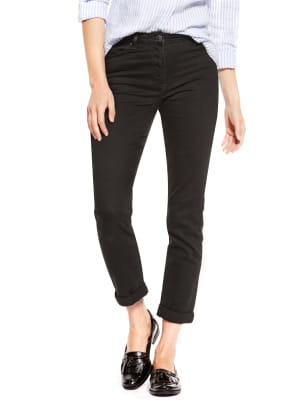 Another version in the sale at Levi's and I love the shade of this grey.
Demi Curve Straight Jeans in Grey from Levi's were £85 now £41.90 But for me, I'd turn them up. As much I love a straight hem now, there are still occasions when a turn up works. Or they'd need to be cropped. I can't be doing with jeans this shape and heels anymore. We're back in soggy hem territory...or slightly dodgy jeans full stop.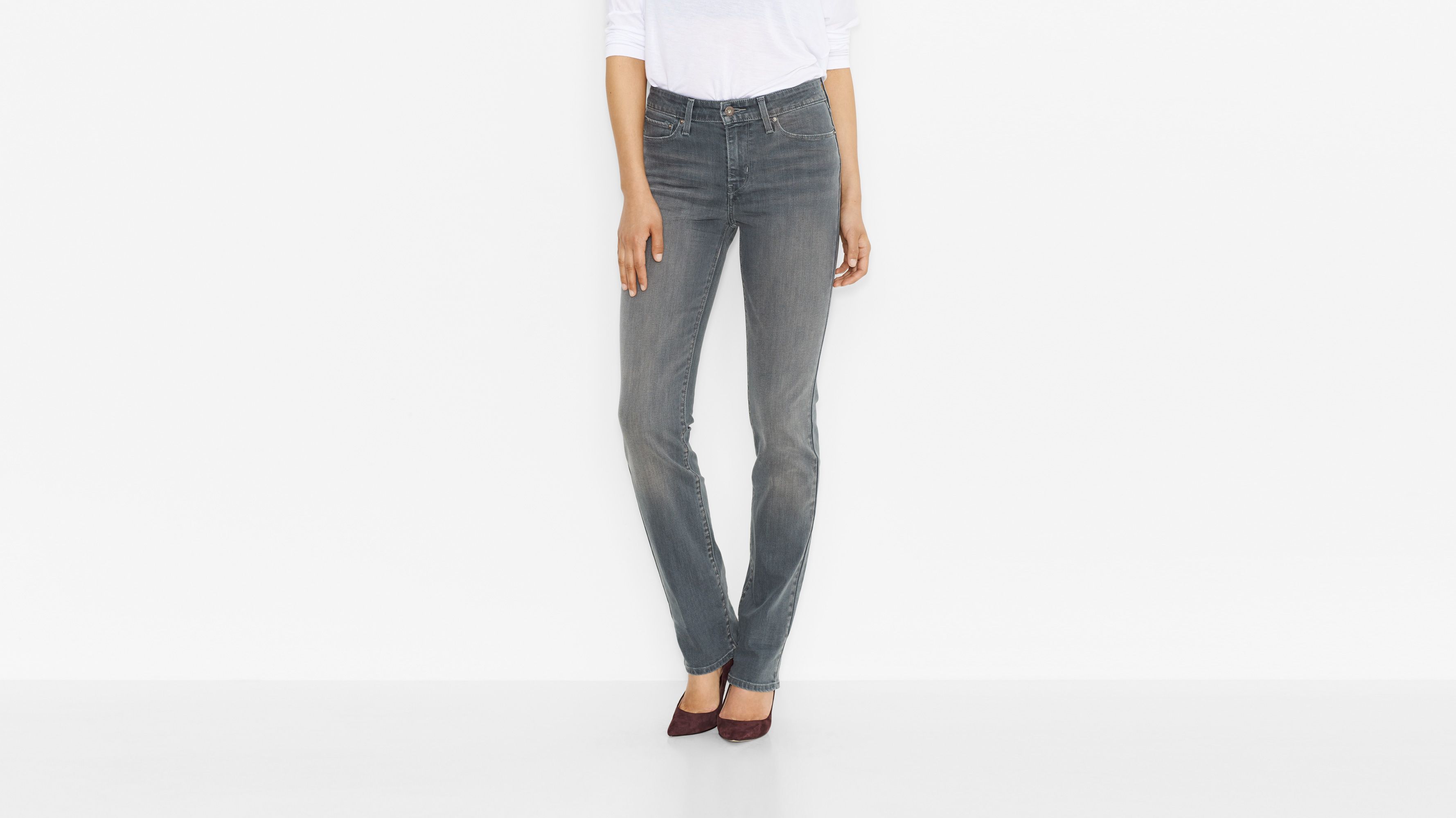 So there aren't as many out there as I had thought there might be but there are enough to have a look at.
Anyone else fancy the no blue jean challenge.... on the upside after a whole week I will no doubt be gagging to wear them again. Or who knows... it may be like sugar. Once you don't have it, you find you don't really miss it. What are your bets on?
So first outfit from the capsule wardrobe and we have arrived on holiday. It's a tad windy and suffice to say I shall in no way shape or form be needing any suncream but it's still milder than I had thought. Let the fun begin.
Cashmere and silk Clem jumper - Needle Boutique
Tie Dye skinny jeans - Sandro
Black blazer - hush
Oversized buckle shoes - Zara
Black Mario bag - Jerome Dreyfuss
So we are now off to buy the 8 and 6 yr olds new snugglies as they forgot theirs. Cue lots and lots of tears last night, bless them, as they couldn't sleep (well they said they couldn't, but after 45 mins on the beach, they were totally shattered and conked out within 5 mins). First thing they reminded me of this morning so off we go a snugglie hunting..... (and coffee for me. GOD I need coffee. Nespresso machine locked in an office that doesn't open till Tuesday. I've said coffee till 2pm and then I'm straight onto the prosecco)