It's making me blue
I would love to say that this is a cryptic post title and I have something infinitely fascinating or poignant to talk about .

Alas. It's actually about blue. And not just one shade of blue - lots of shades of blue. Why on earth would she write about blue, I hear you cry...
To match a skirt I bought. So this is an unbelievably selfish post - it's a journey that I'm dragging you all with me on as I need help. I NEED something to wear with this skirt.
And I know, I know, I've broken my own shopping rule by buying something that I can't actually wear as I don't have a top to go with it . SHAME ON ME. But I can think of a gazillion occasion (ish) when I will wear it, it was in the sale (it's from LaDoubleJ Editions), I have one in red that I have worn and worn and worn ergo the blue one will be just as awesome. Which isn't really legit justification but every now and again you have to buy something because you just love it (DO NOT QUOTE ME ON THIS!).
To make matters worse - I bought it and sent it back. And then bought it again. WHAT?! So that either makes me certifiable (probably) or it means that I love this skirt so much, I have to make it work.
It's my Mother's Day present (to myself as I deserve it and I did ask for a coffee maker which I very much doubt will appear so I'll have to buy it myself).
So here's the skirt.
It's completely marmite. I LOVE it. The 13yr old absolutely hates it. But what do I wear with it??
I'm starting with blouses... THIS. Maybe I can just get this and call off the dogs? It would also look absolutely sublime with jeans. Just saying.
YAS Tall Frill Detail Blouse £36
Then this which I absolutely love. I love the colour and.. oh I just love EVERYTHING about it. Would I be able to shoehorn myself into a Small? The Medium has sold out.
Posh & Skinny Cashmere from Donna Ida £275
In the sale still at Matches - which would be amazing, if... it was in my size and I had any sort of affiliation with horses. Bum.
Horses wool sweater from Bella Freud was £290 now £174
Or there's this one from hush - Love Stack Jumper £79
Moving onto the plain ones (although my heart does belong to a slogan...).
Knitted Sweater from Ganni at The Outnet was £145 now £72 Wrong shade? You can see how this gets confusing...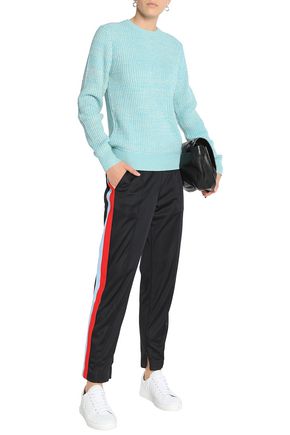 Now THIS is very similar to one I bought the other day instore at H&M for a whopping £15.
Balloon Links Jumper from Topshop £34
Although this one from Topshop I LOVE. Seriously love and think it will sit perfectly over the top of the skirt. Not to mention being just perfect with a pair of jeans and a navy coat.
At Uniqlo from one of their new collaborations.
Uniqlo U Cotton Cashmere Raglan Sleeve Sweater £24.90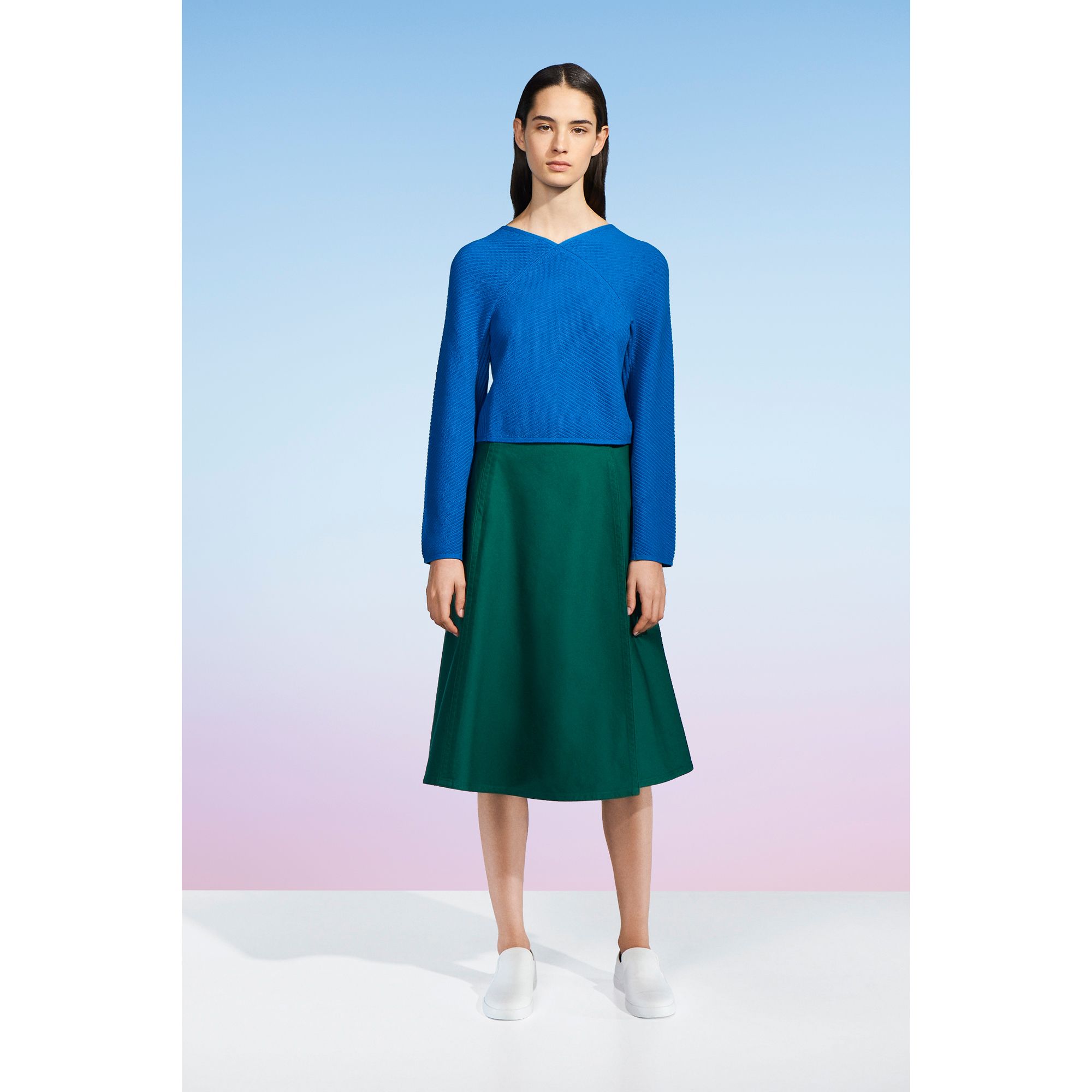 THIS though.. this this this could be perfect as it would be the perfect opportunity to team a navy blazer with it.
Melanie Top from hush in french blue £45
Not to mention this tee.
And Tee from hush £35
But thinking about it and looking at the skirt, I reckon other shades of blue will also go really well.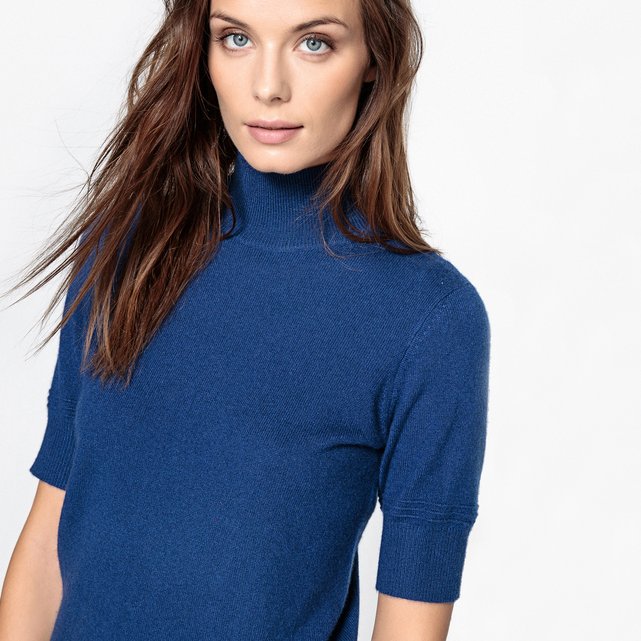 So now I am ALL THE BORED of looking at blue jumpers. I think I just need to order some and try them on - I will report back.
I will also try navy. And then of course there is the ultimate in obvious. WHITE! A white tee and a denim jacket is clearly the most obvious choice ever but until then, I would love a blue jumper to go with the skirt. Still have jacket quandries though... I'm sure I'll work something out.
Out of interest - if navy is your thing, you might like a quick look at this gem.
Intarsia wool and cashmere jumper from Chinti & Parker at The Outnet was £275 now £134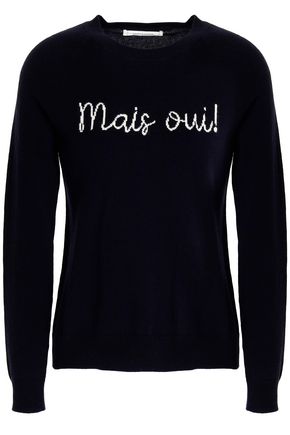 Speaking of navy... Outfit today. And yes I am looking all the peed off as I'd just been to the Post Office (second trip of the day - I first went at 7.45am and they couldn't locate the parcels) at 1.59pm. They shut at 2pm. And had already locked the doors. I did point out it wasn't 2pm yet but apparently it was "by his watch". Not irritating At All....
Navy jacket and trousers - Alexa Chung from M&S (aw16)
Jumper - Wyse London (gift 4yrs ago)
Trainers - Air & Grace (gift ss16)
Bag - Loewe from Matches (current)
Yes I was up and out at 7.45am on a Saturday as we had a football tournament at 8am. EEK. This was after a couple of cocktails last night... And I then went for a 6.5km run which I love doing with others but I have to say - for me, a 30 min run is what I like doing most. This was 10 mins running, stretching, followed by 21 mins, 1 min walking and another 14 mins running. Definitely feel a huge sense of achievement! Penultimate week - next week - full 5km with no stopping. I can't believe it's something I will be able to do without wanting to die but it looks as though I might.
So any suggestions as to what I could wear with the skirt would be very gratefully received. I am thinking that, as it's an elasticated waist, it might not work so well with something tucked in and a tee, jumper or sweat may be preferable. I'm ALL EARS!