When good outfits go bad
Ugh.

This was me last night in my outfit. Note to self. Even if you don't think you want to dress up for a night out and think you'd rather do "cool" than proper party - don't. As you will feel like a massive tit.

I absolutely loathed my outfit. It was our Christmas Party for school - billed as Ball but it's essentially a dinner and dance (how to make yourself feel ancient in three small words...could it sound more like a geriatric night out?). It's a fab party it was it usually is.

And I'll be honest. I wasn't really in the mood. I had organised it so I did feel obliged to go plus I know I would have regretted it if I hadn't done.

But demonstrating a spectacular lack of judgement, I thought I'd just go in something simple. Something comfortable. With maybe some "on trend" (kill me now) boots.. just because. Just because I'm a MORON.

Should probably have realised the dress wasn't the best idea as I'm 99% sure it's the one I'm going to wear to the funeral. What a bell end. Oh. And my hair looked rubbish as well. Not loving it right now but I think that's something to do with my rather random mood than my actual hair... All in all, I just felt horrible. Like nothing worked. Clearly I'd left it till the last minute (as like I said, I didn't really want to go and thought it wouldn't really matter what I wore. That is how not me I was feeling...)

However, normally this would have sent me into a tail spin and I would have huffed home or drunk a ridiculously enormous amount. But (and it's not often I'm proud of myself - which is the least self deprecating thing I've ever said, I apologise) big up me, I thought sod it, not letting it ruin my night. Had a lovely time and I didn't even drink too much which is genuinely one of the first times I can ever remember not doing that (maybe I should dislike what I wear more often - usually I simply do not have an off switch).

What better reminder though, that how you look can have such a huge impact on how you feel. Or at the very least, how you perceive you look. And It's also made me think that at the moment, I'm not massively feeling in the party mood and a sofa with my behind on it (with children and a dog ideally snuggled somewhere very near, hopefully the husband is rustling up some dinner) is what is on the agenda right now.

All I really want to wear is "loungwear" (what a horrendous word - up there with being almost as awful as moist and nipple).

And for me, I've realised, there is a very fine line - if any - between those things that I wear for chilling out (ie slobbing) round the house and those that I will happily wear for a dress down day. It's clearly only a matter of time before I'm doing the school run in my pyjamas (I should probably say regularly doing the school run. It *may* already happen on the odd occasion).

I've had a good look through some of my best slob out clothes and grey does seem to be the dominant colour. Be it pale grey, be it charcoal - I do honestly think shades of grey together make a completely acceptable outfit to bomb along to the supermarket in. I throw on my long grey Zara cardigan and a pair of either sneakers or biker boots and I'm off.

Can you ever have too many "lounge" (barf) items? Not when Christmas is coming up and you can justify them for more than merely sofa cruising (doesn't that sound far more civilised than slobbing out?). Plus there are some great offers around - perfect for emailing to your other half as he really can't go wrong buying these.

It will come as no surprise that some of my favourite outfits to adorn the sofa with are from hush and.. oh Happy Christmas, they have 15% off for the next couple of days. Off everything. Perfect for presents (yeah right). Well - presents for yourself maybe? Who doesn't love a little extra something under the tree? Code ADVENT1312 which goes on till tomorrow night I think (Monday) or maybe it's Tuesday.

Camouflage Sloppy Joe £40



Dolman Sloppy Joe in grey marl £40 I have this in the black and it's the perfect sweatshirt. I wash and tumble mine and it comes out like a dream.
This would work as well with joggers as it would with jeans and a blazer. And there in lies the beauty of these clothes.
Rib hem longsleeved tee from Whistles £55
Who says you can't wear glitter on the sofa?
Annie Sparkle Knit in pale grey £65 from Whistles
More sublime knitwear which you can lounge about in or happily venture into public wearing, from The White Company. And yes, there is an offer I can bring. 20% off on orders over £75 with the code AH661 (finishes on Sunday night though)
Notch Neck Hoodie in dark charcoal £69 (throw in a candle - with the discount, it will almost work out free. Almost. Suffice to say maths is not my strong point.)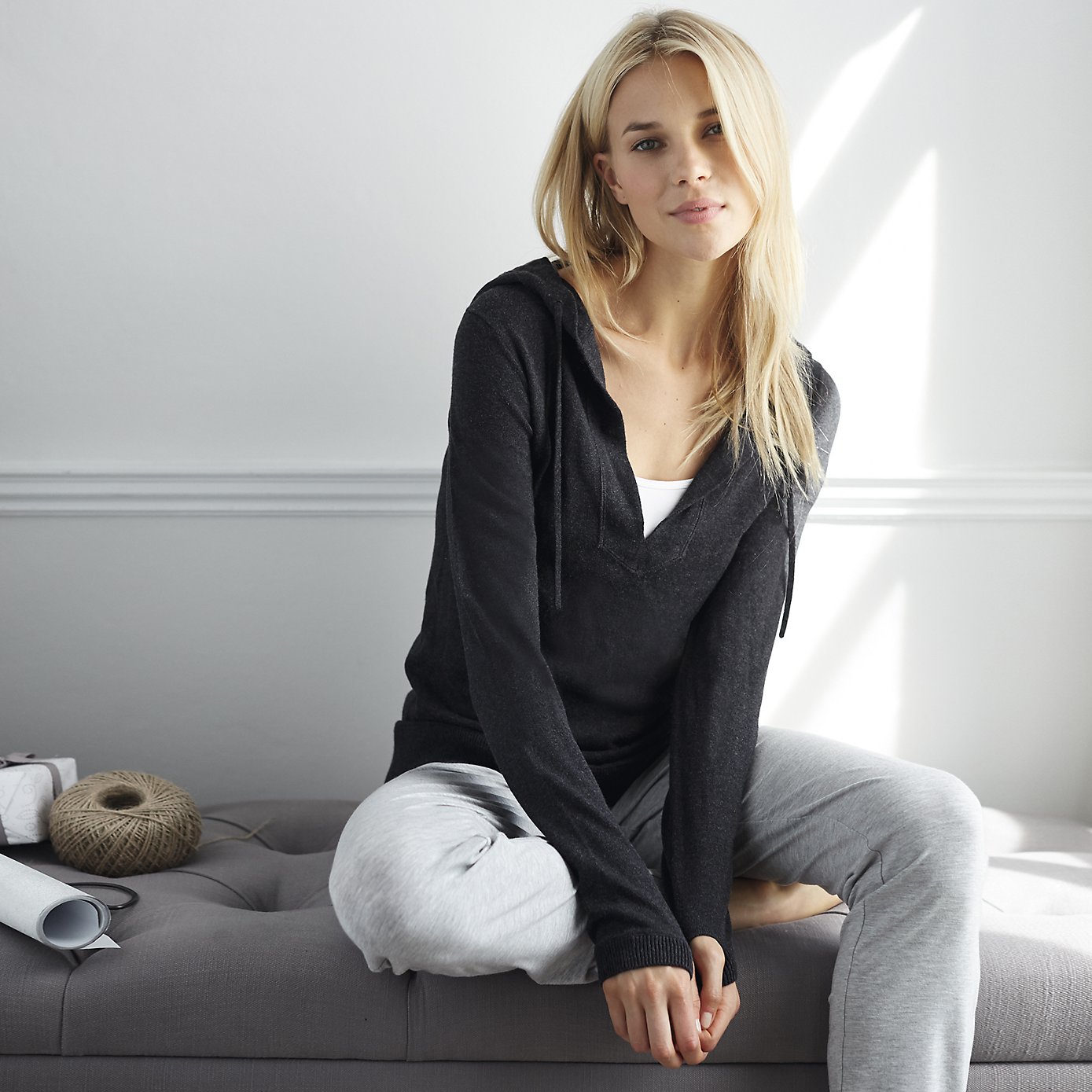 Or a paler grey with the Funnel Neck Lounge Top also from The White Company £65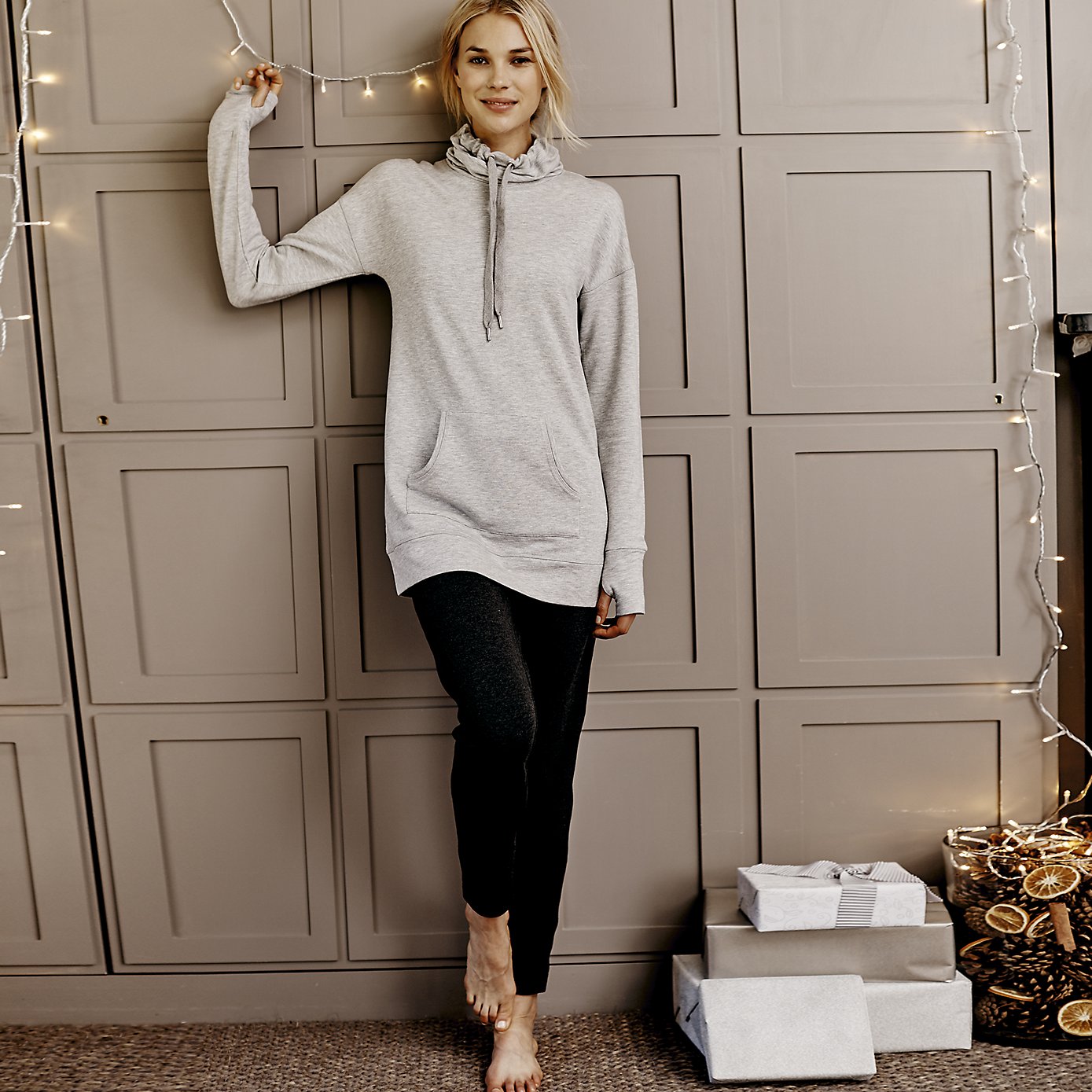 Flamingo Sweat from Whistles £75 Now I may be about to have a pink moment. You have been warned. Oh, and an animal love in. I can feel it starting in my waters... So this - a grey sweatshirt with a pink flamingo (as opposed to any other colour flamingo - duh) makes me Happy with a capital H.
On to bottoms now and this is where the looser the better in my book. As we type, sat here in my Whistles joggers from a couple of years ago. They don't sell them any more - I have the Lolas but these look amazing and currently with 30% off in their Winter offer.
Flow Harem Pant from Whistles were £60 now £42
Camo joggers from Hush £45 pre discount. These for into the Spring with a white tee, black blazer and Stan Smiths. Oh all the love. As well as for Christmas Eve for on the floor with a glass of wine and ALL the wrapping of the presents that I am coming round to accepting I will have to do. These will make it far less painful (women's logic, clearly).
Don't also forget about the harem pants from hush - I'm a huge huge fan.
Sharp inhale of breath now for the cashmere joggers from Whistles which do have 30% off as well.
Cashmere Tweed Jogger were £230 now £161 (you'd want at least that off, wouldn't you?) Who would complain about having these under the tree though? Bliss.
However if it's cashmere joggers you're after, then definitely have a look at Rosie for Autograph at M&S which are also on special offer.
Pure Cashmere Cuffed Hem Belted Bottoms were £99 now £69.30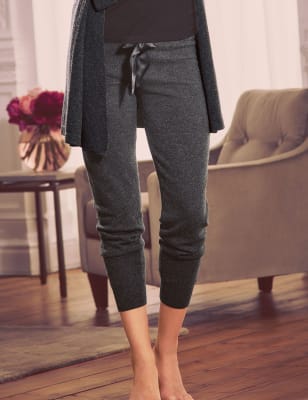 Paler grey knitted trousers at hush for £55 pre discount.
And finishing with a bargain as I know I'm all about the grey today but couldn't not put in this black pair. Would also go fabulously with all the above tops.
Cuffed Hem Pyjama Bottoms were £19.50 now £13.65
Now here is the outfit from last night. All the rubbish. Which is a bummer as I absolutely love this dress. And the boots. Together in my head it worked, in the flesh it looked naff as. It hasn't actually put me off the boots or the dress but I will not be teaming them together. Or maybe with opaques. What a completely obvious (if not still overly exciting) option. Seriously, what a tool.
Oh and it looks a ton better with the coat on than the coat off! Alas I should just have spent all evening in my coat...
Swing Dress - Me+Em
Fringe boots - Zara
Coatigan - Ronit Zilkha
Stud bag - Coccinelle
But we learn from our mistakes and I do have at least one night out this week that I shall gear myself up for. And I shall be going all out sparkles. As one that is usually never known to under dress. Bring it on, Christmas.