An instant pick me up
Today we're talking jolly jumpers. Jumpers with personality. Jumpers that aren't plain, aren't dull and certainly don't lay down and let the rest of your outfit do the talking. These are the wardrobe injections you need to reignite your love of those jeans, trousers, skirts, coats and jackets you've been wearing for months.

Go plain, go normcore, drag out all your black, grey (I have to say, these are the two colours I gravitate to in Jan) or beige tones and avoid the corpselike look with a jolly jumper. Print. Actually you needn't even add colour - just a hint of interest with a pattern that breaks up the dull sea of one tone. I promise it's an instant pick me up.

A bolder move than the last blog - but one again that was around last season, and thanks to the catwalk, is set to be centre stage for S/S17.

And speaking of catwalk - let's start with a totally Gucci inspired number at good old M&S. In the sale too. What's not to love? With a gold pleated midi skirt, you can channel all things GG. Alternatively with a pair of jeans, sneakers and a trench coat for every day bombing about. But feeling the love...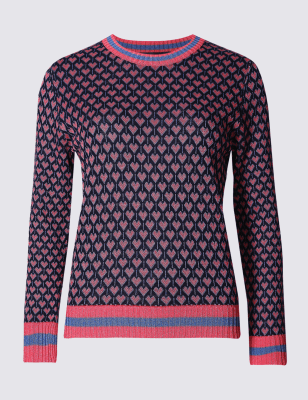 Monochrome at & Other Stories. Black and white needn't be dull.
Jacquard Silk Dot Knit £45
With skinny jeans, leather leggings, coated skinnies and an oversized coat, this jumper from H&M transforms an old outfit with instant Scandi chic. The trend that is going nowhere (until we have to stop defrosting the car in the morning which is about Easter).
I can hold my hands up and say H&M win the award year in year out for jumpers with attitude. No they're not cashmere but they are pretty good quality (I actually would stand next to a naked flame), are a great price and non itchy. If I look back in my wardrobe, the good old jolly jumpers that I bring out year after year are from H&M.
Jacquard knit polo neck Jumper from H&M £29.99
Also available in a grey and pink colourway too.
Just in case polo necks aren't your thing, then they also do a wide neck version. Ideal for layering a scoop next tee underneath.
Jacquard Knit Jumper from H&M £29.99
Grey again but that's where the comparison starts and ends. The perfect jumper to take you into Spring. I'd happily layer over a crisp white shirt now.
McQ Alexander McQueen Jacquard Crew Neck Swallow jumper from Very Exclusive £180
Jacquard again at & Other Stories and I *think* these might be a fish thing of some sort. Either way, layer or wear on its own, with black or navy - ideal with jeans or for a smarter occasion. At the very least it's a talking point. Are they fish or just a random print?
Jacquard Merino Wool Sweater £45
I may have mentioned Gucci and M&S in the same sentence and the influence continues with the floral theme. Over jeans with an oversized navy coat. This one is amazing.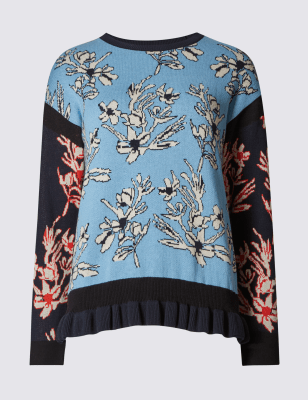 Floral again in the sale now at Warehouse. A bargain to boot.
Rose Print Jumper was £36 now £15
Slightly more subtle now with a hint of embroidery on the sleeves.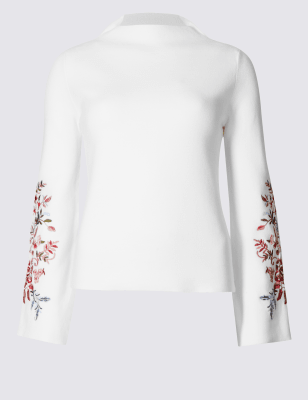 Moving into the animal zone now and starting with zebra. For those who don't like leopard. Although thinking about it with a modicum of logic, if you're not a fan of leopard, I fear zebra may be a stretch too far in the wrong direction. More likely to be favoured by leopard lovers who are in need of a new jumper to add to their burgeoning mammal collection. You can safely say it will be loathed by most men.
But this one is the perfect addition to a grey and navy wardrobe. I would happily have even worn this in a corporate environment under a navy or grey suit. These days - pair of wide leg grey or navy jeans and a long coat or trench. Done.
See by Chloe Zebra Stripe Jumper was £250 now £175
Who would have thought there would be so many different animal options - but may I present a deer jumper. Not something you see everyday but a great leopard alternative.
Deer Print Boxy Jumper was £45 now £25 from Warehouse
But finishing with my favourite. Good old leopard print. In a rainbow of colours.
Lofty Animal Print Funnel Neck Jumper from Topshop £34
Grey now at Topshop and this is a chunkier style knit.
Leopard Intarsia Jumper by Boutique at Topshop £60
Chunky knit again at & Other Stories in mohair and I think I may have looked at one too many jumpers as is this leopard? A smudgy leopard? I'm going with yes. In grey and black.
Jacquard Jumper £69
Back to the classics at Warehouse and a steal.
Animal Printed Crew Jumper was £36 now £20
But the jumper of the day for me is from & Other Stories (they are knitwear gods at the moment, believe me). Only issue is, which colour to choose?
Merino Wool Jacquard Sweater £45 in the pink
Or the green - apparently this is green. I'm going with teal. Unless the green refers to the background so a khaki shade of green?
So yay or nay? I did contemplate wearing my leopard print jumper yesterday (a bargain earlier in the season from H&M) but seeing as it's on the fitted side and I would look like a shrink wrapped tray of macarons on speed, I went with oversized. I could fit a stable under this jumper. Thank you H&M. Love you.
Jumper - H&M
Red & Black layering top - & Other Stories
Jeans - Rag & Bone from Cocoranti
Boots - Ilse Jacobsen
Hat - Black
Black Wrist Warmers - Me+Em
Leopard print scarf - Louis Vuitton
And my outfit from last night for a Christmas party.
Dress - Preen Line
Leather boots - Zara
Bag - Coccinnelle
Necklace - Chambers & Beau
Bracelets - Say What U C
Tomorrow - last instalment of the jumper series coming up and I have to say - my personal fave. Probably as it's so far out of my comfort zone, I should probably wait until mid next week and I've sobered up and have the copious amounts of sugar and carbs out of my system before ordering (yeah right).