On any day, we wear pink
This blog post contains affiliate links

Simply can't get enough of pink jumpers. Which is something I thought I'd never say but there you go. Maybe it's because this time of year can be so miserable but actually I think the sunshine is having a positive effect and wanting to be bright and jolly and so HELLO PINK.

And a jumper is the perfect addition to a wardrobe at this time of year that you will get absolutely loads of wear out of. It works on its own with jeans (obvs), with skirts (again obvs - I'm sure we all know what a jumper does!) but also over dresses. Again, it's hardly reinventing the wheel but it adds another string to the jumper's bow - it doubles up as a jacket too.

Pink though? Hell to the yes. It's so versatile. I know that sounds random but it's great with all neutrals - black, grey and navy are obvious but I love it with camel and khaki as well. Red is a no brainer and yes to with leopard as well.

I got a new one this week from Noisy May at Debenhams in the sale for a whole £9.40. Alas the only place I can find it isn't in the sale but it's such a good jumper.

Noisy May Jumper £32




Similar at Whistles.
Pink Oversized Funnel Neck Knit £119
Missguided Pink Roll Neck Jumper £25
Oversized with a hood. This over jeans and a big coat I LOVE. But it also would work over a dress with ankle boots. However I'm going to throw it out there, I won't be ordering the matching leggings. Each to their own.
Pink Chunky Ribbed Knit Hooded Jumper from Missguided was £30 now £24
ASOS Chunky Design in wide rib £28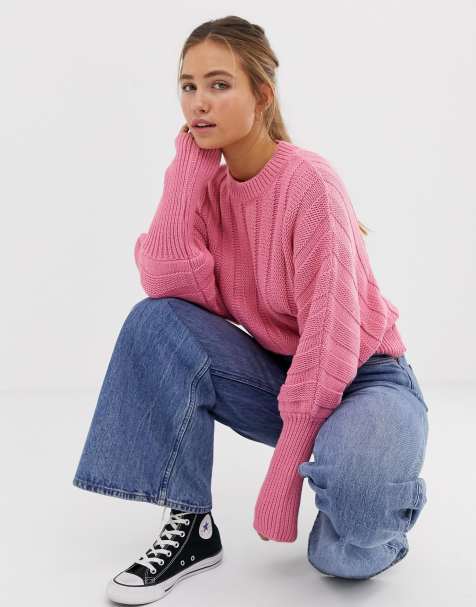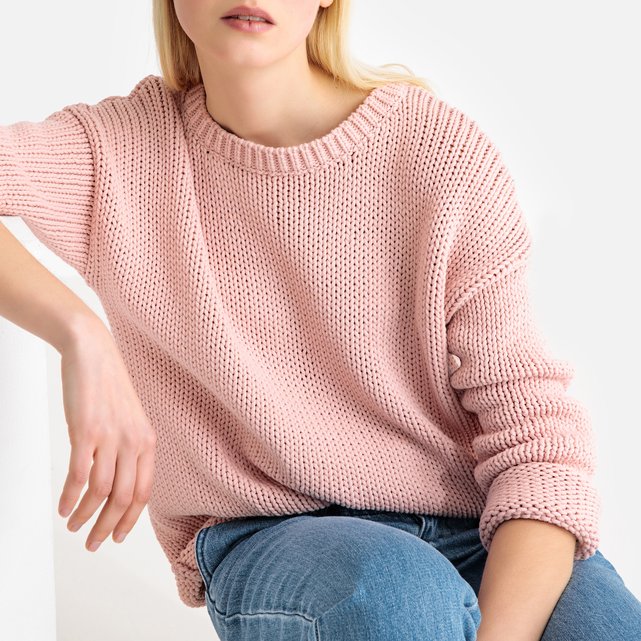 And then some less chunky ones which would work perfect under a blazer with a midi skirt, chunky boots or trainers.
Alicia Pointelle Jumper from hush £139
Perfect Pointelle knit from La Redoute which is the perfect jumper to wear in lieu of tees until it starts getting really warm.
Pointelle fine knit jumper was £39 now £23.40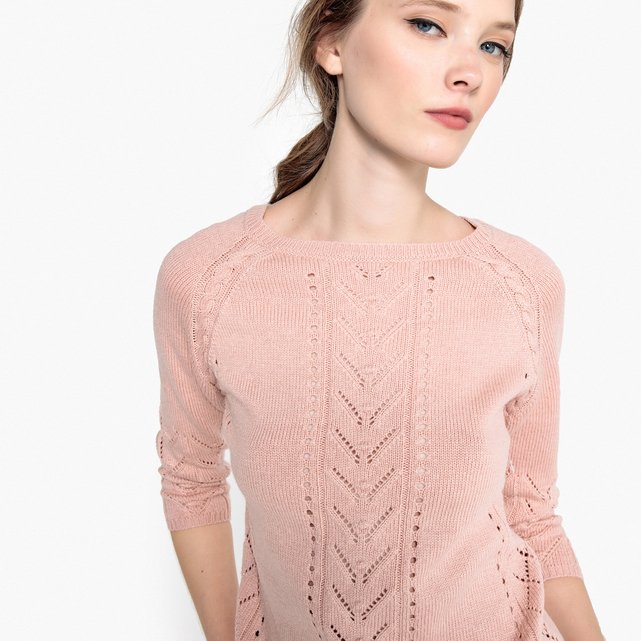 Brighter and with a logo (I know some of you are over the logos but I still love them. More than that, I still adore them). This one is no exception.
Whistles You Got This Jumper £99
And then the V necks...
In the sale at Topshop
Super Soft V Neck Jumper was £39 now £25
Longline V Neck Jumper with Cashmere from Topshop £39
Mango V neck £35.99
And here I am in mine this week.
Jumper - Zadig & Voltaire (2yrs ago)
Jeans - Zara (sale 3yrs ago)
Boots - Zara (aw18)
Blazer - M&S (from paid partnership current)
Bag - YSL from Selfridges (current)
Belt - JasMB London (14yrs ago)
And the bargain £9.50 jumper
Jumper - Noisy May from Debenhams (sale aw18)
Jeans - Frame from Fenwick (sale aw17)
Boots - Zara (aw18)
Bag - Hill & Friends (gift ss18)
Sunglasses - Victoria Beckham (3yrs ago)
And today for an afternoon with my sister and brother in law and cousins.
Pink True Colours Jumper - Kat Farmer X Orwell + Austen (collaboration for National Autistic Society aw18)
Coat - Helene Berman from Anthropologie (aw17)
Jeans - Frame from Fenwick (sale aw17)
Sunglasses and bag as above.
So last night we went to a 50th Birthday party - DISCO! Just to show you what I wore....
Seriously, I hate fancy dress. I utterly loathe it. But 70s? Oh HELLO! Yes yes yes, I absolutely loved it. Adored it and would happily wear it all the time. On repeat.
Have also been working this weekend in London as it's London Fashion Week and back there tomorrow and Tuesday. Then a couple of days working from home with the children. I have to say I am really looking forward to it. I say this every year. And am dying for them to go back to school after a couple of hours! I am determined, however, to make the most of it this half term. Wish me luck! And solidarity to all those other mums (and dads) trying to juggle working with child care and keeping the kids from killing each other at the same time.