Joggers that you couldn't actually jog in..
This blog post may contain affiliate links
... we're basically talking drawstring trousers here. And WHAT is not to love about them? So - as I said over on Instagram, we are currently facing a fashion dilemma - the line between looking like an extra on Shameless or channeling Diana Dors is narrow.
And we are looking for that middle ground. We need to be comfortable but at the same time we don't want to look as if we've got dressed in the dark.
Joggers are all well and good but maybe something with a little less sag around them. Something that doesn't look like you could actually break out running in.
If they're ever so slightly more tailored they go with pretty much anything. Super casual with tees and sweatshirts without looking like a troll, team with a silk blouse and trainers for a slightly more chic look or go full out and wear with a blazer to work when we come out on the other side.
And I have THE ones. The joy of having time last week to declutter my wardrobe, I discovered a pair of trousers that I had forgotten that I bought two years ago and they are MADE for quarantine fashion.
AND AND AND whilst they weren't in stock last week - they are now BACK in stock at M&S. These sell out super quickly every time they release them so they are worth getting if they're the sort of style you're after. They do them in black, navy and pink.
Wide Leg Drawstring Trousers from M&S £29.50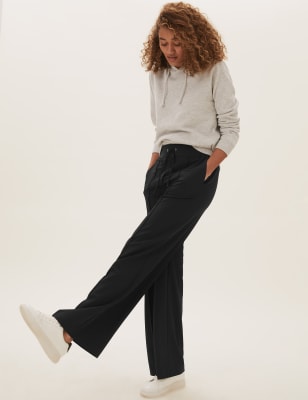 In the navy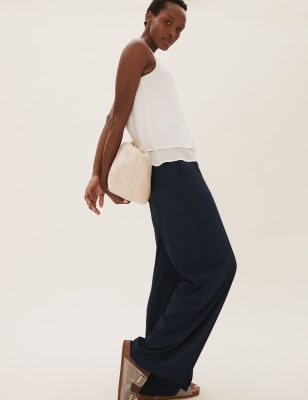 Or in the pink. Now these aren't necessarily what I'd go for but if you are a fan of bright colours, these with a slogan tee and white trainers would definitely be a cheery addition to your working from home wardrobe.
I'm not going to lie - I wouldn't personally team them with this top or shoes - I think they would work better with something lighter - a paler top and a less heavy pair of sandals. I also personally prefer these sorts of sandals with flats - trainers are my ultimate go to especially for when we have nowhere to go!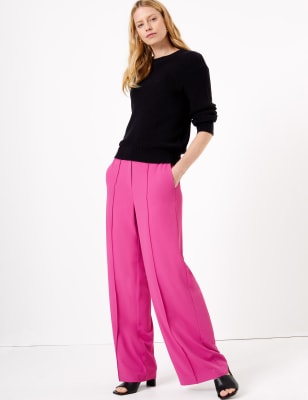 These are a lot more tailored and are a thicker fabric.
High Waist Wide Leg Trousers from M&S £39.50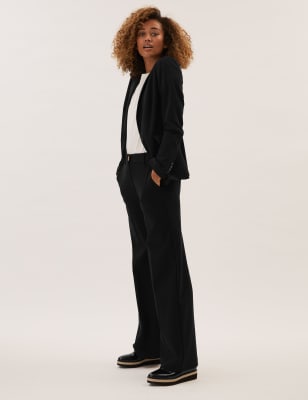 Slightly smarter again at Mango with a discount..
Palazzo Trousers were £49.99 now £35.99
Cargo Luxe Track Pant from ME+Em in navy £129
Now the next ones I have had a fair few recommendations about on Instagram but I haven't tried them myself. BUT I am very tempted as they do them in three different leg lengths. They also come in a LOT of different colours.
This whole look is VERY much up my street.
Saint and Sofia Wide Leg Camden Pants £60
If you are tall - I've found these from Long Tall Sally - who I haven't shopped from for YEAR but I'm very very tempted - I reckon these need to be properly long to be fab - for me, these ones in the pic could be longer.
Cotton Twill Wide Leg Trousers from Long Tall Sally £60 (but with an extra 30% off at checkout till the end of the 1/4)
I am GUTTED that these wouldn't be long enough for me from Mango.
Contrasting bands knit trousers from Mango were £35.99 now £28.79
And the alternative colourway... again now £28.79
Stripe detail again at Me+Em
Side Panel Palazzo Pant £79
And here I am in the M&S ones...
Trousers - M&S (as above - bought two years ago but I do work with them).
Tee - Isabel Marant from My Theresa - 3yrs ago
Sandals - Birkenstock from Universe of Us
Trousers - M&S (as previous pic and listed above bought 2yrs ago but I do work with them)
Jumper - See by Chloe from Selfridges (current)
Trainers - Golden Goose from Black White Denim (current)
Sunglasses - Alexis Amor (gift current)
Bag - Zara (9yrs ago)
I hope you enjoy the quarantine fashion posts - as I said last time - some people may not be interested in them but others have asked for inspiration. They are not in any way meant to offend.