It's the coat that you shouldn't love...
This blog post contains affiliate links
...but you can't help yourself.
Yes it's the leopard print coat of dreams. So I should start by saying, the chance of your husband or boyfriend liking this, is not high. They will no doubt mutter something along the lines of Bet Lynch or Pat Butcher. PAH. What do they know? NOTHING is the answer.
The leopard coat has become a timeless classic. In whichever guise you choose to wear it. It can be short, long, chunky or a lightweight number.
They can work all year round, depending on the style, they can be smart, casual - they are honestly completely versatile. I have a couple - in fact, I bought a new one in the sale in the Summer and it's one reason I'm looking forward to the wearing becoming a little chillier - crack out the leopard number.
And they work with everything as well - consider them a neutral. They work with a print, they work with every colour you can imagine, they look insane with a stripe! Just find the shade that you love.
Without further ado, let's see what's on offer this year.
Starting with one that is 99% perfect! (actually 100% but the 1% for me is that I don't actually near it...!).
Leopardprint Coat from Topshop was £99.99 now £90
Moving onto the short ones as not everyone likes the full length Cruella style look (me? I'll all in!).
But this is slightly less daunting - it will also keep you warm at H&M.
Short coat in light leopard from H&M £79.99
Another great short option from Topshop.
Leopard Print Coat £75.99 from Topshop
Super short at French Connection in the sale.
Analia Ombre Faux Fur oversized jacket was £160 now £80
Shorter at Sosandar...
(20% off when you sign up for their newsletter I believe...)
Michael Michael Kors was £450 now £198

And a faux fur version at Sosandar.
Leopard print faux fur coat £139
Now don't laugh BUT this is a man's coat that I am sure could work for women. It comes in very small sizes - check your measurements but this could be a complete steal if you like it. I love the crombie style - I think the androgynous shape works perfectly with the slightly out there print. You could of course, buy it for your husband as a hilarious joke. I'm sure they'll laugh till they wee.
ASOS DESIGN leopard print coat was £80 now £28
A similar style but this time for women at La Redoute and in GREY!
Single breasted coat from La Redoute £99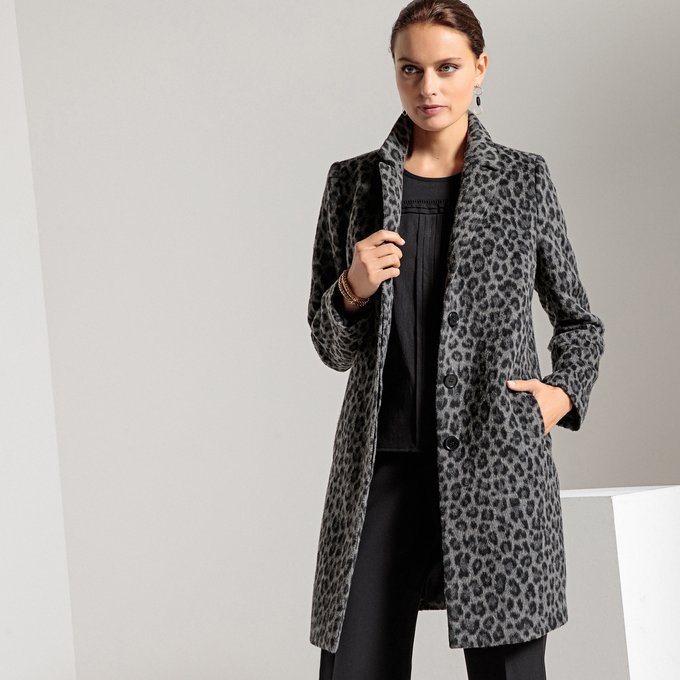 Similar shape at Sosandar...
Leopard Print Coat at Sosandar £139
Belted at Sosandar.
Leopard print belted coat £139
Another option - a raincoat! Now weirdly they don't have this at Joules - could only find it at Amazon Fashion.
Joules Rainwell Rain Jacket £59.99
One for those who don't love the whole leopard thing - not collars and cuffs, but almost (only available in small sizes).
Foxy Coat from French Connection was £185 now £59

And I'm leaving this one here... Oh. My. Lord. Actually one of the best coats I've ever seen in my life and a "bargain" at 70% off. Alas (said my husband never), it's out of stock in my size. Saves me a dilemma, that's for sure.
Thika leopard print cotton blend coat was £1660 now £498
And here I am in one of mine...