The one about sequins. That you can actually wear.
This blog post contains affiliate links
Right. I'm going to mention the big C. CHRISTMAS. What are we all going to be wearing. Lots of glitzy dresses and heels? Frankly no. Well, you might be, but I'm not.
But does that mean I want to be wearing my trackpants and a tee shirt for the festive season. HELL NO. I will be doing my darndest to find wearable gorgeous things that are little bit special but that are still casual and can be worn with.. well trackpants. Or bottoms that can be worn with a huge cosy knit.
We're going to reinvent the casual glamour look. How hard can it be... I'm also tempted to start wearing them NOW. Surely November and the whole of December we deserve some cheer and if something with sequins can bring an iota of joy, surely it's worth having a look.
Or you may find you have something similar in your wardrobe that you wouldn't have thought of dressing down but hopefully this might give you some ideas.
Let's go sequins!
First up - the easiest to wear ever from hush. Now they have similar to these every year and they sell like hot cakes so do not leave it too long if you want one as they will not be around (this was me last year with the sequin skirt from hush last year which I had to chase down!).
Ryker Sequin Sweatshirt from hush £89
Orrrrr THIS ONE! OMG. Black - check. Puffed shoulders - check. Sequins - check. Velvet - check. Perfect for dressing down or up - you will have this for years and wearing all year round.
Devere Sequin Velvet Top from hush £69
Then this gorgeous sequin number from The White Company. With stretch in the title. What's not to love about this? This would work perfectly with leather trousers for a smarter look (or team with chunky boots for a dressed down daytime look). Or just with jeans, trainers and a long line blazer, huge scarf and you're done.
Stretch Sequin Top from The White Company £119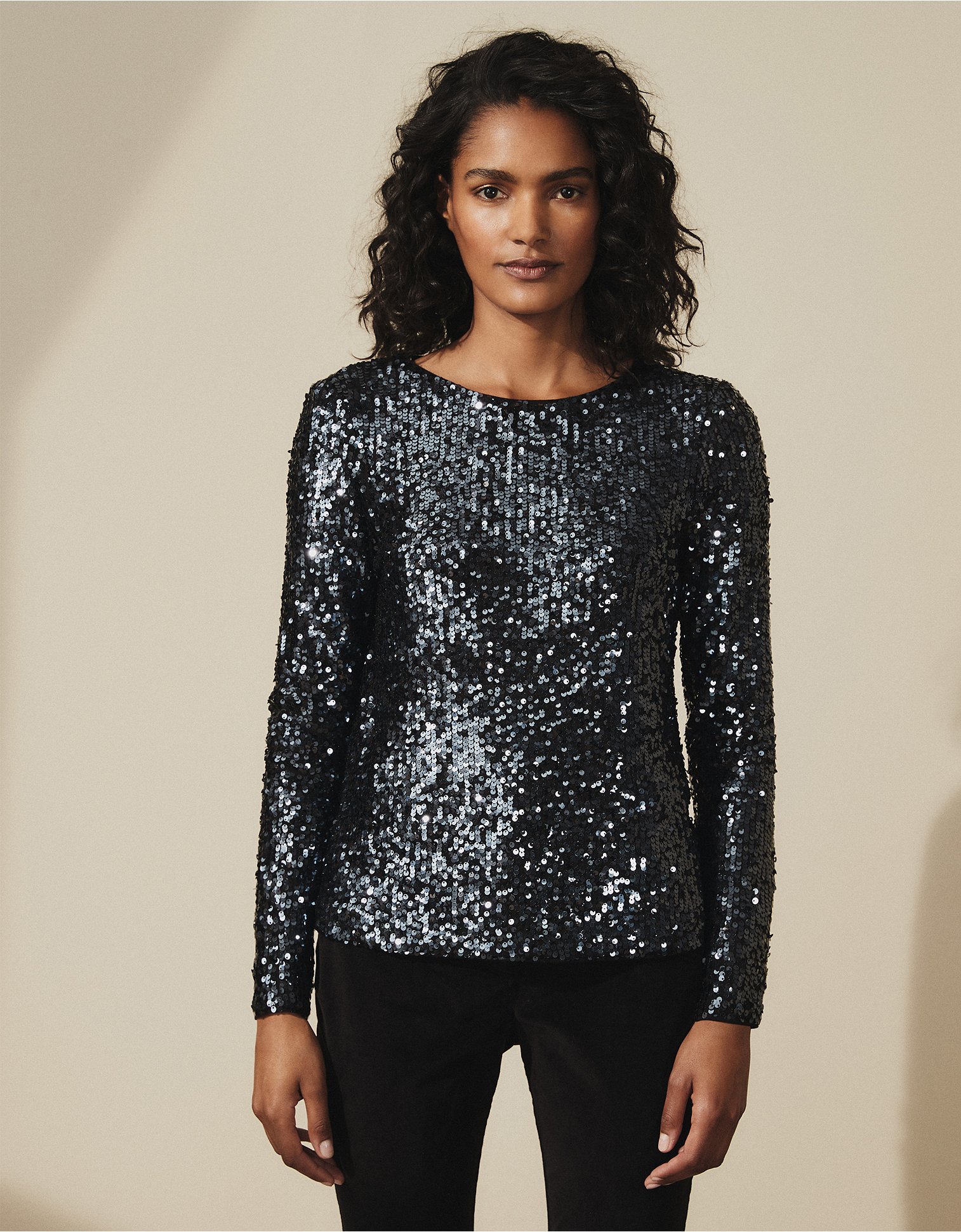 Or more subtle with a glitter tee at hush...this one very much appeals to my inner belief that I am actually Parisienne.
Oversized Pretty Lavish high neck balloon top in ecru sequin £55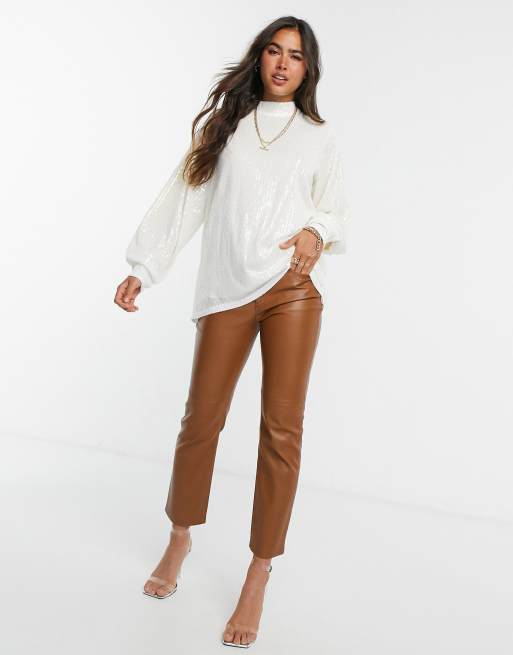 Another great option from New Look...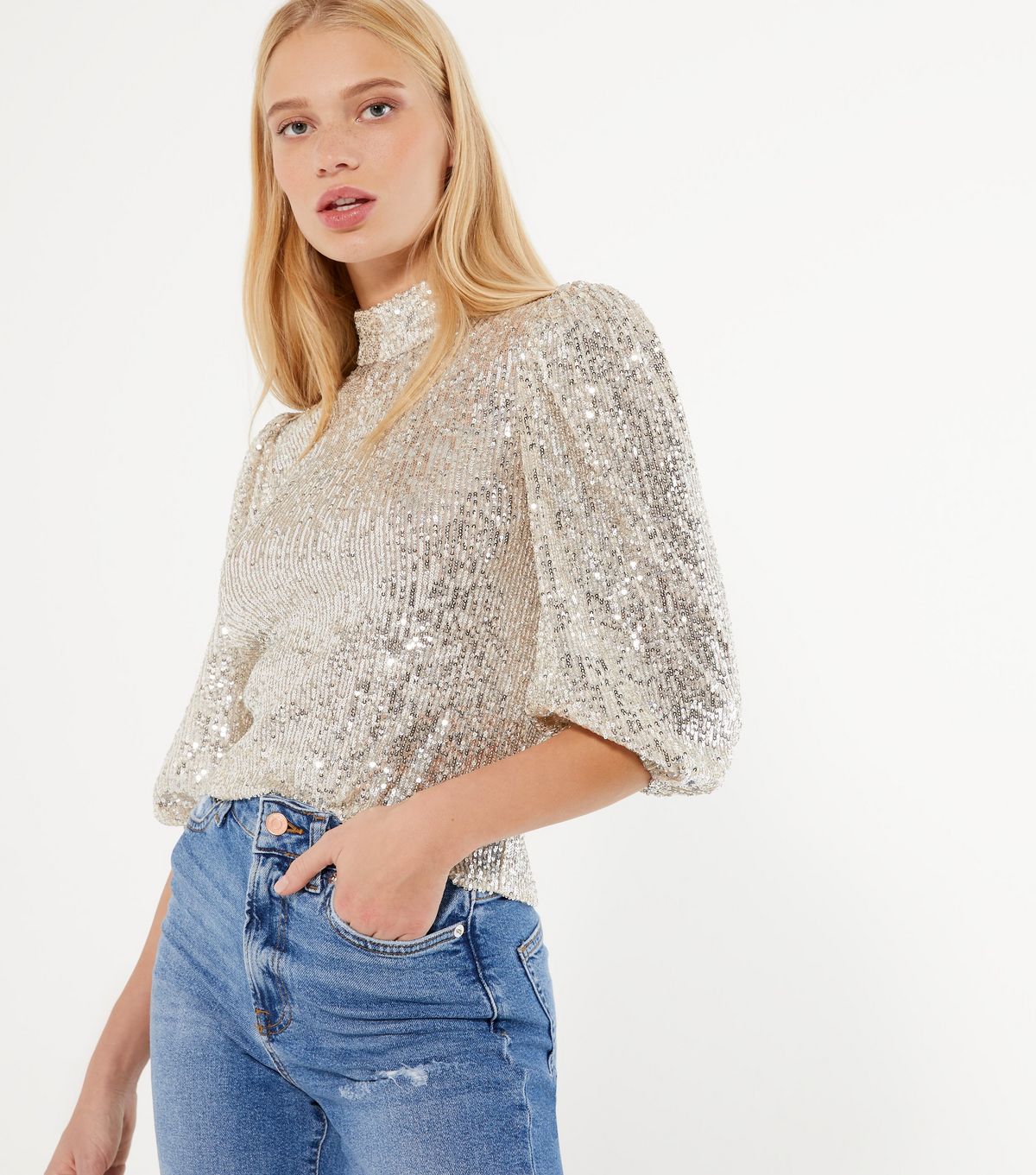 V Neck Tunic top - ideal for leather leggings and to hide a multitude of sins over the festive season.
BUT THESE BAD BOYS.. OH HELLOOOOOO.
Trying to work out how much I actually love them.. maybe they're just worth "trying"...
Love Moschino sequin joggers from ASOS were £255 now £105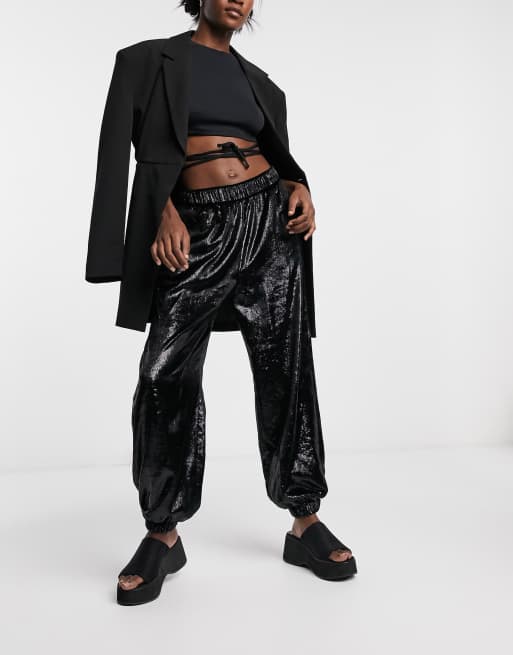 However these are probably a lot more useful and I'd get a lot less Disco MC Hammer jokes from the husband so there's always that.
They would actually be super versatile. FAB to dress down in a lockdown casual style with a sweatshirt and trainers. But let's imagine that we have somewhere vaguely to go... silk blouse and heels and a tux blazer. Or the middle ground - a black cashmere knit and flats.