A quick holiday round up
I probably shouldn't say "holiday" as that, in my mind, implies sun, sea and sangria. You'd think that 7 and a half years in, I may perhaps have woken up to the realisation that with children, the definition of holiday is entirely different. In fact, it's at the opposite end of the spectrum to what it did mean pre Rugrats when one might have put it in a speech bubble with "break" and "restful".

I should be grateful I guess, that for the first time in living memory (I do have memories of pre Rugrats, they just all seem to be massively rose tinted!), this "holiday" I didn't have to be out of bed at the crack of dawn. The Rugrats have finally cracked the "getting breakfast by themselves" malarky. It's certainly not going to win any Healthy Eating awards (I didn't actually realise a piece of bread could hold that much Nutella without disintegrating) but at least I get an extra half an hour in bed. Not sure the extra 45 mins it takes me to clear up is, with hindsight, worth it, but at the time, it seems like Christmas.
So post Monday and our hideous run of sickness, normal service was resumed. Cue the merry-go-round of soft play, cinema, St Julians (country come social club as previously mentioned - basically all the kids turn into extras from Lord of the Flies, roaming the grounds, and the parents sit inside or outside, drinking coffee or wine, depending on the hour and/or how late in the holiday it is - ie Tuesday was a coffee day, Thursday was wine o'clock) and some more cinema.
After three frantic days of charging around, today we had a duvet day. Monopoly (note to self if I don't want to be playing the same game till Rugrat One goes to Uni, I must invest in Junior Monopoly. Who knew that playing more complicated board games with your kids could be such torture? Bring back Snakes & Ladders. All is forgiven. Mostly as you only take 10 minutes to complete as opposed to 10 years). Then some cooking (Rugrat One has decided she wants to be a Chef and live in Paris. I told her she needs to learn to chop carrots more quickly. It only took her 30 mins to chop two today. My patient parenting skills know no bounds. I then told her that yes, Gordon Ramsay did shout at his sous-chefs regardless of how young they were. Spag bol waits for no man. Not one of my finest mothering moments. 24/7 with children for two weeks can occasionally produce the same effects as a large dose of mind altering drugs. The send you slightly batty kind, not the quite/very good time ones. Just saying.) Followed by air guitar/chopstick drumsticks and hairbrush microphone band sessions. (see?!) There is no finer tune than Iris by the Goo Goo Dolls to show off such musical prowess. Rugrats Two and Three will concur. Rugrat One looked fit to die of embarrassment, not made better by my attempt to show her I could do the running man with the best of them in my time. It will come as no surprise that today my outfit consisted of trackie bums. Actually one of those fabulous days.
Earlier in the week, I put in slightly more effort
Navy and white striped longline jersey top - Joules
Navy Elgar Cowl neck dress - All Saints
Indigo straight legged jeans turned up to 7/8ths - Jigsaw
Navy low cons - Converse
Purple/fuchsia/grey LV inspired scarf - Hong Kong
Gold flower and stone large earrings - Etsy
Brown leather cuff - Hultquist
Chestnut cross body battered bag - Campomaggi by Plumo
Wednesday
Black a line cowl neck knitted dress - Cos
Indigo straight legged jeans turned up to 7/8ths - Jigsaw
Grey military knitted coat - 3.1 Phillip Lim
Black suede and patent ballet pumps - Banana Republic
Fuchsia Roxanne tote - Mulberry
Thursday
Black vest (not seen) - Primark
Black fine knit jumper - Cos
Grey Baxter jeans - Topshop
Washed black suede cropped jacket - All Saints
Black and tan snakeskin print scarf - By Malene Birger
Black Maddona stud wedge trainers - Ash
Cheetah print ponyskin bag - Zara
Now I have very little to talk of with regards to fashion today. Ok, so I do have an absolute ton of things which I would like to talk about but a couple of things have put pay to that. The first one being, despite outward appearances, I have spent the majority of my time being Mummy Day Care. And secondly, the rest of the time, I have been doing extensive research for my new business venture which I'm hoping to launch in the next couple of weeks which is Wardrobe Consultation and Personal Shopping. It's been in the offing for a while now but I'm now nearly at the end of all the preparations (she says optimistically knowing how much there is still left to do) and will hopefully race through things once the kids do go back to school and nursery. So I actually have an entire plethora of fashion ideas and gems which I would love to share but need to get it all tied up at this end first. Phew. Excuses over.
I do though have a couple of things to throw in. Firstly, the ubiquitous white jean. It's not my inner Liz Hurley - she's yesterday's white jean hero. I honestly think there is a white (or similar pale shade - it doesn't necessarily have to be snow white at all) jean out there for everyone. It's one of the easiest and simplest ways to move from Winter into Spring. And will keep you going right through to the Autumn. Which is my justification for buying yet another pair. Being tall, if I see a longer length jean in a style I know I love, I do now just buy it. And I don't have a pair of white Baxter jeans. But now I do. From Topshop. I'm not entirely sure how many white jeans I do have - I'm sure The Husband would probably chip in with "too many" but it only takes one cup of coffee or one too many rose wines and you're a pair down. Get buying ladies.
My Lust of the Day is a perfect Spring knit that can be worn on colder days with a longsleeve top under it or on warmer days with just a vest. I love versatile clothing that you can get value out of and is wearable cross seasons and this fits the bill perfectly. A rubbish picture here from the John Lewis website but being such a technical moron, I can't post an image from the Whistles website. Navy Whistles Beatrice Lace Sweater Apparently they sell it in a size 11. Interesting....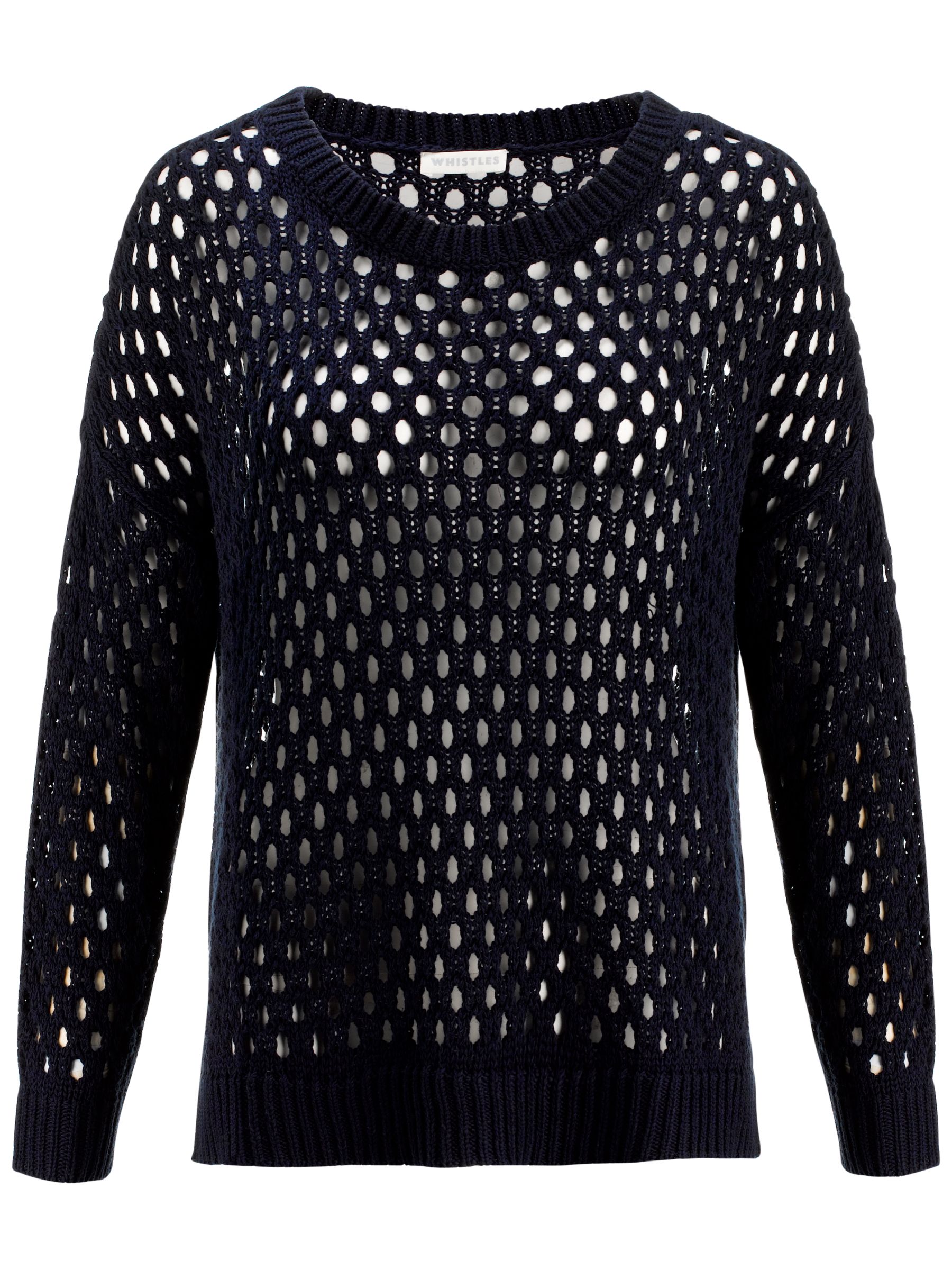 Hope everyone survived another week of the holidays. And that some of you managed to actually have a "holiday"!