I may have found another option....
...to my immensely dull quest for a light coloured Summer sandal. Yes I bought the white leather sliders from River Island but I do feel ever so slightly as if I should be carrying a bottle of bleach and a mop with them. However for the £21 they cost which is less than a pair of Havs, I'm going to keep them for bombing round the house in/on a weekend and maybe try them out. They're just very "white"......

However, I was umming and ahhing about some espadrilles that I'd seen when looking at the Anthropologie site in anticipation of my visit at the weekend (I always do this otherwise I'm like a rabbit in the headlights when confronted with floors of pure gorgeousness. Serious kid in a sweetie store so I need to get some idea of focus before I go there. Never works mind....). So when I was approached by Penelope Chilvers asking if I'd like to try a pair of their espadrilles, needless to say I said err yes pretty please.

And I am so pleased with them. Have worn them all day yesterday and I'm smitten. The perfect summer "shoe" as opposed to a sandal. For days when the skater shoes are just too warm.

These ones are leather so are ridiculously comfy to wear - a lovely champagne colour with silver back. And they're now in the sale at Penelope Chilvers.

For the record these aren't the espadrilles of old. Those straw soled things that cost 5p and fell apart within a week. God forbid you should get them wet. These are leather and have a proper rubber sole. Oh and this pic is after me having worn them all day long - as you can see they haven't creased at all. With not a blister or bit of rubbing in sight. I would say they're true to size but if you're inbetween size, I'd get the larger one. And I spilt BBQ sauce from the kids' ribs dinner on them and it just wiped off. Slightly scary moment truth be told....



Flat Espadrilles in Champagne were £85 now £60 They're definitely a duller gold than they look in this pic - to be fair, champagne is the perfect description.

They also have them in a beautiful metallic blue
Flat Espadrilles in Sea/Silver were £85 now £60
These are the ones I was looking at at Anthropologie
Mint & Rose Aprico Espadrilles £98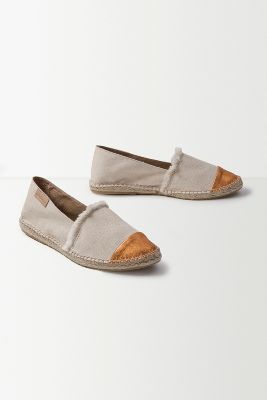 I also love these ones
Mint & Rose Thulian Espadrilles £108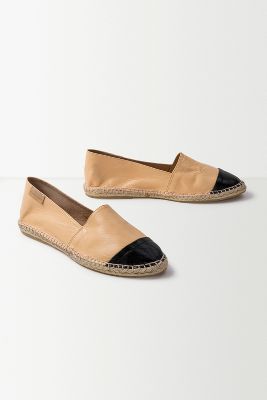 Pink leather at John Lewis
Collection WEEKEND by John Lewis Nevada Pink Espadrilles £55
And in navy £55
Bertie Jaylee Espadrilles in Leopard Pony £65
Nude from Dune - love love love these
Dune Lolled Nude leather Espadrilles £69
There are canvas versions out there - the best selection seems to be ASOS Junction or ASOS Jabba all around the £10/£12 mark.
ASOS Junction Leopard print Espadrilles £10
ASOS Jabba £12
And truth be told, they are everywhere. For me they are a blast from the past but I am exceptionally pleased with them. Anyone else doing the espadrille thing this Summer?
Here I am yesterday in them.
Stone oversized linen jumper - The White Company
Straight leg jeans turned up - Rock & Republic
Apricot tassel scarf - Mint Velvet
Champagne espadrilles - Penelope Chilvers
Whilst we're here - who turned off Summer? I shall be back tomorrow with another pick from the Sales extravaganzas and this time it is the perfect investment item for Summer into Autumn.