Monday Must Have.. on another Sunday
So.. I meant to do this last week but it was so completely chaotic I forgot to pack the two dresses.

But fear not - they are still both in stock and are both COMPLETELY AWESOME.

I will start by saying they're polyester. Which isn't going to appeal to everyone. Personally though - I really don't mind at all. No creasing, no dry cleaning, no silk price tag. Result.

They're also not long long. Which will probably be very appealing to most. Alas, it does mean that the first one which I love more than any other dress I've seen this year (maybe...) won't work for me as it's just the wrong length. *weeps*.

Please though can everyone else buy it? I bought it before I went on the cruise as I thought it would be the perfect either day or night dress and it would indeed. It's superb, it's flattering, it's unusual, it looks so so so so expensive. SOMEONE BUY IT!

I sized up to the 12 and that was fine - I think it's slightly on the small side.

ASOS DESIGN Mix Print Wrap Dress £48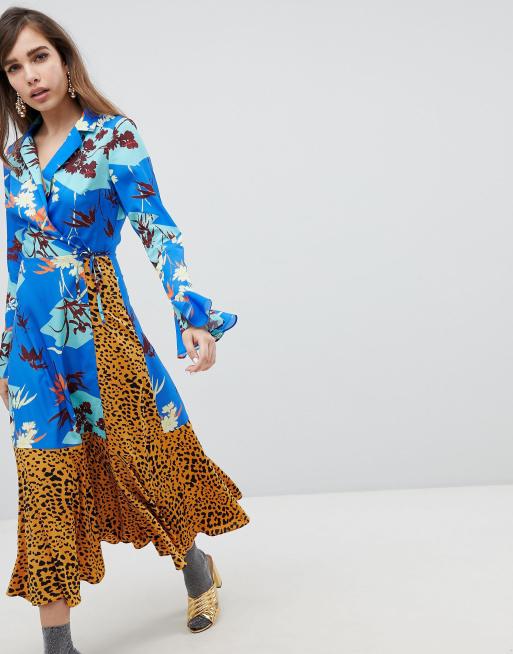 And then there's this one which I ordered on the off chance. Love. Love love love. So superb, again polyester as I mentioned. I sized up as I found it wasn't very long in the body and was quite tight on the shoulders, so I got the large.
Vero Moda Star Print Maxi Dress £42
And here I am last night in the dress. I think it needs a belt but that's my personal preference.
Dress - ASOS (current)
Belt - Topshop (aw17)
White boots - Mango (current)
Black clutch bag - Tory Burch from Bicester Village (4yrs ago)
Earrings - Alice's Wonders (gift current)
Speaking of belts, I have loads of them coming up tomorrow. On Monday. And I guess they are my ultimate must have accessory of the season so that's all ok then.
Have a great Sunday. We had rather too good a night last night so I am slightly suffering today. Toying with either going to the cinema or having a movie and a chinese. I think the latter may win out.