Here comes the sun
It's on its way. Next week looks like being a complete scorcher and actually, we can almost smell the Summer holidays which are now only a matter of weeks away. Although how...?? Totally scary thought as surely it was only a minute ago that it was half term.

And speaking of which, I thought it was about time I did a blog on my holiday essentials. Those random things that I've realised you might not think about but which really make the difference when you're away on hols.

It's also a perfect time to give you more details of the amazing villa we stayed in and the island of Corfu.



So first up - the villa. Yes, that is the actual view above! As I said at the time, we were very kindly given the villa for a week in return for a review. It was from Scott Williams Villas - a luxury villa company with properties all over Europe for all size groups (Croatia, France, Italy, Greece, Morocco and Spain). So the accommodation was complimentary but we paid for cars, flights, food, boat hire, transfers - absolutely everything else.
Despite booking self catering in the UK (we've been going to Suffolk for a couple of weeks a year for the past 13years), we had never done a villa holiday abroad - have always stayed in a hotel.
I think the main difference was the space, the versatility and the tranquility. The being able to get up at 10am and not having to worry about missing breakfast. Or for the kids to have a quick dip in the pool when it's dark *just because they've never been allowed to before*. Evenings were a lot more flexible too. One could go to bed, one could stay up, one could go for a swim without having to play tag team (or sit on the balcony getting bitten to death by mossies, nursing a glass of wine - with no ice, did I mention ice on tap? - as the children were asleep in the hotel room).
The one reticence I had - the busman's holiday element - was not a problem at all. Thanks to the lovely ladies who came every day to do a couple of hours sprucing and cleaning meaning the villa was immaculate again every morning. Surely there is nothing better than getting into a bed at night that someone else has perfectly made?
There is also the opportunity to hire a chef but luckily my husband is handy in that department. Plus there was a supermarket at the top of the road but we did tend to eat out for one large meal a day and the others were a combination of Greek treats. So many amazing mezze elements, we didn't actually "cook" at all. Yes I came back mostly consisting of Greek yoghurt and taramasalata.
We were given a three bedroom villa - perfect with three children, called Avlaki House in North Eastern Corfu, just above Avlaki Beach. And it's truly luxurious. Absolutely every detail is thought of. That area of Corfu is complete divine. Incredibly unspoilt, no large hotels, a collection of little bays and coves with restaurants and swimming opportunities a plenty.
Best restaurants were Rex in Corfu Town, Cavo Barbaro on Avlaki Beach, Trilogia Restaurant in Kassiopi, Tavernaki in Kassiopi, Taverna Agni in Agni (only accessible by boat) and The White House in Kalami.
We did also spend one night in Corfu Town at The Liston Suites (owned by the same owners of the villa we stayed in). We would have loved to have spent more time there but a delayed flight (thanking you kindly French Air Traffic Controllers) meant that we arrived late and so had time for a lovely meal in the town. The suites are SUPERB. Luxury luxury luxury, amazing location and would be the ideal venue for a long weekend away. Corfu Town is steeped in history, amazing shopping and great restaurants - would make a fabulous short haul destination with a partner or the girls.
We had the Durrell Suite and the Achillion Suite.
Most days at the villa, we would spend a couple of hours by the pool and then go somewhere for lunch or dinner.
We could walk to Avlaki beach (it was good on the old glutes going up and down the hill, I'm not going to like, but the pay off for that is the incredible view) where there were two lovely restaurants. As well as a place to hire kayaks, paddle boards or learn to windsurf.
On the day the family tried out the watersports, I did take one for the team and was Bag Monitor on the beach (proper sunbeds for hire at three euro a day *punches air*).
The other favourite activity was hiring a boat for the whole day.
We hired from Fillippos Boats but we booked through the completely amazing concierge service that comes as part of the villa package - Jo. She was incredible. Organising boats, restaurants and random things like "do you have any more dvd's?".
But obviously, as awesome as Jo was, she couldn't pack for me and bring those gems from home that make a holiday perfect.
So what would my top packing must haves be.
First up towels. Now they did actually have these to use in the villa but I had brought my own with me. I first bought one of these about 4yrs ago from this company and they contacted me before I went to ask if I'd like another. These are also a staple packing purchase for our Suffolk holidays.
Indigo Yildiz Hammam Havlu Towel £30 They're light, they pack super flat, they look gorgeous and they're fully functional. AND they dry super quickly as well. The 11yr old could always be found wearing one blanket stylee of an evening too.
Travel Steamer now only available in grey. I got sent the pink one a couple of months ago and have used it religiously.
Cirrus Steamer in Grey £100 Yes it's an investment but I also use it at home. Especially useful on silk shirts and dresses that I am usually terrified to iron. If I were to tell you an appliance could change your life, would you believe me?
Now I did do a beauty blog here but there are two things that I forgot to mention as total must haves. Well - if you're verging on blue like me.
First up - easy to apply, no bother, perfect for correcting slightly errant tan lines. I was first given this in a goodie bag last year or the year before and have bought it on repeat ever since. It's not cheap but IT WORKS! It's so good. I have tried other body make up products but I still go back and buy this.
Vita Liberata Body Blur in Latte (this is medium and the one I always use) £29.50 Use a mitt.
And then THIS which I have discovered recently (it was sent to me) and shall be taking with me next time I go away. Amazing. Seriously amazing. I get sent a lot of fake tan products but I would only recommend ones that I use again and would happily spend my money on. Life is too short for a bad tan, even if it's free!
Vita Liberata Invisi Foaming Water £25 (I was sent this and got given the Medium/Dark. I think Super Dark is not going to work on any level for me!)
Then I'm finishing with two dresses which I should have included on my last thread but didn't seem them.
They are the perfect throw on holiday dresses. They're a non crease jersey dress. Super glamourous yes but in a really easy to wear fabric. You could wear for breakfast, for a day trip, for dinner. Ideal with flats. Simply perfect. Only decision is whether to go for blue or green. Although probably NOT perfect at all if you are more well endowed in the chest department. SORRY!
Green cowl back maxi dress from ASOS £38 I ordered the 10 and the 12 and the 10 is perfect. It does come up on the larger side.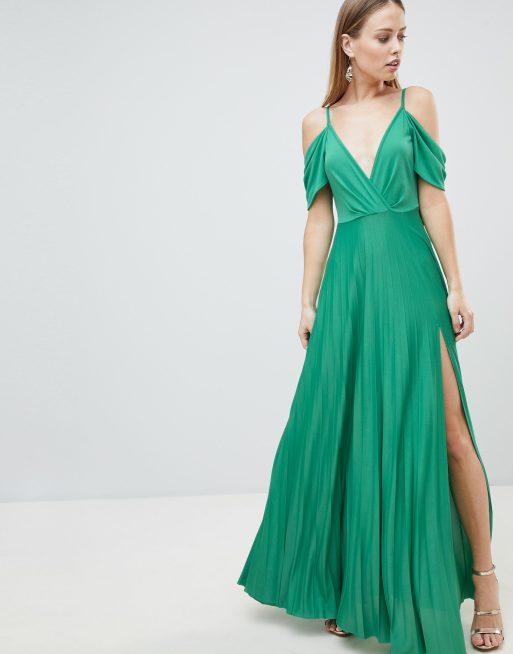 Or the blue (and this is a tall - although there really isn't that much between them).
Actually they do have the normal size here... to be honest, I think I will order that as opposed to the other which I think is too long!
Orrrr there's this one. OH MY DAYS, it looks pants here, it genuinely is the dreamiest dress ever. Yes it's the same as the green one on the last blog (here) which I procrastinated about ordering and now it's sold out. I am hawking ASOS to see if it comes back into stock (obviously you can't get it at Missguided).
Missguided orange maxi dress £35
You can see pics of all of those over on Instagram stories. Along with others from the last blog I did...
Here's what I DID wear to the party the other evening. Was a fabulous night, took a *little* bit of time to recover yesterday. Had a whole day of meetings planned in London as we stayed overnight and then got a call at 9.30am asking me to pick the smallest one up as he wasn't feeling well. The law of sod!! Or of just having children..!
Dress - DVF (sale ss17)
Bag - Tory Burch Bicester Village (about 5yrs ago)
And then this is what I wore yesterday....
Dress - FCUK (gift aw17)
Shoes - Pretty Ballerinas (gift current)
Glasses - Victoria Beckham from Bicester Village (3yrs ago)
And tomorrow - off to Ascot for Ladies Day which I am obviously ridiculously excited about. Outfit sorted and I'm actually wearing something from a couple of years ago. At least that way I know I won't run into anyone else wearing the same thing. She says...
Friday morning... off to work on pretty much the best project I have ever EVER been asked to work on. Actually keep having to pinch myself that it's going to happen. So just in case it doesn't, I won't mention anything else! (I REALLY hope it does as I'm spending all evening packing and have spent about three hours today sorting childcare.... watch this space!!).