Soggy hems
How to sell an item... but well, frankly you need to be fairly weather savvy when it comes to wearing these. These have been a staple in my wardrobe for years. Ever since I've been donning the trainers. As I think they are the perfect footwear partner for this pair of...

….WIDE LEG TROUSERS.

And today we're not talking cropped, we're looking at floor sweeping numbers. Hence the soggy hems. Because alas - I do think these need to scuff the floor almost. Or even just definitely scuff the floor. They need to "pool"... Which does mean that we don't really want to spend a huge amount of money on them as - well frankly, I would rather have them super long and machine washable as opposed to immaculately cut, pristine and me blow a gasket every time I got them remotely damp. Not to mention no dry cleaning pretty please.

Where have I found mine in the past? Oh hello Mr Marks and Mr Spencer...

I couldn't find any last year but these are definitely definitely worth ordering.

Now they do go in and out of stock...

Crepe Wide Leg Trousers from M&S £35 And I'm just going to throw it out there that these don't look the best here. To put it mildly... BUT they are amazing. I PROMISE (see pic below of me in it and see what I mean when I say about them needing to be almost touching the floor - not hovering above your court shoe. BUT that's just my personal opinion).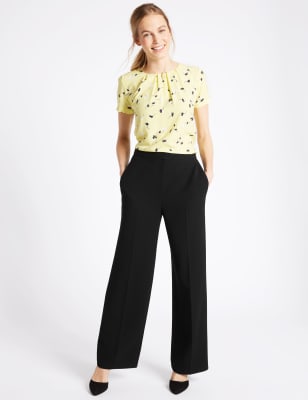 These are also from M&S and are very similar... I haven't tried them but I would think that it's only that the quality isn't quite as good.
Crepe Wide Leg Trousers from M&S £29.50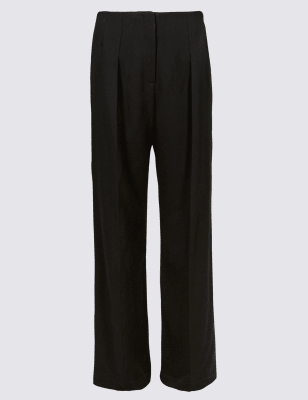 If they're not in your size though (and I know they are in short supply... SORRY! Don't blame me - blame M&S!) then these from ASOS DESIGN are definitely worth a look.
ASOS DESIGN Wide leg trousers with pleat detail £25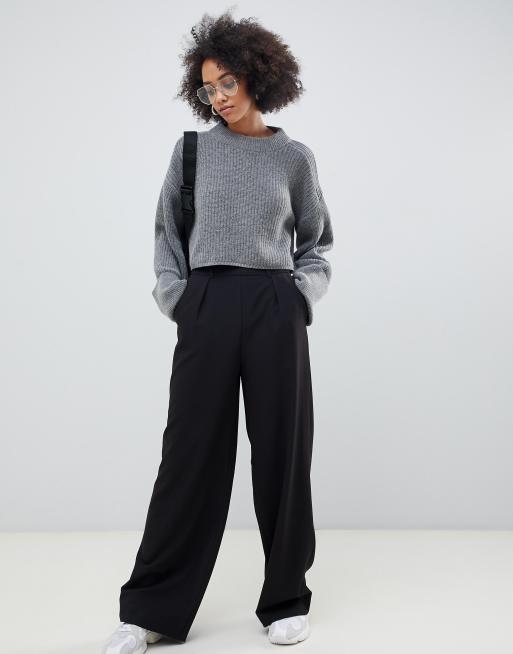 Don't say I don't give you anything as they also do these in a tall! £25
There are also these but I'm not sure they have pockets. And no pockets are a NO WAY in my book. Although these are pretty darn perfect... black pussy bow blouse - that's my Christmas outfit right there.
High waist palazzo pants from Mango £49.99
Black velvet now from M&S in three different leg lengths.
Velvet Wide Leg Trousers from M&S £45 I did check and these aren't supposed to be cropped, I'm pretty sure...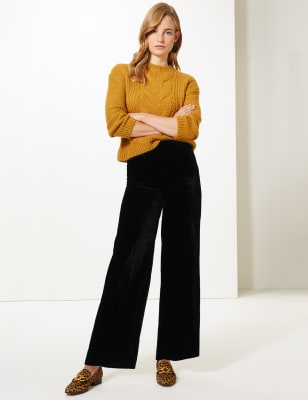 How about a side stripe (LOVE these.. not for the super tall but for everyone else - go forth and purchase and I shall be jealous...)?
Collusion side stripe trousers £25 Black with red velvet...
HOLD YOUR HORSES!! They do them in a tall... WHOOP! (ordered!) These with a black blazer, red jumper or tee and white trainers. Oh HELLO! I have a whole host of things in my wardrobe that will perfectly with these.
Collusion side stripe trousers in tall £25
Or another side stripe from Mango... black and yellow. *prays they're long enough*.
Mango Wide Leg Trousers £49.99
Check Suit Trousers from Mango £49.99
Yellow check. Yes. OH YES! But these I'm sure they don't do in a tall. PLEASE someone buy them and wear with a black polo neck and black blazer. All the awesome and then some.
Daisy Street Wide Leg Checked Trousers £27.99
And these aren't for those who can't keep things clean! But they do go in the washing machine so....
Contrast Seam trousers from Mango £49.99
Here I am in mine... these are the M&S ones from above and they are superb. Says a prayer you can get them in your size....!
Trousers - M&S (current)
Coat - M&S (aw18)
Jumper - Bella Freud from Black White Denim (current)
Bag - Loewe from Matches (aw17)
Trainers - Russell & Bromley (gift from press day - these are the men's!)
Sunglasses - Walter & Herbert (current)
I will be back tomorrow - I'm definitely going to be talking blazers. And a blazer that's not just for Christmas, but is for life. I have a sick child here who has a raging temperature so chances of him recovering tomorrow are not high (and I'm super busy at the end of the week so I'd rather he slept off tomorrow for one day than have three days off at the end of the week!).
So talk to me about the wide leg trousers.. a yay or a nay...?