Is this the ideal shoe?
And if so, why doesn't it have a better name? This word is almost as bad as blouse. Court Shoe. Boak.

But it's a must. It really has cemented it's place as the most useful shoe you'll own and one that will earn its keep in your wardrobe for years and years to come. A timeless piece of perfection.

And there's one to suit everyone. Sky high or mid heel. I'd even go so far as to put in a flat (which doesn't really make it a court shoe, but yah boo sucks to the purist out there. If it's got a toe like a court shoe and can be worn in exactly the same circumstances as a court shoe, then a court(ish) shoe, a pointed flat can be). Or you can throw in a kitten heel (being tall I tend not to do these as I feel it looks like I'm just too big and heavy for an average heel and have squashed it down to kitten size).

For anyone who says they're boring (my 30yr old self springs to mind), well have I got news for you. There is nothing boring about these shoes now. These can be the work horse of your shoe wardrobe.

Although I will just throw this in there, I personally struggle to wear these with a dress. Clearly there is a part of me that isn't quite comprehending that at almost 43, you can dress like a grown up. But I just feel too "grown up" in these. Does that make sense? I feel like I should be going to work. Proper corporate work. Even though I have other friends who wear these with dresses for parties and look like the height of sophistication, I feel like I'm going to a job interview. And the one thing I've learnt, in my quest to find fashion that works for us as we get older, is that it doesn't matter how great something might look, if you're not loving it and you don't feel comfortable in it - ditch it. That's the secret of personal style. Other people might not get it but it's not their style, it's your style. Wear it and own it. *fist bump and naff pep talk over* (falls off soap box. I haven't even had a glass of wine...)

I had intended to go slightly off piste and also include variations on a court shoe but then I realised that wasn't a court shoe. That was a high heel. And I have plenty of those up my sleeve but for classic capsule wardrobe purposes, I'm thinking it needs to be a true representation of a court shoe (boak). For me, that is the most versatile of heels and one that you will wear the most.

Read it and weep (or just shop.) I have plundered the depths of the sales archives and brought you the best bargains to bolster your Spring look.

Starting with some designer options and we've got a mid heel. Hoorah I hear you cry...

Holla Pumps from DVF were £248 now £99 There is zero reason why these wouldn't go with everything. I would have happily worn these to work with a suit and gold jewellery - super simple, yet super effective. With a white shirt, black blazer, boyfriend jeans for a night out. Black dress and these = black tie.



Hilda pumps from DVF were £264 now £105 Not everyone love a bit of metallic bling so how about some snakeskin?
An even better bargain at Jigsaw in a super versatile pewter with a great mid heel height.
Milly Court Shoes from Jigsaw were £149 now £74
They do also have them in a black pony skin version (be still my beating heart) but these are £159 still. Personally I would live in these and would be happy to pay full price.
And an out there option. With an all black outfit. These. Rock. And check out that mid heel you could wear all day. LOVE. (and love the price even more).
ASOS Soulmate Co-ord pointed heels £25
And these, which would be much more of a treat but I still adore. You would have these for years and you could wear them every day as they're such a daily friendly heel. How to make a boring suit a lot less boring.
Star Crystal Point Toe Court Shoe from LK Bennett was £295 now £145
Now I know lots of you would think these are a high heel but they're probably billed as a mid heel (albeit a higher mid heel.. I'll give you that). And as they're the special "woven by the foot fairies so they're akin to walking on clouds" aka Insolia from M&S, you can wear them for hours and walk mile in them (not tried, can I point out?) Did I also mention that they're magic suede too?
Stain Away Suede Pointed toe court shoes from Autograph at M&S £49.50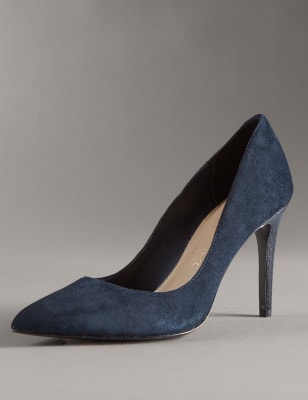 Or in the black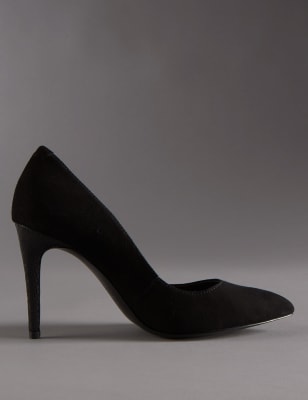 And who says that plain black needs to be boring? Not when you have a glitter sole it doesn't...
Natalya Glitter Sole Shoe from Jigsaw was £169 now £84
Or a classic nude in patent leather £49.50 also from M&S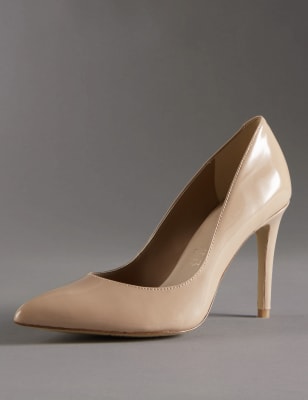 Slightly more but I love the cut out side on these and they are in the sale..
Black Tamsin Court from Hobbs was £139 now £89
And now we're onto the super high. Not for the fainthearted. But they make your legs look amazing...
Bandele Pumps from DVF were £248 now £148
Bethany pumps from DVF were £248 now £99 My favourite print for the classic shoe.
And finishing with a ringer... have to say - back on the yellow quest from yesterday (giving all my up and coming blogs away..), these caught my eye.. I think I love.
ASOS Pocket Pointed Heels £42
Proof that these stand the test of time, is my black suede pair that weren't expensive at all - from Zara, but I have had for four years now (maybe five?). I wear them all year round and am always asked where they're from. They're high for sure and no, I can't really dance any more in them (to be fair - that's more down to my ageing knees as opposed to the height of the heels).
Are you a fan of the court shoe? Plain or print? Mid or high? If you are after something a little more elaborate or "statement", then I will be back as I have buckles and straps a plenty (which sounds wrong on every level).
So this is me today following on from my mantra on Instagram, determined not to keep things just for best. I had a lovely day today - a surprise lunch with the husband who was working from home and then a trip to a car show room (which, saddo that I am, I really like... Didn't have time to test drive anything today but going back next week. This counts for me as a good day out. I know, I know, need to get out more). Excellent meal at The Twenty Six in Southborough if anyone local wanted to know. Really really good and highly recommended.
I couldn't be more in love with this jumper if I tried. And in the end I kept the Ash boots. I couldn't justify the £300 price difference between these and the Acne Jensens and seeing as I'm planning on wearing them with my new cropped trousers and culottes, the Mira which are slightly longer, I think will work better. Not to mention with midi dresses...
Red 1970 jumper - Bella Freud
Black peg leg trousers - Zara
Grey scarf and wristwarmers - Black
Black blazer - hush
Mira chelsea boots - Ash
I can't believe tomorrow is Friday. Whoop whoop me for getting through another week without a glass of wine. I have not signed up to a Dry January but thought I'd try not to have a glass at all during the week (WHY?????) and also have two party free weekends. Really looking forward to spending time with the children actually (and a glass of wine which I am going to have tomorrow night. Which obviously I'm *not* looking forward to as much as I am spending time with the children.. not at all... nope... In my defence, tomorrow after school I have football, three lots of swimming lessons and cubs. Just what you want on a Friday night.... What was I saying about the wine?).