I appear to have developed a social smoking relationship with jeans.
To explain - I only wear them rarely. Very very rarely. I was addicted to them but have managed to completely wean myself off them. Oh my lord. maybe this actually means I am growing up...

Although to be fair, as in the A/W I have pretty much lived in coated skinnies or leather leggings, I'd hardly say I'd graduated to the dizzy heights of any maturity.

But I do feel that, for the most part - cretinous phraseology warning - it's an evolving part of my style. Is it because I'm getting older? I don't think it is actually (she says, just checking that a catalogue on the doormat from Country Casuals wouldn't set any pulses racing. Yet). I think it's more down to a change of look.

And what have I already explored and plan on definitely wearing more of this season? That'll be trews. Slacks. Pants. Call them what you like - they're err. Trousers.

This is great news for those of you who work (someone mentioned the difficulty in work/leisure wardrobes the other day and one of my best friends is always having this moan to me) as they are the perfect trouser for you to wear at the weekend but get double use out of during the week for work.

We are firmly entrenched in Classic here for sure. Definitely a pat on the back and a polish of the halo from the Graceful Team with the donning of these.

However fear not, I have a cunning plan of how to turn them into a deliciously disgraceful outfit tomorrow with one humzinger of a new season item (for me, the jury is out but they're definitely worth looking at. I shall be back tomorrow with my theory and how I think we might be wearing them).

But when it comes to trousers, what sort are we looking at this season? Well, to be honest with you, how long is a piece of string as to what is in and what is out? And it all depends on how you wear them, when you wear them and what you wear them with.

One thing I will say, is that when it comes to anything that's not super skinny or wide legged (including boot cut, although...watch this space), I'm going for ankle length being preferable. Or even cropped. Now I completely stand to be corrected on this but pretty much full length trousers when straight or tapered aren't on the agenda for me this season.

Mine that I wore last year and have continued to luckily wear into the Winter are cropped and cigarette style. In a chino fabric, that makes them err like chinos. Which are basically a cuffed cigarette style trouser, I've come to the conclusion. Maybe pleated at the waistband when cigarette pants are more flat fronted? It does depend on what suits you.

For the purposes of the trousers today, we're not going down the kick flare (small squeal) or cropped flare (already in love with) but the classic - been around forever, team it with the wrong shoes, get them the wrong length and yes you could look like an advert from M&S circa 1984 - trousers.

Which makes them sound quite difficult to master I fear. But honestly they're not. It's what you wear them with. And, like I said, make sure that they are either resting on or above your ankle bone. For me, these are the perfect foil to a more Disgraceful shoe. Team with a logo sweatshirt and cocoon coat. I'm planning on wearing mine with a fitted polo neck, blazer but with the Golden Goose at the bottom.

For me, it's all about mixing in a more modern style and hopefully you can get the right mix of elegant with a hint of eclectic (if that's what you're looking for of course... it sort of sums up what I *think* I'm trying to aim for)

So let's see what's out there - some new styles in but some absolute bargains in the sale. You might need to use your imagination with some of the more formal looking styling. If in doubt - imagine a pair of Stans on the feet. And a cashmere jumper on top.

New in at Mango in a lovely shade of blue - slightly lighter than a navy.

Elastic Waist Trousers £49.99 in ink blue Yes - that is elasticated waist.. oh hello comfort.



Now these, to me, don't look the best in this pic, but imagine with the above shoes (or the Whistles ones below) and a knit in navy, or even a logo knit (these are definitely coming under the heading disgracefully graceful) and these would be fab. Machine washable and a steal at this price.
Oat Aveen Trouser from Hobbs were £79 now £23
More in the sale at Whistles and I lived in my khaki ones from last year.
Sadie Slim Leg Trouser from Whistles in khaki were £95 now £47.50
I have to say though, my choice of the cuffed variety would be these from Banana Republic.
BR Monogram Faux Leather Cuff Boy Crop were £69.50 now £29.99
Bargain straight trousers at Mango now for £19.99 in navy, tobacco (to me this is more of a burnt orange) and black. I think they look best in the navy.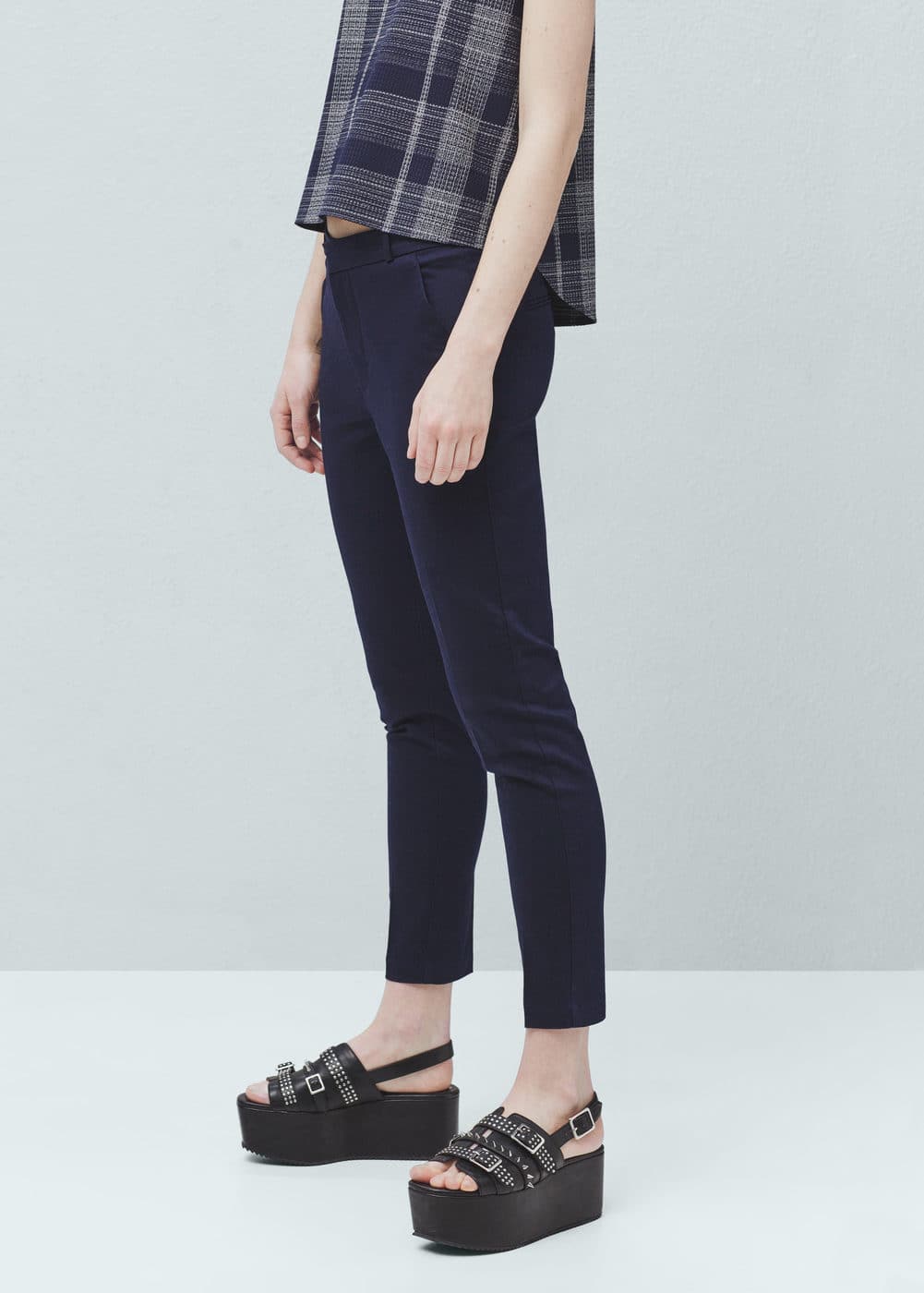 Slightly different and a looser fit in a grey at Banana Republic.
Charcoal Boy Fit Roll Up were £59.50 now £24.99
I have these in the navy and absolutely adore them. I have a 12 as they are quite high waisted and I'm very thick of middle so needed the bigger size so that they'd do up!
Straight Crop Trousers in navy were £98 now £29.40
These are an amazing amazing buy now.
Straight Crop Trousers in black were £98 now £29.40
Thinking ahead for the Summer or for now with all blacks and greys would be gorgeous.
Ankle Cigarette Pant were £98 now £29.40
These also wash like a dream and not an iota of ironing. They also don't crease at all when you're wearing them. Amazing.
I do find the Me+Em ones slightly more on the tapered side than truly straight but for a more tapered look, these get my vote from Autograph at M&S.
Tapered leg drape trousers £49.99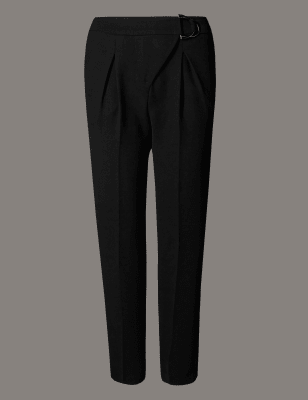 Tapered again in grey this time at Hobbs.
So have you been converted to the world of slacks yet? Am I selling them to you with that super stylish description? These are a definite must in my S/S wardrobe. Yours?
Well I've had a lovely day looking at trews as well doing a gazillion washes - all the beds (I might not have changed the spare room yet since Christmas.. minger alert), done puzzles, watched Spongebob and got up early to do a dog walk. Yes the joggers are out again in force.
Two small boys off today - a 9yr old who was bouncing off the walls and desperate to go to school, bless him and another very lethargic 7yr old who was up all night throwing his little guts up. Every half hour all night. Did I mention I was a slight zombie today as well?
Black ribbed longsleeved tee - River Island
Grey Lucky sweatshirt - hush
Black sleeveless long cardigan - Primark
Grey cashmere scarf - Black
Charcoal harem pants - hush
Edie boots - Seven Boot Lane
I'll be back tomorrow as all plans have been shelved this week due to sick children. Smallest has to stay off again tomorrow. Can we just please all cross our fingers that the 11yr old doesn't go down with it too? I *might* just be getting cabin fever...