It's the first discount of the season...
.. oh hello River Island. 25% off thanks to Grazia. First of the season. Code is GRAZIAJAN16 till next Monday 25th.

Now I'm not going to lie. River Island isn't particularly aimed at "our" age group. As was evident when I took my best friend in the other month (who is not your typical River Island shopper by any stretch of the imagination.. ) and who was visibly shaken at the experience (wuss). If you had to divide the stock into the "disgraceful" and "graceful" camps, you'd come away with very little that fitted into your Classic Capsule Wardrobe. There is a lot that is made for a much much younger age group (ie about age 14).

But that's not to say that there aren't lots of hidden gems. This is perfect hunting ground for those extra items that bring your classic look kicking and screaming into S/S16. The odd piece that you're not going to wear forever but oh my lord, it can make such a great difference to an outfit and your daily look with not a massive investment.

The perfect injection of something exciting, just when you're at that point of being so sick of your A/W wardrobe.

And when there's 25% off, now's the time to stick your toe into the new season water.

I came up trumps at the weekend with my sale bargains but I then may have got carried away and had a quick nosey through New In (it was that or empty the dishwasher and procrastination is my middle name).

Starting with a coat. I have lots of Winter coats and cardigans but come the Spring, I'm often slightly at a loss at what to wear. I love the look of a trench but I always find them just that little bit too stiff and cumbersome to be comfortable. This one could be the answer. Or it is it just that I am transfixed by the shoes.

At the same time, with a black and white breton, black wide leg pleather culottes or cropped trews, sneakers.. this would be amazing. It's also the perfect coat for midi skirts and dresses which is always a tricky one to master.

All prices are pre the 25% discount. As my maths isn't great.

Beige draped trench coat £80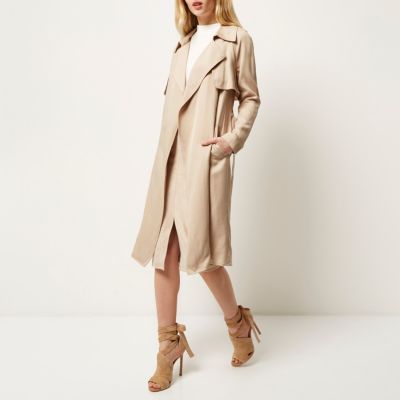 Or in the blue/grey £80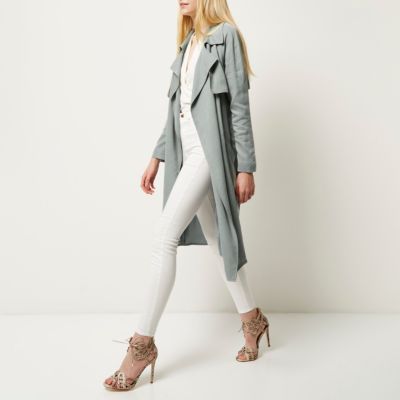 However a perfect all occasion coat (or is it a cardigan..) could be this one.
Beige jersey belted trench coat £65 This is so unusual. I'm praying it's a lovely knitted Eileen Fisher style jersey as, if it is, this could be the bargain of the season. I'm banking on this looking a LOT more expensive than it is. (I wouldn't be teaming it with these shoes on a daily basis. Just in case anyone was wondering).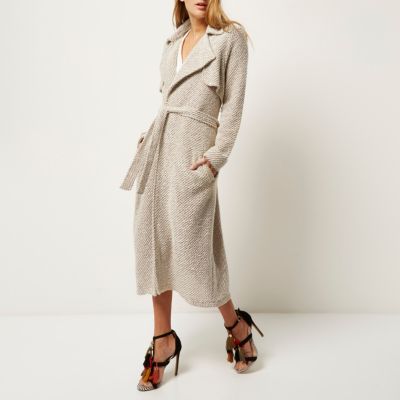 So I can't not mention the shoes.
Top of the list of great things RIver Island do is shoes.
In fact, I have a pair of white slides that have done me two Summers now. Which I remember, I bought with the 25% off Grazia offer (the one they do after Easter). Leather and about £20. Total bargain that I haven't needed to replace for two years. So there is, in fact, longevity in their products as well - as the high street goes, the quality really isn't that bad. Think Topshop as opposed to Primark.
I did have the beige suede ones above on the blog the other day but now with 25% off, it would be rude not to include them again. Ignoring the fact they have skyscrapers for heels.
Beige Suede tie-up shoes £65 Yes they're taxi shoes.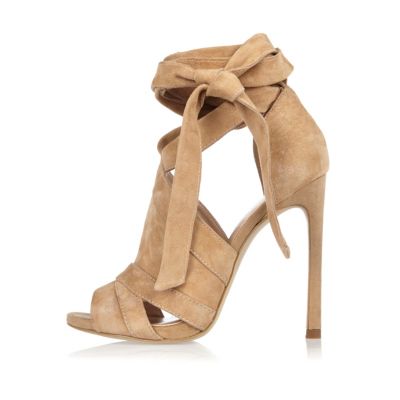 But fear not, there are some great flats as well. I spied an article earlier that said yellow was the colour of the season (that's clearly this week. It was pink last week and no doubt it will be something else next week. Which is handy for all, if pink and yellow aren't your thang).
These would be great though with navy, grey or black. And a great price if you either want to edge yourself gently into the world of sneakers or fancy an extra treat boost to your Spring wardrobe. We shall apparently be shedding out boots by the weekend and basking in temperatures of 12+ degrees. Scorchio. Ish.
Yellow Suede Lace Up trainers £28 Now they say yellow - I would say it's more of an ochre (check me out with my fancy terms...)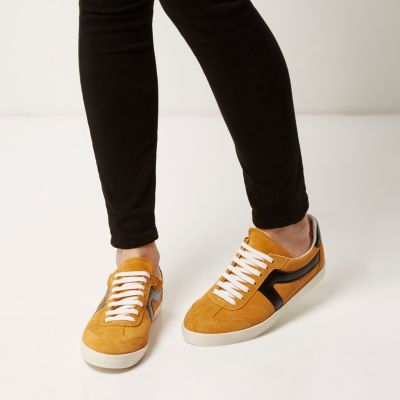 I am definitely embracing the flats again this season and these are amazing. Would make the world of difference to a plain outfit - for work or for play.
Brown Leopard Print Leather Ponyskin Shoes £55
Knitwear now and a couple of great casual options.
Great for adding interest to your basic wardrobe of neutrals.
Pink fluffy wool-blend jumper £38 Love the pockets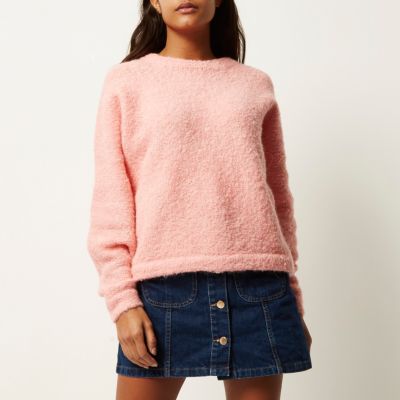 And in the green This is the same colour as the M&S one I got last season and I absolutely love it with black coated skinnies. Also works really well with grey or khaki. Much more versatile than you'd think.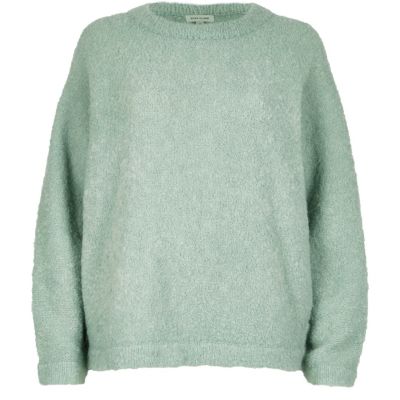 Moving onto tops now. Well, I've mentioned my love of a slogan top but longsleeved ones are thin on the ground. This one is definitely worth a look. For a great price with the 25% off. Black coated skinnies, black blazer, sneakers. Perfect day to night outfit done. And if you managed to pick up the New Look coated skinnies, a bargain outfit at that. Or, I'd actually wear it as part of a trouser suit.. with sneakers for that different edge.
Black armour print longline top £26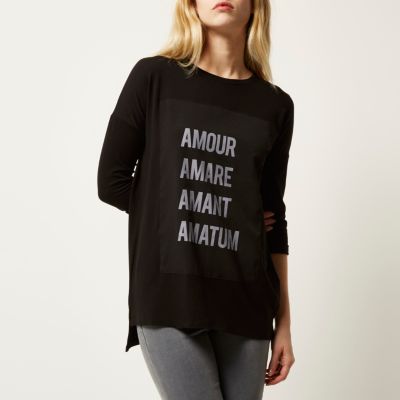 Navy mon cheri fitted tee £18. This is more Whistles than River Island, no?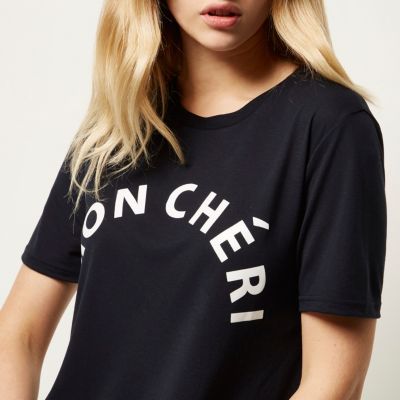 And finishing with where I've had my most recent success - trousers.
Starting with a sneak preview of something is almost top of my gracefully disgraceful wish list. These are not going to everyone's cup of tea. But I am in awe of them. I wasn't sure of them last season, I'm not going to lie. Suddenly though, they seem perfect. I love the minimalism of them, in fact there's loads I love about them and have tons of ideas about how I'll be wearing them. I have a whole blog up my sleeve on them with idea. Do you love or hate?
Black Contrast side panel wide leg trousers £40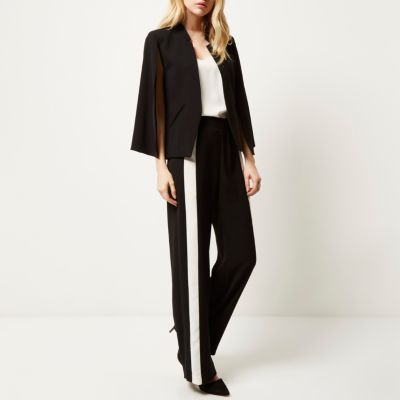 So yes, I've waxed lyrical about how great they are but there IS a lot of chaff amongst the wheat. My advice would be to order online (I always order next day delivery which is free over £100 I think - hence the random pleather culottes which I ordered to take me over the threshold and they were the only thing I kept apart from one pair of £12 jeans) and return in store. The store can be quite intimidating - certainly not the easiest to navigate... in my experience anyway (and my friend now makes a not flattering comment if I deign to even mention River Island in her presence...).
What makes your River Island wish list or is one of those stores that you think we should leave our daughters to shop at? I'm going in for an order (as I already have the plethora of jeans I ordered the other day to take back and, in for a penny, in for a pound, I may as well take more back too). Will be back with pics of what is successful and what is not.
Finishing with my Nanook of the North look. Gawd, it was cold today. Super early dog walk with a friend.
Black coated jeans - New Look
Off white fleece socks - Ilse Jacobsen
Lace up wellies - Ilse Jacobsen
Parka - South at Littlewoods
Black sheepskin wrist warmers - Topshop
Black oversized scarf - Mint Velvet
Black and grey cashmere oversized beanie - Black
And later on for the rest of the day. Had my colour done. Greys be gone. Having it cut next week... do I go shorter or do I go for a Keratin treatment? Or Olaplex? Anyone had that done? After my colour disaster mid last year, it needs a super treatment or a chop.
Grey Adele Jumper - hush
Black coated skinnies - New Look
Edie boots - Seven Boot Lane
Grey poncho - Simply Be
Bl
ack and grey oversized beanie - Black
Grey cashmere wrist warmers - Black
So tomorrow I'm back with another item from the Classic Capsule Wardrobe list. A perfect item for work but one that will easily take you out in the evening. And I am determined to plunder the remains of the sales. Enjoy your Tuesday night.