Fresh
So that's a weird title for a post. But the point of this is just that. Fresh. How I want to look. Not younger but just fresher.

It's why I have botox, it's why I love finding amazing creams and serums that improve the texture of my face. it's why I've recently looked at finding new ways to wear makeup.

And it's why I like to see what's "in fashion" (is there another, non crud way to say that?) and take inspiration from the super trendy to inject something new and well.. fresh into my wardrobe.

It's not about reinventing the wheel but keeping the crux of your "style" and making the most of your existing wardrobe with an injection of the odd new look here and there... without looking like you've raided Topshop and are trying to emulate your 13yr old or recreating the unrecreatable (not a word) pages of Vogue.

It's finding that middle ground. It's improving and building on a style of your own - cherrypicking what works for you from all things new.

And for me - one of my favourite looks is... hmm I don't know even know how to say it without a teensy bit of sick in my mouth - sports luxe. I know, I know - barf to the ridiculous title but that's what it's called.

I've sucked it up - whisper it under my breath and have embraced it for the past couple of years. Yes the easiest way to hop on board is throwing trainers on with everything.

But now we're reinventing our trousers with go faster stripes. Again, these have been around for a couple of years now so if you did think they were slightly too leftfield, rest assured, these have become immediately accessible and wearable.

I'm diving straight in with ones of a tapered style. These look great with the reliable trainers, loafers and tight fitting sock boots.

Check Tapered Trousers from Topshop £35



Check again at Stradivarius £19.99
Navy at ASOS.
Y.A.S Side Stripe Trousers £50
Tapered burgundy at Oasis in the sale were £30 now £15
Black at Stradivarius at ASOS £19.99
Grey tapered side stripe trousers at Miss Selfridge £35
Then there are the wide legged. Which personally I am feeling all the love for. Along with adding something new and modern with the go faster stripe (not the fashiony term obviously), the shape gives a fresh look to last year's blazers, tees and blouses.
Frona striped satin trousers from Mother of Pearl was £350 now £150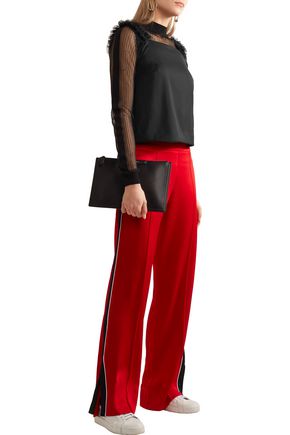 More red...
Side Stripe Man Pant from Me+Em £169
Straight legs at ASOS from Esprit in blue £45
Me+Em really have these covered.
Triple Stripe Man Pant in black/khaki £149
However this outfit is my absolute favourite.
Navy Side Stripe Pinstripe Trousers were £169 now £84 from Me+Em with an extra 10% off sales prices with the code EXTRA10
Or in the green - again £84 in the sale pre extra 10% off.
And these which are now a complete bargain.
Flannel wide leg with belt were £169 now £50
But finishing with a shape that I think might actually be a lovely foray into something else new. They say relaxed but I would say they're more straight with an optional kick flare if you undo the zip.
Checked side striped slouch trousers from Topshop £49
So what do we think? Does anyone else have something they're favouring this season to add an injection of "fresh" into their wardrobe? Would love to hear it.
Here I am in a new favourite - planning on wearing it again today as I love it so much. Ordered it from Anthropologie, it never arrived (was more than slightly irritated that I had to call them, only to be told that "oh yes, we can see it was never delivered"... ), was then out of stock, then came back into stock and TA DA! The reason other people didn't like it was probably because it's essentially a sack. But a sack with pockets that goes into the washing machine.
Jardin dress - Day Birger et Mikkelson from Anthropologie (sale aw17)
Boots - Mango (aw17)
Fabulous dinner party last night, thank to my amazing husband (he's a good 'un...) who did absolutely everything and my lovely friends for making it such a great evening.
I am off to pack for my night away with the husband. WHOOP!
Loads coming up this week, including other ways to add an instant shot of Spring.