Spot the Difference
This is a quick one today - I'm so sorry for having not been around the last couple of days. Can you believe, real life has taken over? How very dare it.

However I haven't totally forgotten about you and I do in fact have a plethora of things to report on but in the interim, on my travels, I have spied a couple of things I have to report.

All of these have been on my radar/wishlist but they're all a bit out there, to put it mildly and they aren't cheap. But, as if by magic, I have stumbled across (and this is genuinely stumbled across - I wasn't look looking for them, honest guv) some amazing, verging on identical numbers.

Starting with this metallic skirt from Whistles which I have posted before and loved - really loved. Alas it didn't particularly love me back but I still thought, if it was in the sale then maybe.... It wasn't in the sale.

Daisy Foil Skirt from Whistles £125



However I then came across this....
Silver Foil Midi Skirt from Zara £29.99
Staying with skirts and I shall discuss at greater length my growing obsession with leather skirts shortly but suffice to say, I *may* have been having a sneak peak at what is out there. And hello M&S....
Skirt from Peridot London £350
Leather Pencil Skirt from M&S £149
Bargain of the day though has to be: - this coat. That I have posted about before and that I LOVED. This pic does not do it justice. Believe me this is a gem of a coat. Totally divine.
Duster Overcoat with Cashmere from Autograph was £169 now £66 (yes that is £66)
And just to add insult to injury to prove what a bargain it is, may I present...
Peridot London Asymmetrical wool coat £565 (yes, that is £565. FIVE HUNDRED pounds more. Well, almost)
And lastly - yes you're all going to hate these but I saw these months ago in a mag and fell in love. Please don't judge me - I adore them.
But not at this price as even I can appreciate they may be ever so slightly a one trip pony.
Distressed Painted Cargo Pant from JCrew £168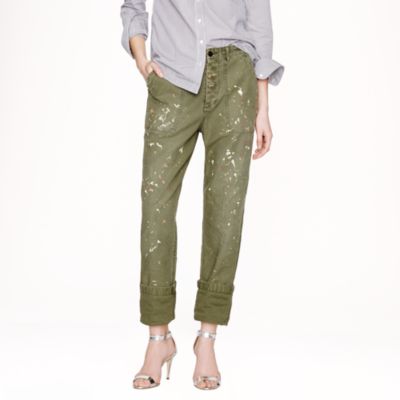 But hold on to your horses.... who fancies a one trip pony for £18?!
Trousers with paint marks now £17.99 from Zara
So your challenge for today is to guess which one I bought..... (and yes, I did only buy one of them). Roll up roll up, which one was a winner?
Finishing with my outfit from yesterday and who turned off Summer? Don't even talk to me about today. Dear. God.
Navy Horsing Around sweatshirt - JCrew
Khaki skinnny zip detail jeans - By Malene Birger
Trench coat - Banana Republic
Cheetah print ponyskin skater shoes - Next
So whilst I've been swanning around doing necessary housey stuff and limping to the end of term with school concerts, picnics and other necessary gubbins, fear not, I have some great ideas to bring you. Watch this space.