You can never have too many jeans can you?
Well the answer is obviously no. Seeing as these days - all jeans are in fashion. And have been for a number of years now - there doesn't seem to be any shape that you can't wear.

I've thought this for ages but having had a full day of denim shopping in New York where they have denim departments that we can only dream of here, I can now confirm it. Ok Selfridges does come close... but I still don't think it's as good. Certainly not as good as Saks Fifth Avenue which is Denim Heaven.

And there is no shape of jean you can't buy these days. Literally anything goes. Now that is news to celebrate. Happy happy days. As I am being asked ALL the time - why can't I wear my boot cut jeans anymore? Well actually you always could. Although they're not boot cut boot cut as we used to know them, as they are slimmer in the legs than before but the idea is still the same. They still give the same silhouette and are perfect with both heels and flats. You can get low cut, high cut, black, vintage, faded, baby kick flare or a fuller flare style.

And this is what I couldn't resist in New York. I had completely forgotten how totally flattering they are. And how easy it is to make them very relevant today. With the right top - loving a jumper and a blazer for those cooler days. Or with a looser bardot, cold shoulder or boho style top - or even a plain tee or vest - for those warmer days (when - if - they arrive.. no, when... definitely when...),

I came across a brand called McGuire in Saks. I will admit I had never heard of this brand but they do sell them at Selfridges, JCrew and Club Monaco in the UK. But you can order them from Saks from here, take advantage of their sales prices which are pretty darn fabulous. Now I'm not sure about the tax issue - but if you get the sale price, the tax wouldn't be that bad anyway. And they are rather expensive here.

I sized down in these. There are SUPER stretchy - the ones I have on are a 26. I am usually a 27 or a 28.

McGuire Majorelle High-Rise Flare Jeans from Saks were £167.20 now £75.24 Ok now they call these flare, but they really are a kick flare or baby boot cut....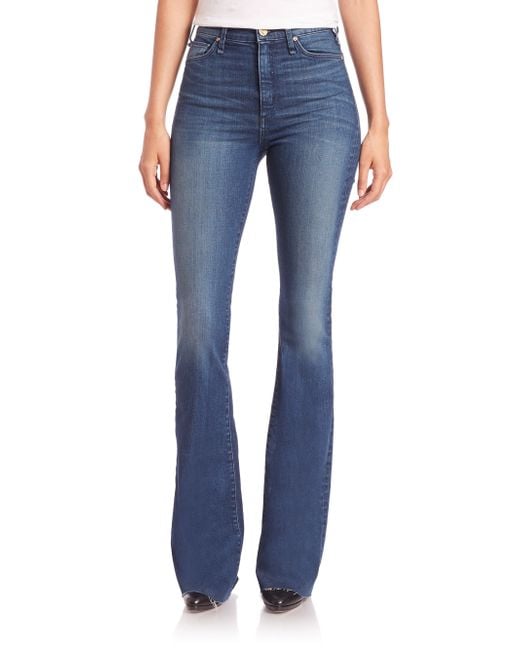 And here I am mine... I LOVE them. Genuinely they are magic jeans. Properly magic. Now the dilemma is - do I keep them long or short...? I can see they look pretty darn fabulous kept long but the heels I have under them are about 6 inches tall. I will wear these once a year if I keep them at this length. I also have the Stella jeans that I don't ever wear as I need to wear heels with them and I don't wear heels during the day. But with flats... long with flats... oh I like. I really really like and I think I will wear them a hell of a lot during the day with flats. Sneakers, loafers, sandals. So I have to say I am veering towards cutting off an inch or so - the denim is fabulously lived in and vintage styled that they just drape perfectly as a jean to be worn with flat shoes. I will wear my Stellas tomorrow to compare....
Other colours in the same style:-
Majorelle Released Hem Flared Jeans were £167.20 now £50.16. Obviously the price will depend on the exchange rate so this is a ball park figure (they worked it out on the Saks site - not me...)
McGuire Inez Patch Flared Jeans were £173.68 now £104.27 also from Saks.
Darker from Selfridges now. McGuire Majorelle Slim Jeans £205
The other brand that has the most amazing kick flare jeans are from JBrand - the classic Love Stories which are now on offer. Perfect vintage looking shade to these ones.
JBrand Another Love Story Jeans were £240 now £120
Dark now but at a fabulous price. I have some very similar to these from Topshop about six years ago...just to prove that they are worth it. I'm sure mine are the Jessie jeans and get dragged out every year or so, meaning I don't have to buy another pair.
Only High Waist Retro Flare Jeans £35
And we have more bargain ones to try. I've said it once and I'll say it again, I am a huge ASOS denim fan.
ASOS Baby Kick Flare Jeans £35
ASOS Bell Flare Jeans in Clean Black £35
Now some ideas with flats... this does of course depend on the length of your legs and the length of the jeans (duh) but I really think a skinny flare with flats is a total winner again.
And you definitely don't have to spend a lot of money on these - I have unearthed some great buys.
Dr Denim Brigitte Skinny Flare Jean was £45 now £22
Mid wash at Monki for a super bargain £14 down from £40
Faded now and perfect for the Summer with the Weekday Femme Mid Rise Flare £45
Have I made anyone happy with my declaration of love for the kick flare jean? I will be happily wearing mine.. as soon as it stops raining... That is the slight downside to them. Soggy hems. But it can't rain forever. Can it? (no - the answer is no, people...)
Which is why I couldn't wear them today. Meeting dodging the rain. A lot of rain. Thank the lord for an umbrella.
Black and white jumper - H&M
Black and white striped trousers - Me+Em
Mario fringed bag - Jerome Dreyfuss
So tomorrow I have a new discovery coming up. Something new and something not on your high street. And I shall be definitely wearing my kick flares. Anyone else?