And that's a wrap....
As promised, I have put together a selection of my favourite blouses that would work if you have more generous proportions up front than I do. That's not to say though, that these won't work for those with zero cleavage, the joy of these is that they suit everyone. All you need to do is choose your print (or go plain) and what you're going to team it with.

My poison of choice when it comes to bottoms this year, has to be the good old skirt. But that's not to say that these don't work perfectly with jeans as well. These could easily take you from work into out out territory - throw on with jeans and heels. They are simply the easiest option and what's not to love about having items in your wardrobe that you can wear again and again.

Which leads me on nicely to the point that I bang on about incessantly - that will be cost per wear. It's not about how much something costs - it's about how often you wear it. Of course there will be differing budgets to begin with but anything that costs £20 and you only wear once, can hardly be called value for money (if you wear it a whole host of times - well these pieces are the holy grail of wardrobes). I know it seems difficult to swallow but an £80 top that you will wear once a week for the whole of Autumn and Winter is definitely more cost effective.

However I have definitely found something for all budgets here so hopefully there will be something for everyone. I suppose the question I should be asking - are you a blouse fan or are you still a fully paid up member of the "they're for my granny" brigade?

So to kick off, I'm focussing this blog on blouses of the wrap variety. Some are more fitted than others but I know these are generally hugely popular. They look amazing with jeans, in fact team with any shape of trousers, ditto tucked into a full skirt.

Wrap-effect blouse from & Other Stories in Forest Green £45


Black with sleeve detail at Very.
V by Very Tie Sleeve Wrap Blouse was £28 now £22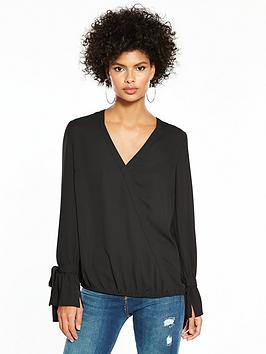 Another black option at hush. This style is one of their most popular - universally flattering and perfect worn over their leather leggings or skinny jeans. Which is something that can't be said for most blouses. Also works with looser bottoms too.
I should say that this isn't tucked in in these pics. It's sewn that way (a bit like the blouse above actually) so it just gives the illusion of it bouncing over the top of a waistband. Far more flattering than any tucking in.
Atlas Wrap Shirt in Black from hush £59
And as if by magic - here it is over the burgundy leather leggings.
Atlas Wrap Shirt in Burgundy from hush £59
Plain and classic at The Outnet and one that does flare neatly over all waistbands.
Layla pleated georgette blouse by Elizabeth and James was £250 now £112.50
In blush and waisted for those who prefer to emphasise their wasit.
Candace satin wrap top from Iris and Ink £75
Print now in a faux wrap at La Redoute. Absolutely love the colours on this one.
Floral loose fit blouse from La Redoute £39 but with 40% off everything with the code BIG40 (I KNOW RIGHT!)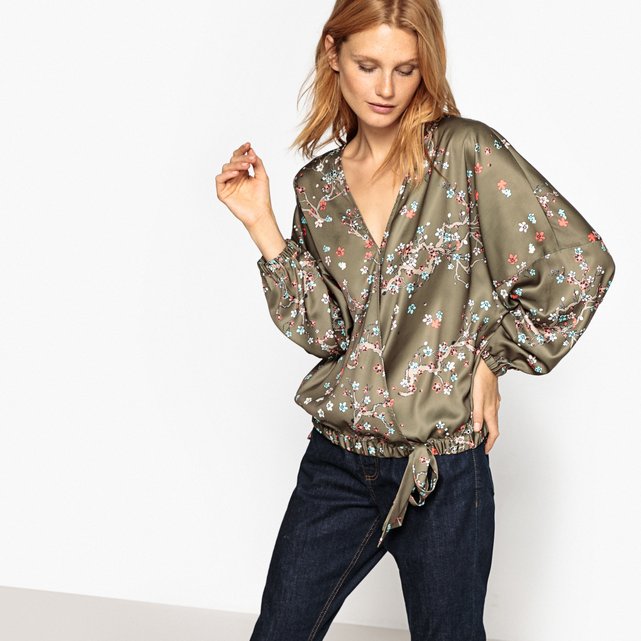 Geometric style at La Redoute £49. Love the colours of this. Again - make use of their amazing discount - what's not to love with 40% off (BIG40).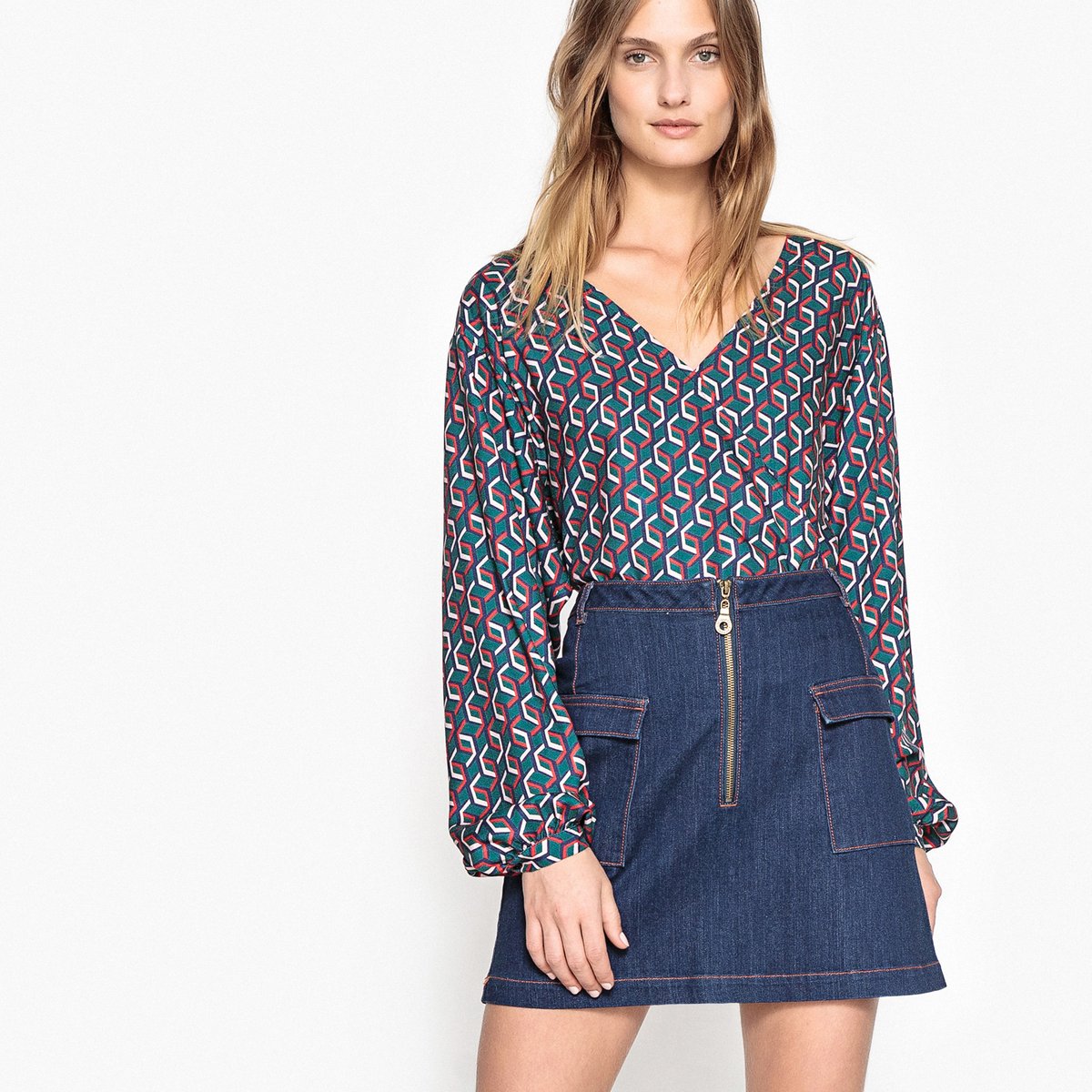 Another print at Very.
V by Very Embroidered Wrap Blouse was £35 now £31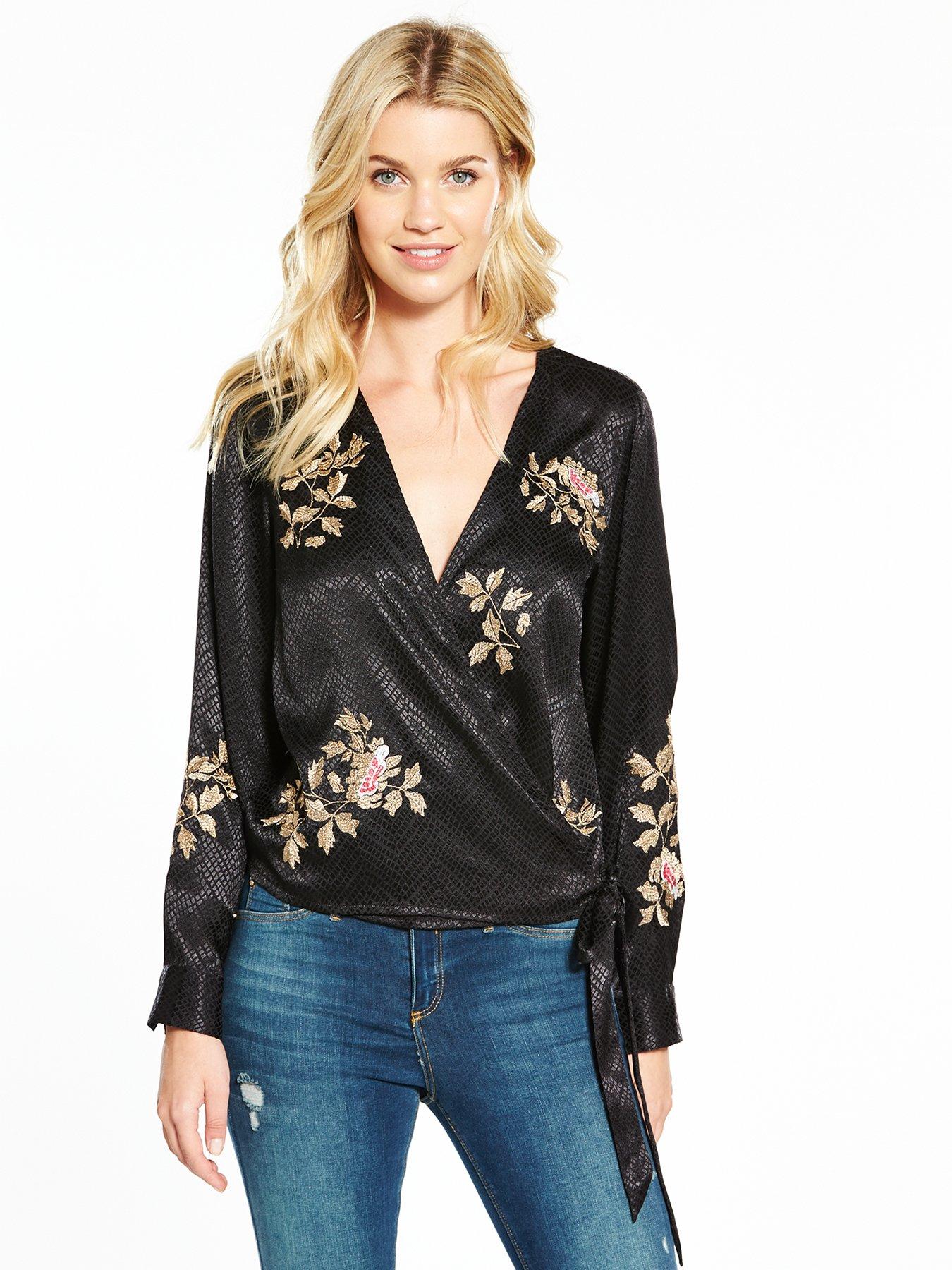 And blowing the budget at DVF. I LOVE this one. I though I loved the dress version more, but actually the blouse is so a lot more versatile.
Polka-dot devore wrap top from DVF at Matches £332
And here I am today - not in any blouse of any description but in a hoodie that I picked up today in the sale at H&M for the sum total of a tenner. I LOVE it. More of these coming up shortly. Perfect holiday blog fodder - the ideal travelling attire. I will definitely be reporting back on these.
Hoodie - H&M
Leather joggers - Rue de Femme
Tools Bag - Balenciaga
Coat - M&S
Trainers - My Fashion Tribu
Sunglasses - Walter & Herbert
Tomorrow I will be back with a blog that has a matching set of Insta stories with it. So not only do you get the photos from a changing room - I've also got moving pics too (could I sound any more geriatric? They're also "talkies"...!!). Along with styling ideas - I hope it all works!