Going for more being more
So it seems that prim and proper is the way forward this season. I have been a very slow adopter of the blouse but now I'm in, I'm IN BIG. There cannot be too much going on with these blouses, more is more is more.

We're talking high neck, velvet, ruffles (not print - I'll keep that for another day), lace, throw it all on. And how will I be wearing mine? With my new found love of skirts. I am embracing all that is Mary Poppins. One of these with a floor sweeping maxi or a mid calf swirling midi has my name written all over it.

No reason why they shouldn't work with wide leg trousers (just throw on a biker jacket) or your favourite loose jeans and a blazer or military jacket. I will just say that I am aware that most of you with a more ample cleavage won't be loving these - I will definitely be back with some more with a v neck.

The prim blouse door has been swung wide open and I'm the first in the queue.

First up, I've been some research for my monthly foray into all that is amazing at M&S and call off the dogs with their blouse selection.

Top of my list is this which comes in two colours. And I haven't forgotten about our green blog - on its way.

Velvet Trim Round Neck Blouse from M&S £27.50



And the red - again £27.50
Red again at M&S
Ruffle Round Neck Long Sleeve Blouse £29.50
And the same in cream again £29.50
White again at V by Very.
High Neck Ruffle Blouse £30
White at Boohoo
Frey Shirred High Neck Blouse was £22 now £14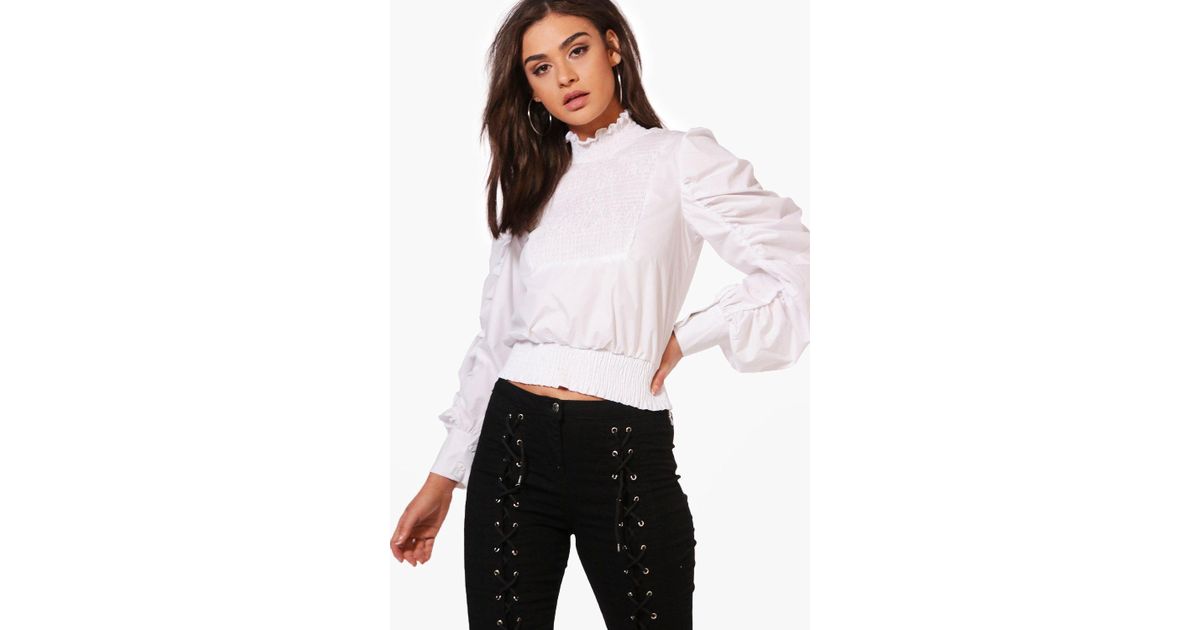 Cotton Blend Lace Long Sleeve Blouse £45 from M&S
Which is the one I wore on Friday night for the Premier of Downsizing in Leicester Square. Yes this was taken by the husband, no he didn't think of asking me to move five paces to my left so there wasn't a whacking great bouncer in the pic!
Virigina Blouse - Boden Icons
Ankle Boots - Tabitha Simmons
De Manta Clutch in Tan - Alexander McQueen
So that was the outfit that I settled on in the end - although to be honest, I could have rocked it up in anything. It said "smart dress" which clearly means a lot of different things to different people. Anyway, I have leather trousers on in the car and realised, as I sat there, I was going to sweat like a chuffing welder and so went back in to change into a far airier skirt. Which worked much better as an outfit to be fair.
However, I have realised that my leather joggers should now be having their time and so tomorrow, I will be back with all things leather on the bottom. And I'm also putting together blouses that work for people blessed with frontage - all hail the v neck? Or is a wrap style blouse that you prefer? Do shout what styles you prefer otherwise you'll just get the ones I've got my eye on!