All year round essentials
I would say "the all year round essential" but the thing is, that wouldn't be entirely true, as I will admit it's definitely "essentials" - plural as opposed to singular.

But this is something - one essential - that I've realised is a must have. It is always useful ANY day at all, whatever the weather. And all year round.
So to that end, it is something that one could justify investing in, if you consider it on a cost per wear basis. It's also one of the items in your wardrobe that you can guarantee will have longevity on its side.
However there are loads of amazing options for every budget. And yes, whilst I would usually purchase a leather bag, there are some other great options out there (I won't be able to find any now - you wait and see!).
Two things made me realise that this was definitely something worth writing about - first off, the fact that I've been using my little APC bag a lot this Summer, secondly, I had forgotten how much I loved my Balenciaga bag until I used it yesterday and thirdly (so that will be three and not two things), I saw someone with the amazing Warehouse bag that has aged so incredibly well, I can't tell you.
This is definitely one of my favourites.
HEADS UP! If you're looking for a present, or an every day bag - this this this this this. It genuinely looks designer, the quality of the leather is superb.
This is a great quick season update. In the sale.
However this could definitely have a bag off with the one above for my bargain of the day.
Leila Clutch bag (which you can also wear cross body) from Topshop £18
And here I am with a bag that's black that I use a LOT. It's also a tote. I haven't done totes today but they're coming up this week.
Dress - Topshop (current)
Shoes - Apiedi (gift ss17)
Bag - Gucci from Bicester Village (3yrs ago)
I hope you're all having a fabulous weekend. That photo above is actually from Friday. Yesterday we went to a party at a friend's house for the football which was amazing and WARM. No photo as my dress was one big wardrobe malfunction (strapless dress and me not wearing a bra - totally my fault - meant the poor young soul restocking the bread counter got rather more booby on show than he had anticipated!) MORTIFIED.COM.
So rather than leaving you with an image of my nipples dangling amongst the crumpets, I just wanted to let you know about a TSV on QVC that I did a paid promotion for on Instastories yesterday.
I am under absolutely NO obligation whatsoever to post it on here - but it's such an amazing deal, I thought you might like to know.
Elemis 4 Piece Pro Collagen Anti-ageing heroes collection £64.96 (EDITED TO ADD. This set is now £95.. it was only £64.96 on Sunday 7th as the TSV on QVC. Still a great saving mind you!).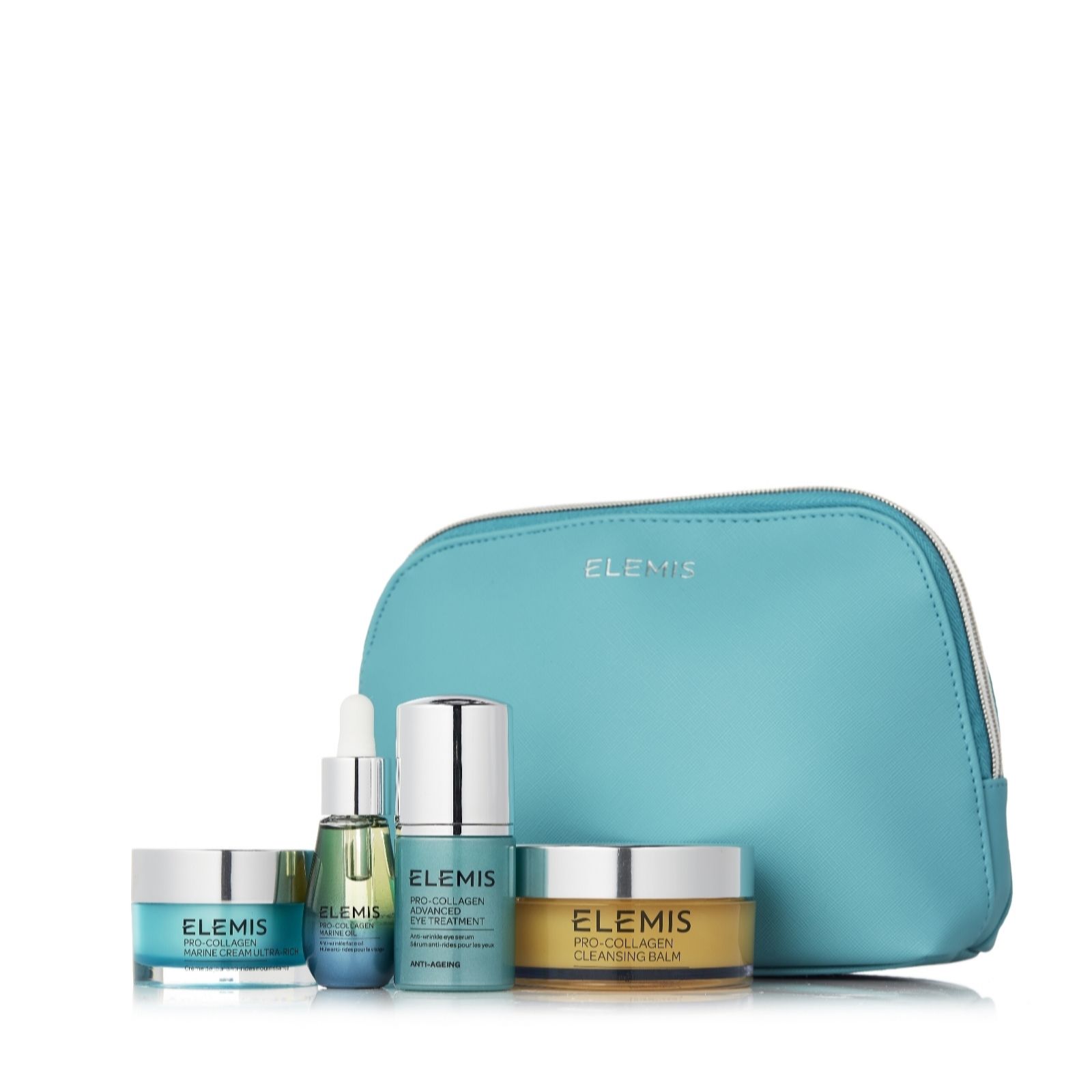 You save almost £150 by buying them in this offer as opposed to buying them separately! I haven't used the eye product before but the oil and cleansing balm I use daily and if I am looking for a light moisturiser (light but one that is also rich without being claggy), it's the Pro-Marine cream that's one of my favourites. Used it every single morning on holiday recently.
Hope that helps someone.. dare I ask how we're all coping with the heat?!