Just add one jacket and one pair of boots.
You just need to decide which ones.

Yes. it's time again for my monthly edit from M&S.

And I've found the most perfect boots and jacket for this season. The sorts of things I have been looking for in forever.

I've been going through my wardrobe this weekend and the main thing I try to do at this time of year is find key pieces that I can add in, to make the most of the things that I already have. Gems that will elevate my usual uniform. And that means that all my old favourites with, just a little tweak, will be given an entire new lease of life.

First up - The Blazer.

So yes, this is something that I am THE hugest fan of and am currently putting together an entire blog dedicated to these as, when I look through my wardrobe, these are what I keep year after year after year. I reinvent them with new outfits (I would never have worn them over dresses a couple of years ago) and have actually worn some out (as in they need to be chucked - looking at you Zara longline dress jacket that looks like the dog has been sleeping on it for 6 months *weeps* I LOVE that jacket!).

This, therefore is one of my finds of the season. Seriously what is there not to love about this? Chanel style, amazing fit although I will say it comes up SMALL! I would say definitely size up a size - the arms in the 10 are very snug to say the least. But this isn't the sort of jacket that you want oversized. In my opinion they work better when they're snug and super fitted.

Textured Blazer £89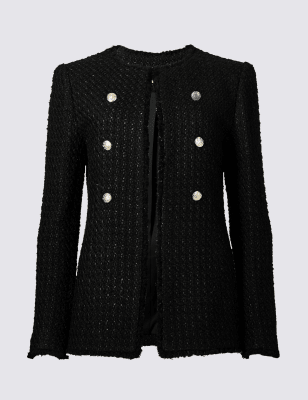 And then there are the boots. So I did a blog post the other week about how I have a hankering for knee high boots. I've found them. They are amazing. These are genuinely beyond superb. The leather is like butter, they're the perfect '70s style round toe and they have the super on trend looser leg. They're also quite wide on the calves which work perfectly if you usually struggle with knee high boots being too tight.
Yes, the heel is slightly higher than I would like BUT they are honestly super comfortable - padded and just perfect for little old lady feet like I have.
I also sized down - these are a 6 and whilst usually I would take a 6.5 at M&S, the 6 fits perfectly. I have been eyeing up pairs in both black and tan that have been three times as much these. Trust me - they are a bargain (and you can size down!!)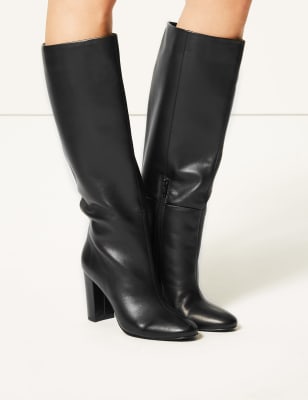 And I have bought the nude ones too. Nothing to do with my paid partnership - I paid for them myself because they are that good.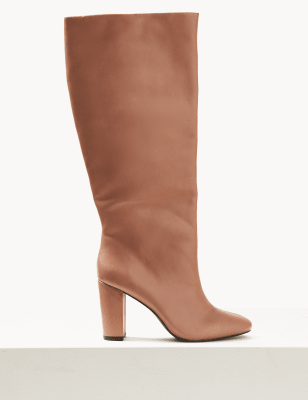 Then I have two dresses which I also looked at. ALL the info on these, as in being able to see them in action, is over on Instagram Stories on Tuesday morning.
Dresses. Just add a blazer and boots. Or a biker and trainers. These alas are every slightly too short in the body for me being 5ft10 but for anyone who is more normal of stature, these will be PERFECT.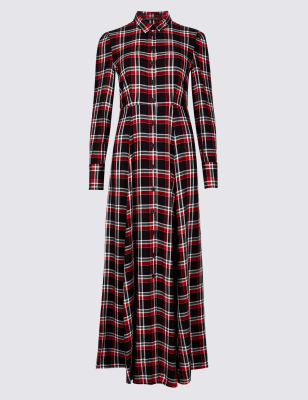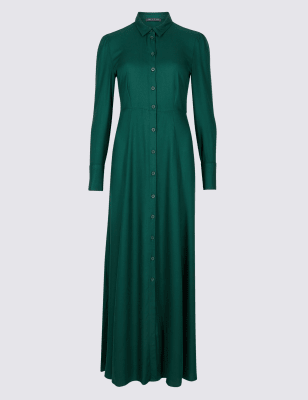 And here I am in the blazer and boots.




I will be styling these both up in different ways in the next week or so to give you some more ideas of how to wear them. The jeans are from Zara and are 2yrs old and were a tenner in the sale. And the belt is 14yrs old from Selfridges! I bought it when my daughter was born!





Both to me are classic items that will be in my wardrobe for years. It just makes a huge change that it's not a boucle blazer from Zara! (it's MUCH better quality, that I can assure you, although do check with the sizing).



In other news - today has not gone to plan.. does it ever though? Smallest is back from his residential and, like I think I said yesterday, STILL has a gammy ear so it was 30 mins of my life I'll never get back, trying to make an appointment for him at the Dr's. The 14yr old then woke up with what we can only assume is a migraine - no bright lights, banging headache, felt very nauseous... so had to play Florence Nightingale back and forth at the pharmacy and supermarket (this is not ingrained in my genes, can I point out..! I am NO loss to the medical profession...). And then after being mum's taxi all afternoon, I had a NINETY minute DofE talk at school. BUT I had also managed to cook a lasagne and am now going to catch up on Lethal Weapon (bless him he loves it) with the 11yr old. Not the husband if that's where you thought I was going... having been away in France all weekend, he has a ton of rugby highlights to catch up on. Or golf. Or something else sporty in which I cannot even feign an interest. Give me new season boots any day!

This blog was written as part of my paid partnership with M&S. All thoughts are my own, unedited.