When all the best plans go awry,..
…. aka this blog post.

So for this month's edit of all that I am loving at M&S, I had planned to focus on party shoes. A couple of weeks ago, I did a shoot for M&S for an online Christmas campaign. Which was awesome but that's not the point here...

You may have noticed over the years that I am not a CHRISTMAS PARTY sort of girl. The thought of buying a party dress that I will wear for one occasion has never ever been something I've signed up to. I would love to say I was a conscious fashion shopper way before my time but no - just tight. I have never been able to stand seeing something in my wardrobe that I have worn once - and invariably is never the cheapest thing hanging there either.

So I've always tried to find something that gives a nod to the festive theme, whilst at the same time means I can wear it all year round. Which is why, you'll see in a month or so that the outfits I picked, are all items that I coincidentally own from M&S. Leather trousers, silk shirts, wool cropped trousers and a tux jacket.

But my one concession to a bit of sparkle is definitely shoe related. And they have some amazing shoes this season. Which I'm not going to show you today. SEE?? Best plans and all that.

As I got very VERY sidetracked whilst making my selection.

I'm blaming the weather. And the fact that we still have Halloween and Bonfire Night to come and so nope - no fancy shoes today (ok maybe a couple...)

These got in the way.

First up - this is the year I said I would get my legs out. And I have been sporting a leather skirt in the Indian Summer we've been having but since that feels like a lifetime ago, it's all about the tights today. To be fair, it's a lot easier to get your legs out when they're encased in the thickest of opaques.

A line Mini Skirt from M&S £35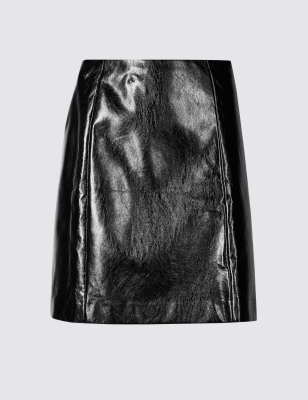 To wear with this....
Wool Blend Colour Block Jumper from Autograph £59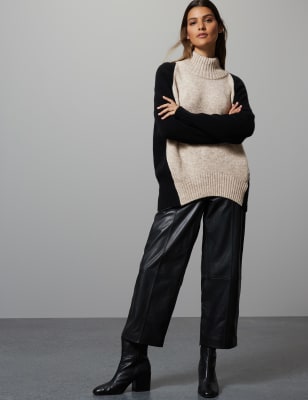 Or this... my absolutely Autumn/Winter must have. I cannot recommend this highly enough.
Cashmere Polo Neck £89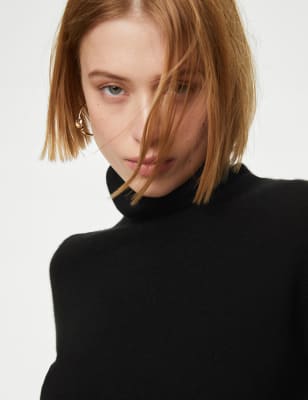 With this draped over the shoulders maybe? Or just worn as an amazing coat. This is an investment coat, of that there is no doubt. But the feel of it - oh my LORD - you will have this forever.
Wool Rich Wrap Coat from Autograph £199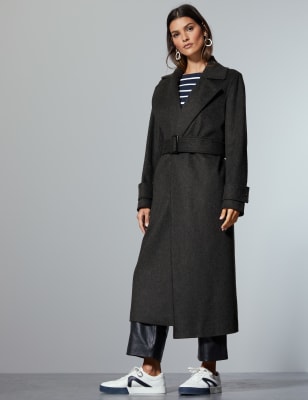 I also tried this on yesterday.,.. (see over on Insta stories and see what I mean about getting side tracked) - it's amazing for £12.50. But definitely take your usual size or even size down. It does come up very big. I would say the 12 was easily a size 14 (however having said that, I do have NOTHING in the bust area so maybe if you are more well endowed, it will fit you a lot better in your usual size!).
V Neck Short Sleeve T-shirt £12.50
I've also got my eye on these... I did order them but sized down like I normally do and they're SMALL! So take your usual *size* - even though the M&S version does come up bigger.. so I would normally take a 6 at M&S but I would need the 7 in these.
Lace up ankle boots £49.50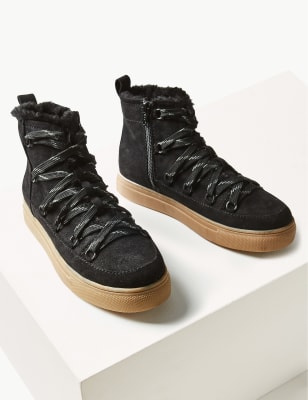 But then before they sell out, I thought I would do a quick round up of the awesome shoes.
These. THESE.
Stiletto Heel Embellished Court Shoes £39.50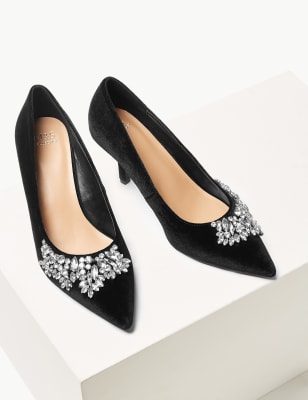 Kitten Heel Slingback court shoes £19.50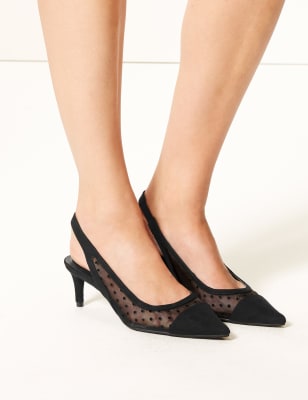 Or total flats.
Velvet & Satin Flat Mules £19.50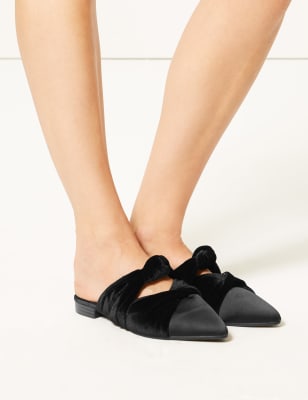 Jewel Block Heel Slingback £19.50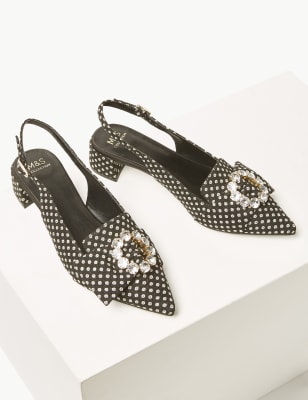 Stiletto Heel High Cut Court Shoe £25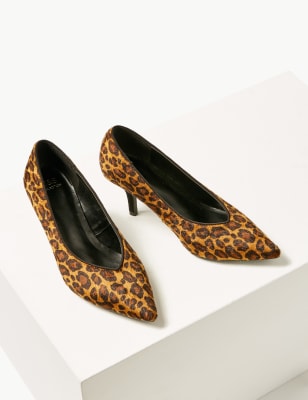 Or how about full on glitter.
Block Heel Jewel Slingback Shoe £35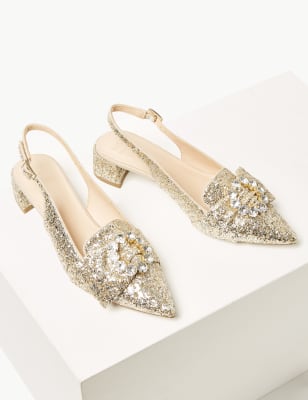 However I'm finishing with THE best dress from M&S in forever. The pictures do not at all do this justice.
Animal Print Long Sleeve Skater Dress £69 - definitely take your usual size... it comes up on the large side.
But this is what I finally went for this month - a coat that I will wear for years. It's SO hard to find a coat that's dressy for when you need it to be but that works with black. And isn't a black coat. Of course it's horses for courses but this is the style that works best for me. I took the size 10 - it's perfectly sized undone and done up.
This is with the black cashmere polo neck and M&S trousers from last Winter. You really do need to give this a stroke in the flesh... I know that sounds random but trust me. Interestingly online, the reviews say that the belt loops are too high but I'm 5ft10 and they're just fine for me. Yes obviously in my ideal world I would like this longer but actually this length, for this season is perfect!
AND these trousers ARE going to be back. These were the amazing trousers from last Winter. These are the ones that I wore home (cunning..) from the shoot that we did for Christmas. I will let you know as soon as they're back in stock in the black and the navy.
Next month I shall be looking at more coats (I know this as I already have my eye on a couple of others that are out of this world - but also currently out of stock!) Watch this space.
This blog has been written as part of my monthly paid partnership with M&S. All views are my own and it is unedited.