The holiday essential that is a MUST for A/W too.
Another gem that you can definitely take with you into the A/W. In fact, yes I would it's a year round must.

The trainer, sneaker, call it what you will. A runner as my mother in law would say. (and the fact you're not really supposed to run in these is neither here nor there to her, for the record)

What better justification can there be for buying another pair then? Clearly there is absolutely no justification at all if you have a pair that are perfectly road worthy, that you love and that you get loads of wear out of. You'd think...

But hell there is. Trashed trainers is what you end up with if you wear them all the time and have no other alternative.

And I've finally found a style of trainer that I love. (we're glossing over anything New Balance or more athletic looking. As I've mentioned before, I merely look as though I've had neither the time nor the inclination to get changed after a trip to the gym. Which is ironic seeing as the gym and I are no longer on speaking terms. They look super cool on other people. They look frumptastic on me and have been resigned to dog walking shoes. I actually wear them out with my pyjamas. I will come back to this another day.)

The old school tennis trainer in the modern guise of a Stan Smith style, is what I wear and wear and wear. To all intents and purposes, these are what I wear so ridiculously often, it makes sense to invest in a couple of pairs (especially if you manage to snag a sales bargain) as cost per wear, they are going to pay for themselves.

Justification over - let the shopping commence.

First off, I've found a real bargain at ASOS (if you're a size 7). My favourite Stan Smiths by a country mile are the cracked leather ones. And believe me, I tried on a fair few.....

adidas Stan Smiths in cracked leather with green was £67 now £47.50

Alternatively there is a 6 at Soletrader (I got mine from here - well, instore as I couldn't find them anywhere else earlier in the year - they are notoriously hard to find) now for £59.



If you looking for a more reasonably priced entry level version, then I'd have a look at the M&S ones. No they're not leather, but they do have Insolia flex (which means that you'll walk along and feel like you're being carried on the wings of fairies. In all honestly I have no idea what this means but I've assumed for ages that it's a patented form of comfy) and are a great price if you want to try the look before investing in a more expensive pair. Plus, I really like the colourways they've put together. Fair dos M&S.
M&S lace up trainers with Insolia flex £25.00
And in white again £25
A tan leather version in the sale at Geox. Continuing on from yesterday, these would be amazing with shades of grey....
Amaranth Abx from Geox were £105 now £52.50


I have my black patent pair from Geox which I shall be wearing loads in the Autumn with all things black and grey (oh yes). They've sold out now but there is a similar pair of Stan Smiths (mine are pointier and I do like this contrast between them and the SSs) - although these are canvas and this does seem like quite a lot of money to me... .(personally I'd go with the M&S black ones) However I do love the monochrome look to them.
adidas Vulcan black and white trainers £62.50
However full on obsession has arrived in the form of a pair of sneakers that I have blogged about before - thanks to the introduction to them from Joanna at Poppy's Style - Golden Goose. (would the plural be Golden Geese?)
Well - I say thanks but I may have just ordered two pairs (just so I can choose..... of course....) as a mid holiday treat. AND investment for A/W as I snagged them in the sale. These are (as Joanna pointed out) only marginally (stretching the boundaries of marginally to be fair) more expensive than a pair of Stan Smiths.
I would go so far as to say, with my exceptionally limited knowledge, that GG are best known for their hi-tops but I think it's perhaps better to stick with what you know and so I ordered a pair of their low sneakers.
Golden Goose were £325 now £146 (yes I know - ridiculous amounts of money to spend on sneakers even at the reduced price, but if I get half as much wear out of them as I have done my Stan Smiths, they'll be worth it)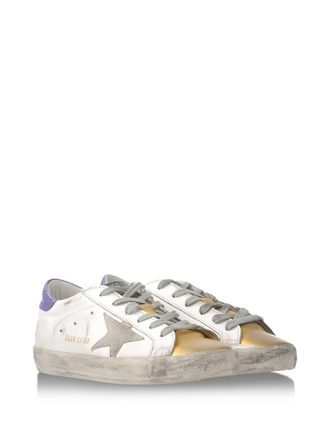 And of course whilst I was paying for postage, it seemed foolish not to order a pair of hi-tops as well (free returns) just so I can scratch the itch and prove they look bobbins on me. (here's hoping...)
I ordered these in mint green. As bonkers as that initially seemed, I think with navy, grey and khaki, these could really work. I could also look like a cretin - the jury is still most definitely out. But I have a feeling these may look ok...
Golden Goose hi tops - were £310 now £93
It was a toss up between those and these below as I did really want a white pair but I'm definitely more of a leopard than a zebra girl and I'm not sure I want to branch out...
Golden Goose hi tops were £335 now £101
I've also found some more in the sale at Farfetch AND there's an extra 30% off sale items with the code x30 (ends at noon on Thursday 13th August) This could be seriously dangerous *must not go off piste.. must not go off piste...too many gorgeous things with an extra 30% off on the site....*
They do seem to be much more expensive to begin with but then with the code... and they do have ones that you don't seem to be able to get from anywhere else. A real gem to be able to buy from a conglomerate of tiny boutiques globally and have next day delivery with free returns. Genius. How have I not looked at Farfetch in much more detail previously?
Golden Goose were £289.03 now £173.42 pre 30% discount with import duties included.
Now thank heavens they don't have these in my size, as suddenly I NEED a pair of bright red sneakers. To cut through all those dark colours (I am a veritable magpie when it comes to colours - I can try and stay away from them for so long and am drawn back to something bright and blingy like a moth to a flame. I am pathetic) - and oh my lord, you could justify them as Christmas trainers. Need, I tell you. Admittedly I do have at the back of my head a saying from my half Welsh half Italian friend from uni who always said "red shoes no pants". Random the things that stick with you.
Regardless (and I will be wearing pants) I am officially in love with these.
Golden Goose Francy hi tops were £251.19 now £200.95 pre discount
But.... Call. Off. The. Dogs. (oh my lord this is going so wrong on so many levels for me - how many pairs of these that I don't need DO NEED - am I going to have arriving?? Thank heavens for free returns)
I may have to have these. Oh hello. Now these are mens. I'm not sure if there is any difference in men and women's sizing of these....? I'm assuming actually they're unisex.... (however we all know what assume makes... an ass etc etc) And yes, I did check and they are definitely mens. In the reddish pink with leopard print detail. Suffice to say, not the hugest surprise that they're sale. But fab news for us gals.
These, with the extra 30% off are a proper bargain.
Golden Goose 2.12 (?? means squat to me) was £258.56 now £129.28
And I have now had to stop as otherwise I might go bonkers....... (but feel free to peruse the site and tell me what I'm missing...)
So how is everyone else getting on with their sneakers? Love or hate them? I am so ridiculously excited about mine arriving (and I will, I WILL only keep one pair) that I can almost forgive the weather for taking a slight turn to the chillier....
Here today - in, yes the Stan Smith's. Perfect for a dog walk along a stony beach and for nearly crabbing. The world and his dog (literally) decided that they too would go crabbing and so we hot footed it to the pub instead (got in early before the crabbing masses decided a pub lunch was a good idea - oh smug we were on our table as the tables filled up completely by 12.15. At The Anchor in Walberswick - can't recommend it highly enough) Crabbing postponed till tomorrow morning - early doors. Afternoon on the beach (and yes, it was rather blowy for me, but not for the small boys who merrily swam and boogie boarded. Nutters)
Cut off shorts - Denim & Supply by Ralph Lauren
White tee - hush
Khaki utility jacket - hush
Leopard print scarf - Louis Vuitton
Cracked leather Stan Smiths - adidas
Cracking must have for tomorrow. Something I definitely definitely can't get enough of.... any guesses?