My Spring uniform
If you're looking for something exciting and eclectic, I hate to disappoint. There is nothing off piste about this post at all. It's my realisation of what I love to wear at the moment - ergo my Spring uniform.

A loose pair of pants (dear. god. I sound like one of the Golden Girls), a tighter fitting top (just call me Blanche) and a blazer, jacket thing. I'd love to say heels and I'm going to see if I can make more of an effort in this department but frankly, it's flats.

And one of my (actually not very many at all) buys this season has been a splurge on a pair of Current/Elliott Industrial pants which I've been wearing for the past couple of weeks. I saw these when I went to do some work with a local boutique, Quattrorish in Reigate for their website and completely fell in love. The plan was to do a blog for them on my favourite Spring picks, but the trousers were simply so perfect that I had to buy them - yes an impulse purchase and what I would normally consider an investment buy that I would ponder for ages. But over the past couple of years, one of the main pieces of my Spring uniform has been a pair of khaki pants.

Firstly I had a pair for £10 from Topshop (which I still have), then I got the paint splattered pair from Zara in the sale for £14.99 (still one of my faves) and last year I experimented with full on Chinos with some Tommy Hilfigers I picked up at TK Maxx in Ireland for less than £20). All three pairs are completely different styles and shades.

So these greener ones which are sold out everywhere by the way, are a straight leg with a tiny cropped kick flare - different again to those I have. And I have already worn them about five times in a couple of weeks. If you are after them, do call Ivy at Quattrorish who can help you out, as I think she has a couple of pairs left still. Size wise, they are bang on, if ever ever so slightly large.

Why are they so perfect? They're the ideal neutral colour that, for me, when you put with black and grey, make the ultimate classic Spring palette. You can then add other shades in, but personally, I am all over the pared back, (trying to be) elegant look. (this week that is... clearly this will all change and I'll be flinging neons on like a 90s raver by Sunday).

Like I said - they are an essential must have item in my no brainer (aka lazy) Spring wardrobe.

And there are lots of options out there - every single one of these I would happily snaffle away and wear regularly.

Starting with an amazing pair (which I want to see if they have in grey... they're just too similar a shade to the old TS ones I have in the khaki - identical actually, so I'd like in another colour. Obviously they won't. Even a black?) LOVE the shape (actually I've just looked and they do have very similar in a grey which I have in fact had on the blog a month or so ago. Duh.)


Mensy Peg Trousers from Topshop £42



If we're talking a wider leg, then these from Whistles look absolutely amazing.
Whistles Cropped Leg Trouser £130 They actually only have these at ASOS and not at Whistles which is rather random.
But they do have these at Whistles with a concealed zip which also look super wearable (although personally I like the more casual look of the ones above).
Fluid Cropped Trouser in Khaki from Whistles £110
More at JCrew - now... I've found some at JCrew which is handy for all those in the US as they will be a shed load cheaper and I've also found some at Net A Porter which I think might be the same.. but I actually am not sure. I have studied back and forth and they look the same to me...
Broken in Boyfriend Chinos at JCrew were £89.50 now £75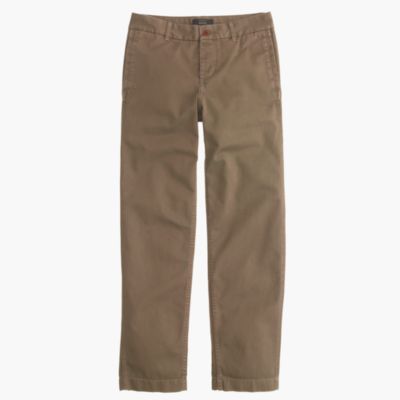 And the Cotton twill straight leg trousers from JCrew at Net A Porter £90 Not sure there is anything else I could love about this look more...ignoring the fact that I couldn't/wouldn't wear this heels on a daily basis in a gazillion years. This the sort of look I genuinely first see and think - oh I want to wear this when I'm grown up.... REALLY? Grown up when exactly. I seem to do this quite a bit.... (anyone else?!) Throw on a pair of sneakers though and preppy me up please. Although I'd probably not wear it like this at all and would loose the shirt and wear a tighter fitting jumper... I'd be checking out their Tippi jumpers... Would look amazing with these pants.
Classic Chinos at Gap. Great price and if you sign up for their newsletter, you get an extra 20% off. Plus they do them in Tall and Petite.
Girlfriend Chino £39.95
Slightly skinnier and a cargo style at Vila - this is apparently Mermaid Green. I didn't know a) mermaids were green and b) that this isn't plain old (but still lovely) beige. Who knew?
Vila Skinny Cargo Trousers £39
Looser and flowier (not a word apparently but it should be), moving into joggers territory.
Piped Cuffless joggers from Topshop £30
And then we have the full on joggers in the form of harems from hush. I adore these trousers. So unbelievably versatile and this year, they've also done a cropped version.
Long Harem Trousers £49.50
And the cropped version £39.50 Now I know she's standing on her tiptoes here, but I would happily wear these with heels for a casual evening out.
But these.. oh I LOVE. I can't get another off piste pair of khakis as I have my completely love or hate paint splattered ones from Zara which are a couple of years old now and I am still infatuated with.
Badged Utility Trousers from Topshop £39
Skinny at Jigsaw now. I have a skinny pair which I resurrect every year - they're now five years old from By Malene Birger and owe me absolutely nothing. My spare tyre is pure vintage Michelin, proudly displaying itself over the top but so long as I wear them with a long top, I don't care. In short, a pair of khaki skinnies are definitely worth the investment. I could possibly (probably) do with a pair that doesn't let my wine baby loose for all the world to see.
Richmond Garment Dye Skinny Jeans £89 I do usually l love Jigsaw styling but I have to say, I definitely prefer these with flats.
And finishing with these which I have to say, if I didn't have the Current/Elliott ones, I would have bought in a heartbeat.
I would say the most similar to mine.
Sunday patchwork Cotton Twill Straight Leg Pants £104
Or another JCrew pair and this couldn't be more me. Love these so so much especially teamed with the black and the print shoes (and I have lots of print sandals).
Patchwork Cotton twill straight let pants £150
So there we have lots of khaki food for thought. Ignoring the fact that the Spring we had seems to have buggered off, to be replaced by sub 10 degree temps and rain. That will be me moving into the cinema this week then...
And here I am in mine yesterday.
Black jumper - Tommy Hilfiger
Black tuxedo blazer - hush
Khaki Industrial pants - Current/Elliott
Ponyskin slides - Anthropologie
Black Mario fringe bag - Jerome Dreyfuss
Starting another day of the holidays. Really wish we'd gone somewhere but alas, the husband starting a new job in January meant that wasn't possible so we're making do with day trips (god help us all). Lovely weekend though - swimming, sushi and cinema. Can highly recommend the Batman/Superman film (even though I'm not going to lie - not only is it very violent, dare I say it's rather confusing....*hangs head in shame*).
Seeing as it's going to be horrible this afternoon, I think we might do Zootropolis which is probably more my level...