Ramblings of a New York shopping wannabe
Jet lagged, so please do excuse me. Actually I say I'm jet lagged, I've come to the realisation I am simply permanently knackered. I don't know whether it's down to old age, kids, a snoring husband or wine but I am always tired.

Which isn't remotely what this blog is about - let's not dwell on that (she says having a glas of wine....), it's about US shopping v European shopping. We do not appreciate how lucky we are here in the UK. Or maybe I should start again by saying, I hadn't realised how lucky we are here.

Our High Street is amazing. So amazing that they've pretty much replicated it down 5th Avenue and all around SoHo. Granted, is it a while since I've been to the US but honestly, I was shocked at how the European brands seem to dominate their streets. Topshop, Zara, H&M, Massimo Dutti, Cos, & Other Stories, French Connection, Ted Baker, Ben Sherman, Reiss, Aldo, Dune, Mango, All Saints and Clarks - yes, even Clarks..... There are a fair few that haven't travelled across the pond, for sure, (and I'm sure I've missed some out). On a separate note, I can't help but think that Whistles would go down a storm.

All of these brands are a LOT more expensive in the US, especially with the dollar being so strong and the exchange rate having nose dived in the wrong direction for us. As similarly, their brands are more expensive for us to buy over here.

But the main difference being is that, in my humble opinion, their brands aren't that great.

There, I've said it. Now don't get me wrong, there are some brands which I do truly love - I'm only going to mention it briefly, but Stuart Weitzman for example (even though it's much cheaper for us to buy it at Russell & Bromley - I still have to say I love his shoes) and DVF. Again cheaper in the US, but by the time you've added on state tax and taken into consideration the currently woeful exchange rate, there really aren't the bargains I seem to recall.

The way I explained it to The Husband (as you can imagine, this was a very one sided conversation..), was that were to you to take away all the US Brands from the UK market, I would happily still shop there. I'm not sure I'd miss any of them.

Yet, if you were to take away the European brands from the US market - hell, what's left?

Preppy upmarket style from the likes of Ralph Lauren, JCrew, Club Monaco, Banana Republic and Gap, even Madewell which people raved about struck me as being a rather average (and much more expensive) Massimo Dutti (admittedly it was a cursory glance as The Husband had his "we will exterminate" face on) or the teenage hell holes (I am an old fart, this much I will give you) of Abercrombie, Hollister, Eagle American how's your father (which is a bit like the Indigo selection in M&S - we've just had one open at Bluewater. Thanks) and Victoria's Secrets (about which I have nothing good to say, as one who buys her pants at Primark)

I will give you Marc by Marc Jacobs bags. And Rebecca Minkoff bags. Not forgetting Tory Burch. All of which are much better to buy over there, if you are in the market for a bag.

And then again I say that, but one trip to Bicester and you can pick up an MJ or a TB bag for cheaper than in the US. Most people rave about their jeans. Personally my favourites are from Topshop, Zara and By Malene Birger.

Which is why I came back with nada.

This is of course all to be taken with a huge huge pinch of salt. Am I bitter that I missed out on two days of extensive shopping with one of my oldest friends? Perhaps slightly more than I thought. Clearly have a very European way of dressing (not that I've ever thought of it like that) whilst a lot of Americans prefer a different sort of look. (again I'm making this up as I go along)

Although it does strike me that at the moment, perhaps sticking my neck out here, European fashion is where it's at. It's Alexa Chung who Adriano Goldschmied jeans have chosen to partner with on their latest collaboration. And this is THE main stand in Saks Fifth Avenue denim department - Alexa Chung for AG jeans (of which squat took my interest by the way. The jeans were all pedal pusher length on me)

And I had gone with an open mind, I really really had. I had worked out and pontificated to everyone that you could go to New York, buy truckloads of JCrew and with the saving from buying it in the US as opposed to on Regent Street, it would pay for your air fare. I lived in the US but admittedly it was 16 years ago and I was a lot younger and back then, JCrew wasn't exactly inspirational. All a bit too Hobbs & Jaeger when I wanted to buy everything from Topshop and thought only old ladies shopped at the aforementioned "women's shops".

But I was all over it like a fat kid on a Mars Bar when the lovely Jenna came wafting over here in recent years, tempting us with her enviable style and the promise all of things elegant yet with a twist. (at a hugely inflated price....)

Well, I have to say, back in the US, it's still all a bit Hobbs. Yes they have the same stuff as we do here as I've checked on the website and I am MORE than prepared to eat my hat on this but I think their collection this season has gone backwards. Now I don't mind Hobbs anymore and I positively love Jaeger but they're not my go to places on a regular basis although I do like the odd thing.

And I fear that JCrew has gone back into that hole.

Nevertheless this didn't stop me having a darn good try at shopping (and by the way - we have a much much bigger selection of denim on Regent St than they did in any of the large New York stores. Pah)

I saw two things which I thought I could give a good home to.

Starting with the famed Tippi Jumpers which I hadn't been a fan of before as they are a snug fit on me, being the oversized tallie that I am. However, with my upcoming love of all things wide legged in the trouser department rearing it's gorgeous head, I need something more fitted on the top that isn't a tee and isn't a shirt or sweatshirt and these would fit the bill perfectly.

I tried on the grey one in a Medium and hey presto, perfect. Although I didn't particularly want grey and I had a sneaky memory of them being in the sale back here. None in the jumble of a sales corner in any of the JCrew I went into and they were $79 plus change over there. So the same price as they are in the UK in £s - £79.50.



So yes, they are cheaper, but I haven't added on tax. Given the pants exchange rate, whichever way you skin it - at £40 in the UK in the sale, they're better to buy here.
I know I've featured these two before but you couldn't get more perfect colours for Spring even if you were to buy at full price. This is actually pictured below with a new season skirt.
Merino Wool Tippi sweater in ivory were £79.50 now £40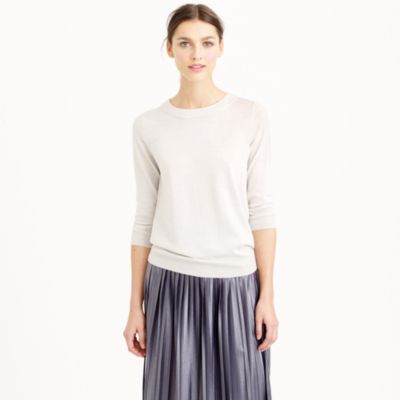 In heather sandstone, also in the sale for £40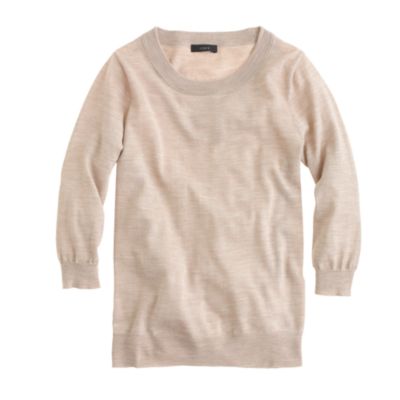 So the grey jumper was a no and the only thing I thought about purchasing was this Breton tee. New in stock, a lovely fit and to be honest, a great thick cotton compared to so many around which are pathetically limp. But not too thick that it's on the verge of being a sweatshirt.
But did I love love love it? I checked online and it's the same price in £ as it is in $ so, yes it would work out cheaper but the problem with something being not expensive anyway, is that you are saving literally only a couple of ££. And I hadn't done nearly enough research to justify buying it.
It looks ok but it certainly was no wow Breton.
Midweight Stripe tee £45 from JCrew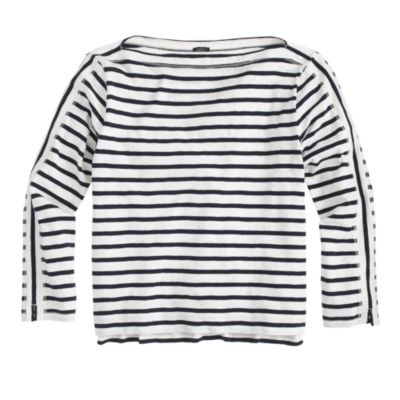 Randomly I had thought that the arms were an odd length and just assumed it was because I have orangutang appendages but it appears either they're supposed to be like this or so does the model have simian tendencies too?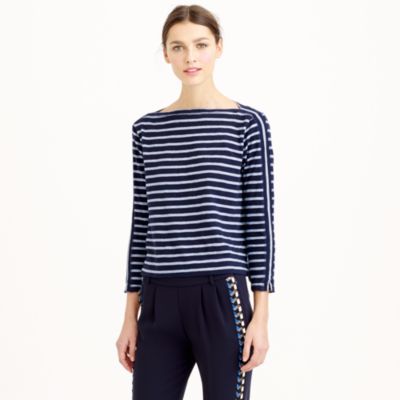 Ironically one of the other tops I saw that I loved whilst in SoHo was a) also a stripe and b) of course it was from a European country.
This is far more what I had in mind. A stiffer fabric which, to be honest, will probably be not what most people are looking for but I love it.
Striped Cotton top from & Other Stories £29 (this was $50 pre tax so more expensive)
It has led me to think that definitely you can never have too many stripe tops. And they don't necessarily have to be navy. In fact I did sneakily buy a children's yellow and ivory top from Zara Kids before I went (it is enormous, honestly) and I still love my black and off white cashmere jumper dress thingy from Joseph which I've had for six years now. Ditto my wine and cream top from Massimo Dutti (which they usually do every year bar this one - sod's law).
But going to the top of my Hush wishlist is this striped jumper. Ideal for now over a shirt or tee and simply perfect as a throw on for those Spring months.
And today whilst I was mooching in M&S - I spied this. Stunning and amazing quality for a ludicrous price, compared to what I was seeing in New York.
Finishing with classic navy and this would be perfect on so many levels. Firstly I love a slub cotton - it's like a well behaved linen and secondly, the curved hem I find the most flattering finish on a tee. I think it means that you can wear it untucked without it looking messy - it just seems be more streamline than a straight hem. One of the reasons I have always loved the Zara linen tees (even though they are the worst quality ever which decreases on an annual basis by all accounts). I would have much higher expectations for a Jigsaw top (especially at this price)
Inspiration therefore in spades from my trip, but actual shopping was a great big fat splatty nothing. With regards to US stores though, the one exception to the rule which I wholeheartedly embrace and welcome with open arms is the unique Anthropologie. An altar at which I could worship on a daily basis and from where I could fulfil my entire wardrobe. A mecca of all things gorgeous (although I'm not entirely sure they're all US brands but I'm prepared to believe they are. Actually I know they're not as I was lusting over some earrings and they're by the brand Made which I'm sure was set up originally in the UK)
Proving I practise what I preach - here is a sneaky purchase made just before I went - an absolute bargain 100% cotton knit turtle neck jumper from TK Maxx. A brand called Arabella and Addison which they always have oodles of in there and I haven't seen it anywhere else, so my money's on it being one of those brands manufactured exclusively for the store. (actually have just googled and yes, it's one of their own brands. Which I think is so so so off and against what they advertise however it is the best knitted striped jumper I've seen in ages so for £24.99, I'll live with it)
Striped jumper - TKMaxx
Real Straight jeans - Gap
Camel wool coat - Zara
Camel wrist warmers - Topshop
Whiskey Medium Marcie Satchel - Chloe
Navy Newbury boots - Rag & Bone
I feel I should make an apology for my ranty ramblings. I know I know, I fear the wrath of all Americans and I'm SORRY. Your espresso martinis and oysters wipe the floor with ours. You have also adopted the coupe as opposed to a flute for champagne and prosecco and for that I will come back again and again as it tastes so much better (it's the small things that are important) And mostly you are just all so lovely. It's impossible to have a bad time in New York when you are surrounded by the most wonderfully kind, funny and open people. I will be back. I will be back hopefully very shortly. xxxx