... as it's one of my favourite times of the year and that's jacket time.

That glorious time of the year when you need a jacket. As random as that sounds, I love having to wear something else other than just a dress. Don't all hate me - I know it's wrong and I should be mourning the passing of Summer but I am mildly obsessed with jackets and welcome any excuse to wear and stock up on them.

Always have been. And as I bang on about it at the start of every "jacket season", these are jackets that you keep. Jackets that work, season after season and for occasion after occasion.

I wear mine over every sort of pair of trousers you can imagine, skirts and dresses. In short - with everything and anything. And as fashion edges towards the eclectic, I think this season will be time to embrace the clash. Embrace the Statement Jacket. The husband will have a field day with his eye rolling and I will be all the bothered - not.

Texture, print, embroidery - bring it on. There really is something to suit everyone. All those dresses from last year, those tees, those old jeans. Throw on a new jacket and hey presto - new outfit.

I, of course, have already broken my outfit cherry this season with the purchase of this total gem. Impulse order from Zara. As part (the main piece) of my orange outfit for my Stand Up For Cancer event.

Embroidered Jacket from Zara £89.99



Embroidered Velvet Jacket from Zara £79
Embroidery again, but this time with sequins. And in navy.
Sequin Embroidered Jacket from Mango £119.99 Yes it's very Pearly King & Queen. Yes, that's awesome.
Couldn't mention statement jackets without mentioning my ultimate favourite - leopard. And the bomber jacket. I know, I know, this is something that I've never adopted as one of my own but I have to say, I've decided these are perfect for over full skirts and dresses. I have a leather one I got last year and love - my advice would be to wear them on the snugger side. But that's my personal preference...
And at La Redoute, we've got another discount - only on new stock 25OFF. That will be 25%...
Reversible leopard print bomber jacket £59 I think it's plain black on the other side. Super useful.
Navy Star Bomber at La Redoute £39 With 25% off again. This over a plain navy dress would be totally sublime. To be fair, it would work just as well over jeans - ideal dress down instant weekend chic.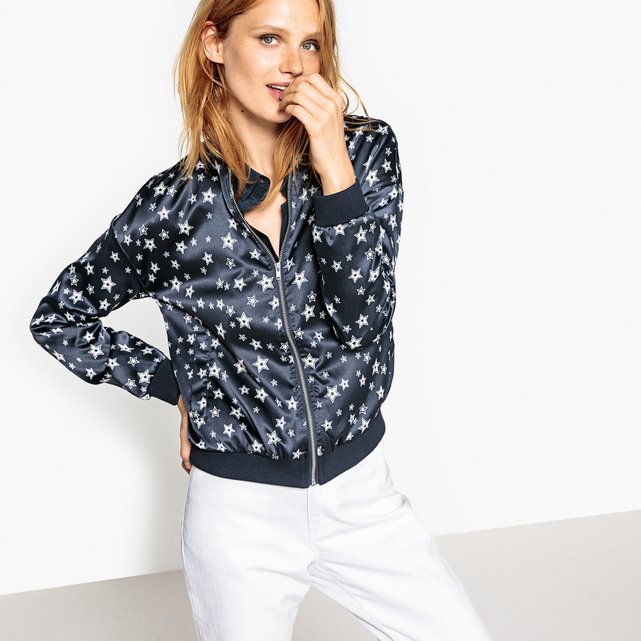 The bomber love continues with burgundy and metallic.
Metallic Jacquard Bomber Jacket from La Redoute £69 (plus an extra 25% discount)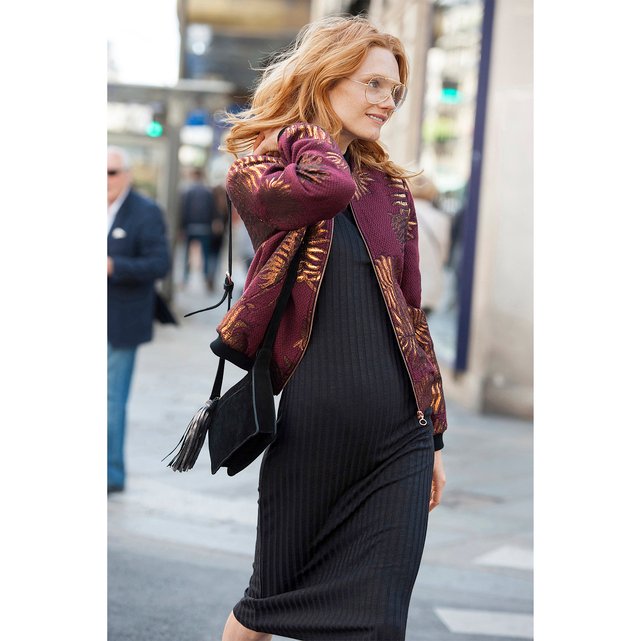 Floral Velvet Bomber at & Other Stories £79
Another style I am a massive massive sucker for.. good old military. Which can take on many guises. All of which I adore.
Loose Fit Cotton Boyfriend Jacket at La Redoute from Le Temps des Cerises £119 (don't forget the discount 25OFF).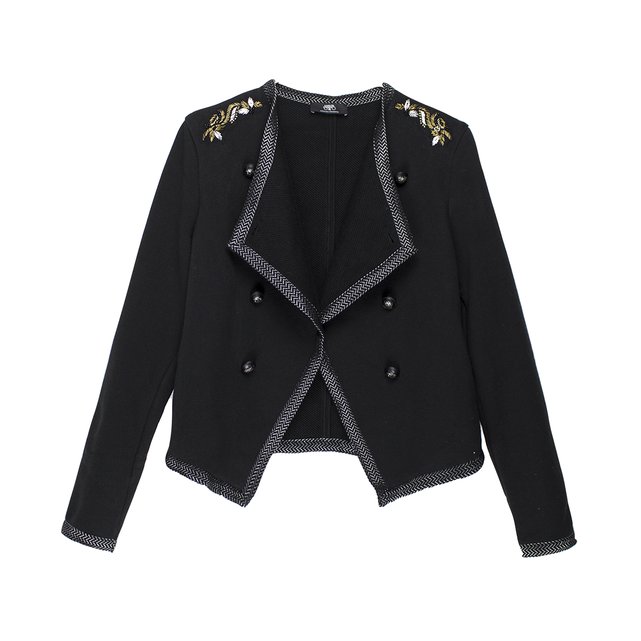 This however is more my style... and I do prefer the price. 25% off as well.
Fitted Jacket from Only at La Redoute £49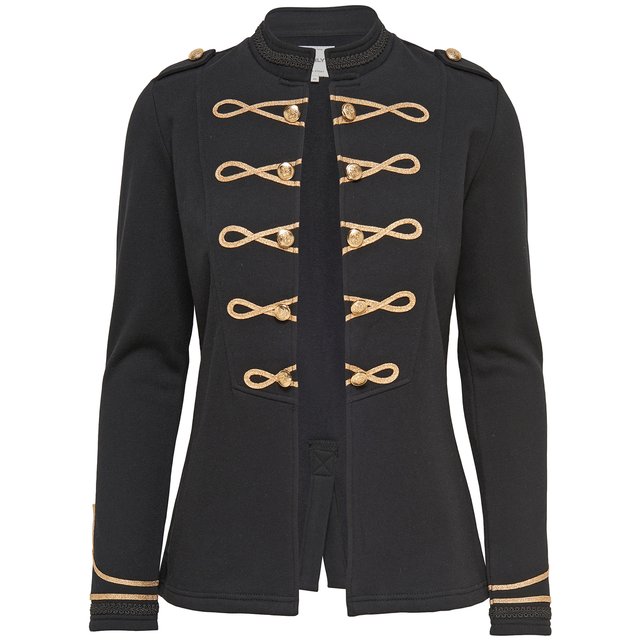 Military Style again at Mango £69.99. This time with beading *bites fist*.
So I could go on and on with this and it's definitely a topic I shall be returning to. As it's up there with one of my favourite items to own (and love and wear and wear and wear).
And I have to hold my hands up and say huge apologies for not being around so much this week. A combination of meetings a plenty after the Summer break, combined with the children going back to school and the dreaded 11+ exam which is hideous anyway but times that by a thousand for a child with Aspergers.
Topped off with my Stand Up For Cancer with You Tube event last night and yes, I went with the orange jacket above. Good old Zara.
I liked it so much, I wore it the day before for a breakfast to celebrate the London Fashion Week Festival.
Jeans - MiH
Tee - Zoe Karssen
Boots - Tabitha Simmons
I then wore it yesterday but didn't get round to taking a photo, there was just so much going on. I did have a chance to get a blow dry, thanks to the lovely people at Josh Wood, so my hair was video ready. Quick photo of me and my fellow orange-ified friends, Megan Ellanby, Josiah Hyacinth and James Welsh. I had taken my Topshop orange leopard heels to wear. And forgot to put them on.
Yesterday I also managed to go and visit Ridley London at their pop up shop at 340 Kings Road. I was in maxi dress heaven. WITH POCKETS. For me, this is the most perfect throw on dress ever. Simply sublime. Which is why today, I wore it, having spent all day in bed with the worst dodgy tummy ever. Couldn't face putting anything on but throwing on this with a jacket = the easiest thing ever. I wore it for swimming lessons, collecting the children from various things and to Waitrose. Simply ALL the glamour... Yet, you could wear it a wedding. Dress. Perfection. I'm not sure the new Autumn/Winter dresses are online yet but I'm sure they will be shortly. If you get a chance, they are all in the pop up shop.
Dress - Ridley London
Bomber jacket - Gerard Darel
Ash Trainers - My Fashion Tribu
Jodie bag - Chloe
So I am hiding in bed typing this as my boys have sleepovers. They're watching a DVD (am I the only embarrassing mum who asks if they'd like to watch a "video"??!), have platters of pizza and I am clutching a mug of tea and have the Gilmore Girls. BLISS.
I'll be back tomorrow with another of my Autumn must haves. I'd love to know what you've earmarked as your new season favourites.