How to win at Black Friday.
Ignore all the emails.

Seriously how many emails? And to add insult to injury, some companies send them twice?Enough already.

Although it would be churlish to ignore completely (therefore do ignore my first sentence of this article). As there are bargains to be had. But I have a cunning plan to make the most of it. To NOT get sucked into buying things you don't need. To prevent the panic setting in.

Which ties in perfectly with a project that I'm currently working on.

One of the great things about writing a blog and the associated work I've been doing over the past couple of years for various companies, means that you get approached by some interesting opportunities. Cue an email from Miele asking if I would like to test drive their new W1 and T1 washing machine and dryer. Would I put together a capsule wardrobe so I could try and wash the unwashable? Lots of the emails that I get really aren't relevant to my blog but seeing as I am vaguely obsessed with things being able to into the washing machine and NOT having to dry clean items, this was an offer I couldn't refuse.

And what better way to channel your thoughts when it comes to the apparent Black Friday bargains, than considering a capsule wardrobe. For me, the trick is to just search for things you KNOW you want and need as opposed to "browsing". And there is nothing better to focus the mind than thinking about a capsule wardrobe.

This was much more fun than I had anticipated and whilst they suggested five things - well that struck me as being slightly too capsule. So I extended my brief to seven and included things that you would normally have "the fear" of washing. I got to include things I wouldn't even buy it in the first place as I've made no bones about the fact I loathe dry cleaning. If there's anything set to put me in a filthy mood, it's having to take something to the dry cleaners.

So what would be my tips when it comes to choosing a capsule wardrobe? Which are also the perfect tips for reigning yourself in from Black Friday meltdown.

Stick with a colour palette - maximum of three different colours.
Make sure that you can wear the items together - so the tops have to be wearable with all the trousers etc.
You must be able to wear the items on more than occasions - so they have to be able to work for smart and casual.
In an ideal world, as well as creating outfits from your capsule wardrobe, they will also go with other things that you already have in your wardrobe.

So here is what I've put together.



Breton polo neck jumper
Silk Shirt
Black wide leg trousers
Black kick flare trousers
Black 1970 Polo Neck
Cream A line Skirt
Three tops, three bottoms and a coat to go with them. That I'm going to wash. EEK!
The three tops... (the bottoms didn't make nearly as good a photo together..!)
Oversized Trenchcoat from Zara £119
Bonded Wrap Skirt from M&S £59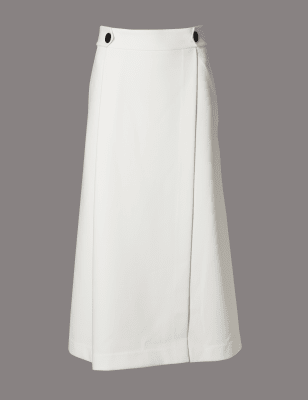 Jaeger Kick Flare trousers £110 25% off with the code Grazia
Fluid Cropped Trousers from Whistles were £110 now £82.50
And then the three tops.
Starting with a classic blouse. That can in fact be worn in a number of ways offering a whole host of options. Black. Has to be black.. (even though the ivory version came a very very close second).
Lauren Silk Blouse with bow from Winser London £195 Silk that I need to put into the machine...
Ok now this is a total treat. But. But but but. It's so completely versatile. I've had the red one for over a year now and have worn it and worn it and worn it. However I've always been a complete chicken and taken it to the dry cleaners. So a new machine was the perfect opportunity to save on dry cleaning bills and finance another jumper with the proceeds! The reason I love these is that they are so easy to dress up and down. I've been sneakily wearing mine for a couple of weeks now before the big reveal of my capsule wardrobe - I wore it to lunch last Friday and out to dinner last Friday night (with the cropped kick flare trousers) and the other day with my newly found jeans. Last year, the red one was my Christmas Day outfit (I did wear trousers too...) but I couldn't hold back on wearing this one before then.
The polo neck version is even more me than the crew neck so this was a no brainer when I saw it. AND you can snag a Bella Freud from Coggles with their 30% off weekend with the code BLACKFRIDAY.
Bella Freud Polo Neck from Coggles £295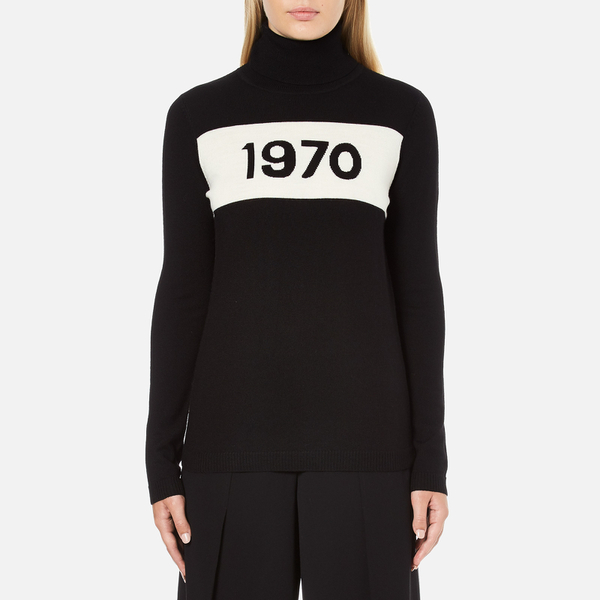 Breton polo neck jumper from Zara which was Limited Edition and I bought a fair few weeks ago (I have given this collection a LOT of thought!), so alas it's long gone. But fear not, I shall be doing a blog on similar styles as for me, it's a complete staple. A slight twist on a classic.
So there we have my capsule selection. And here I am in (part of) it today. I'm going to be exploring more of each item in the coming week as I truly believe they are classics. I absolutely love each of these pieces I've got on today.
Trench - Zara
Breton polo neck - Zara
Fluid wide leg trousers - Whistles
Copeland trainers - Air & Grace
Mario fringed bag - Jerome Dreyfuss
I'm obviously also going to be reporting back on how I manage to launder them in my new machines. Cream bonded skirt, smart trousers, crepe fabric, merino wool, silk and a trench? Never let it be said I don't love a challenge. If you are in the market for a new washer or dryer (here are links to the W1 washer and the T1 dryer), then there is currently 20% off online at Miele using the code CRV56S767C. Which is valid for longer than just this weekend! Take that Black Friday!
If you have however made your list and know what you want (adidas trainers I'm looking at you for the 12yr old's Christmas present), then here's a quick low down of the best offers out there that I would look at.
La Redoute 40% off with the code BLACKFRIDAY and yes I have just snagged some Stans for the daughter. Plus free delivery till midnight.
ASOS 20% off everything (have ordered a back up pair from there just in case...) GOGOGO code
Selfridges 20% off some stuff... but not the Mulberry bag I promised the other half for Christmas. Pah. However if you can't get your Bella Freud at Coggles, then try here. SELFCCE
Warehouse up to 30% off everything - marked online already.
Mango 20% off everything with the code BLACK. Oh how I miss the days of the regular 30% weekends but this is better than a smack in the face with a fish.
All Saints 30% off everything GO AND BUY THE LEATHER JACKETS with the code CYBER
AVENUE 32 30% off almost everything (THIS is my favourite and I will be back exploring more tomorrow....have a look in the meantime and guess what I've got my eye on...!)
Now Hush aren't doing Black Friday as such but they do have 25% off 25 things and there are some gems amongst them. Again I'll report back tomorrow as I had THE best day with them yesterday.
So that's me done - I'm off to wear another piece of my capsule wardrobe tonight for a dinner party. Just to prove how versatile it can be..
And I MUST know what you've bought in the manic weekend so far... the sum total of my purchases are about six pairs of Stan Smiths *just in case*.