Let's get this party started
It's time to start thinking about party wear.

Oh don't all groan at once, this is a lovely thing to think about no? I know what you're all thinking - it's hard. Well. It needn't be.

It really really needn't be. I am not going to reinvent the wheel when it comes to party wear but, well, I sort of am. Ish. I'm going to break some rules. I don't think you need to be head to toe in velvet, sequins and full on glam.

I have loved working with M&S these last few months - you may have noticed they have been having THE most amazing season, it has been pure joy being able to pick my favourite things from their collections.

And party wear has offered up a very interesting challenge. As I don't tend to do typical full on glamour probably because I'm never knowingly underdressed and like to do a bit of bling all year round. But of course - any excuse for a new outfit and Christmas parties and get togethers are surely The number one reason.

However you know me and it's all about the cost per wear. Actually it's more than that - it's buying something that I can wear again and again. If I can wear it during the day as well then, come on down (oh my lord, do you remember the Price is Right? My boys are currently obsessed with Challenge TV. Don't knock it till you've tried it, it so beats a mindless cartoon. Game shows from the 80s and 90s. Ok probably 90s but they are so old they look like 80s. Give it a go - mine are learning all sorts of random general knowledge facts. And I've realised how horrendous 90s fashion was).

And I have found two dresses you can definitely definitely wear again. I will be wearing these during the day with trainers or ankle boots and a biker (or a trench - there is a new M&S trench coming with my name all over it. So it's actually got Alexa's name all over it but it will be mine as it will be amazing over midis).

Starting with one that you would possibly not look twice at on the hanger. But it is the most amazing cut, colour and print. This is the dress that the 12yr old and her friend said "wow" at. Believe me, it takes quite a lot to elicit a wow from my daughter (not her friend as she's gorgeous but mine appears to have inherited my somewhat caustic sense of humour. Apparently).

I love the fact the colours are so different. It's probably the Aquarian in me but to wear something slightly more unusual and less full on festive is definitely my mission. This has a silky feel to the fabric - it's gorgeous, it really really is. Can't really see the flare of the sleeves which is such a lovely detail. And a tiny tie at the neck which I prefer done up.

Fit & Flare Thistle Dress £55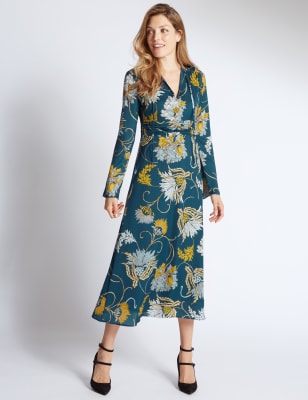 Then we have their Winter version of *the* red dress. Remember the dress I got in the sale that we went a bit mad for? This is the same thing. It's a different dress but it is amazing. It's full on fashion for sure, it's completely Gothic inspired, I could not love it more. The photographs do not do this justice I promise you. Do not size up as it is on the large side - there are ties at the back which you can't really see which do give it some definition but it's not supposed to be fitted.
I love the fact this is just that little bit different as well. And I'm planning on wearing with the Briggate Trench from the Alexa collection which I've ordered at the crack of dawn on my phone over here in the US.
Floral Print Midi Dress £65 from Autograph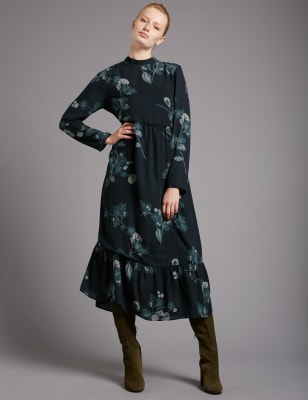 Another dress option would be the animal and lace dress which is sublime and definitely works on the more diminutive amongst us. For all those who say you can't do a midi dress - I've found one for you. Perfect length but size down. Actually size a whole size down as it's on the large side. A midi dress that works and you can take a size smaller in. What's not to love? Did I mention lace and leopard?
Animal Print Lace Shift Dress £35.50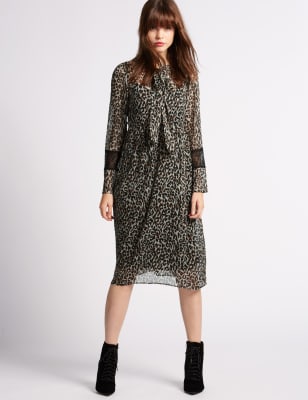 And then off piste. How to dress for a party so it doesn't look like you're going to a party? Easy. An old pair of faux leather trousers and a pair of new shoes. Oh and whilst you're there, a tiny nipped in at the waist, vintage style velvet jacket is a great idea. Add a lace edged cami that will work in your wardrobe on so many different occasions and you've got one super easy party outfit of amazing separates you can wear again.
Tie Cord Embroidered Velvet Jacket from Indigo £59 This is so so cute. As I said, the cut of it feels vintage inspired - you can wear it either done up (it would look amazing over a leather full skirt..) or undone as I'm wearing. I'd also wear with a tee over jeans for a day outfit or just to the pub. Take your usual size.
Slinky Camisole Top from Indigo £22.50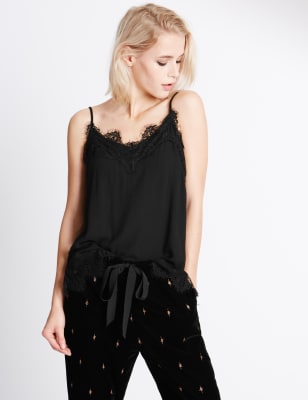 Stiletto High Heel Knot Mule Sandals with Insolia £29.50 These are insanely comfortable. Seriously, they fit like a glove, really aren't that high and dare I say, you don't feel like you're wearing heels at all?
They're actually a muted bronze - this photo does make them look far more shiny than they are in the flesh. A gorgeous rich metallic.
And then as you can't see the detail of the jacket...
Finishing with my blouse buy of the season. Navy with lurex thread. If you happen to be an Isabel Marant fan - you will love this. For £32.50 you will ADORE it. It's the perfect top for people who have to dress up but don't particularly like dressing up. The right side of androgynous, it's the perfect dress down shirt with just the right amount of dress up to it. And in navy. One of my best friends doesn't do black. And really struggles at Christmas time as everything "party" is so often in black. Well - this is the most perfect navy shirt that will work with a skirt, leather trousers, leather leggings, skinnies and even jeans. Perfection.
Glittered Stripe Blouse £32.50
I could go on and on and on about things you could wear to a party from M&S this season and yes, I will be bringing you other gems I've found in loads of other blogs as there are just too many amazing things this season. And they just keep on coming...
For example I can't go and not give another mention of the amazing new Alexa collection which launched today. I can't wait to do a proper try on when I get back tomorrow.
In the meantime, I've mentioned the coat above, but this shirt is also top of my list of things I've ordered. Perfect for the non party party outfits.
The Aire Shirt £39.50
Not to mention the Clarendon Tux. Be still my beating party heart... Actually THIS is what I want.
Finishing with my not very party outfits from the last couple of days. Normal service will be resumed tomorrow on returning home and I have to say, I am rather looking forward to getting back to my jumpers and jeans. Ish....
Blue gathered back dress - hush
Haworth bag - Village England
Sandals - & Other Stories
And with a small photobomber yesterday on our last day.
Black gathered back dress - hush
Black Haworth bag - Village England
Black Cara Sandals - Apiedi
Flying home later today after the most amazing holiday. Have learnt loads about holiday packing and have some great tips which I'll be bringing you in the next week or so. In the meantime, we're off to enjoy a couple of last rollercoasters.
Happy party shopping!