When a plan comes together
So after the debacle of the jeans shopping, I did promise you a high note and I have to say, I was ALL the winning at the black trousers yesterday.

In fact, it was black, black and more black.

And it was all a big success (so we're ignoring the black jean debacle. I am still none the wiser as to what to keep. Oh and the Warehouse ones arrived that I mentioned in the blog yesterday. I look like I've been vacuum packed into them. And then attached by a rabid dog on the hems. It's not a good look. I may just officially give up).

But reporting back as promised from the pieces I had ordered to pick up from the Alexa Collection.

Starting with the trench. Ok so I'm not going to lie. I had slight misgivings at perhaps looking like a Nazi flasher in this but I have to say, I love love love it. It comes up super small though - this the 12, it's very tight on the arms and I only have a thin polo neck underneath. But I'm not planning on wearing it over chunky knits (well, not now I'm not anyway) so that's all good. It's not going to be everyone's cup of tea but I absolutely love it.

To address also the dissenters in the comments online - I don't think the quality is nearly as inferior as implied. It's a funny sort of fabric, I'll give you that, but surely you can tell that from the pic? I prefer to think of it as fabulously unusual as opposed to not very nice - I don't plan on doing the buttons up regularly (apparently it's very difficult to do them up - wouldn't know as I haven't tried and think the last time I did buttons up on my coat was when I was at primary school). It's definitely a fashion statement piece and if you're looking for a practical, warm coat to keep you dry and cosy in the winter then I agree, this perhaps isn't for you.

But for a night out, over a statement jumper and wide leg trousers or jeans - this rocks.

The Briggate Trench £89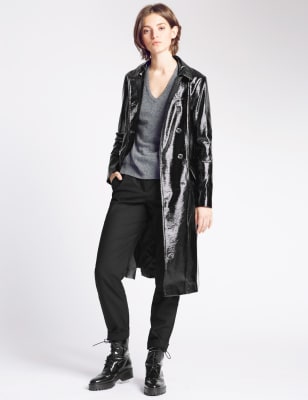 The only other thing I took into the changing room was the velvet suit. I had wanted to try the silver Aire shirt (I had ordered it but got it refunded straight away) as it's a much stiffer fabric than I had anticipated. If you like a structured blouse or shirt then I would say definitely give it a go but for me, I like a much more fluid feel to my tops.
The Clarendon Tux Jacket £75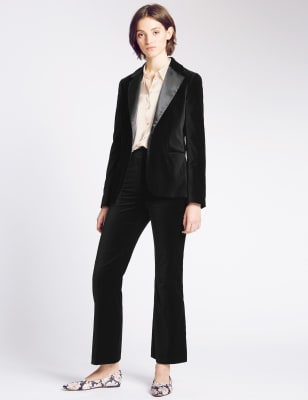 And the trousers - again, I LOVED them. Sizing wise, I stuck to my more usual 10 even though I am occasionally (err often..) a 12 in trews these days. They are on the snug side but I think that's ok.. (she says hoping I don't end up flashing my arse to the bar if I bend over in the pub...). In fact, I'm planning on wearing them to the pub this evening.
There are two other pairs of black trousers which I got and absolutely love - both are a complete departure from other things I've covered this season and are (I think) a refreshing change to what else is out there at the moment - despite me loving a cropped kick flare or cropped wide leg and so I'm going to look at the styles in more detail over the weekend. You will be trousered out by the end of the weekend.
I then moved on from M&S Marble Arch, up Marylebone High Street to the new Jaeger store. Where I was asked to pick an outfit for them to photograph. Don't actually know which I loved more. The clothes or the completely magic photographer. I need him to move in with me and just take my photos every day. Tomorrow, I am looking for a new camera (like this will make a difference... I will be the archetypal "all the gear, no idea". *weeps*)
But in the meantime, can we have a round of applause for the back of this jumper and my hair. Which never - and I mean never - actually looks like this in real life. I went for the Medium which I would say is a small 12.
Donna Ida x Jaeger Tattoo Me Jumper £175 WARMUP20 gives you 20% off everything until Monday 7th November.
I also chose the Laboratory Kick Flare Trousers £110 which have just fuelled my black trouser obsession. But surely you can never have too many? (along with black polo necks and any form of striped top. Oh and coats).
Laboratory Kick Flare Trousers £110
I've got the size 10s on.
And then finally the black coat. The perfect black coat I have been looking for forever. Enough said. This will be in my wardrobe for years and years and years. Absolutely worth the investment, especially as it's currently got £100 in their coats offer.
Double faced wool coat was £350 now £250 I have the medium.
And now I have to rush - I can't put a photo up today as it's SO awful compared to those simply stunning (if I say so myself rather immodestly - but I honestly don't even think it looks like me) photos as my pic from today is dire. Nailed in the rain, inside, seriously it's embarrassingly awful, as is my hair. I want to leave on a good note... with me swanning around Marylebone like that's my every day life... a girl can dream... I may well have these blown up poster size.
So it's all a bit black today. Am I the only one who just feels that bit more together and (ok I'm on a roll) sophisticated in black? I'll get my coat (my lovely black one... off to the pub!)