Celebrating the high street
One of the great things about writing the blog (a long four a half years I've been doing it now) is opportunities that it has presented me with - a whole new career in fact, which includes writing for others. And the start of Vlogging. I won't lie - this is something I am slightly petrified of. But seeing as I am a total motor mouth - I'm like the older, more wrinkly version of Pringles, once I pop, I can't stop - as soon as I get going, it doesn't seem that scary all of a sudden.

One such job opportunity, which I thought I'd share as it's completely relevant and was great, was being asked recently to go and make a Vlog for Eden Shopping Centre High Wycombe. For a start, it's no secret that I am a huge, huge high street fan and this is a shopping centre that is ridiculously close to where I grew up. A part of the country I know very well. To be able to go and visit and be able to call it "work" was a complete pleasure.

You can see the Vlog in this link here, but I thought I'd also do a quick round up of my favourite shops - and more importantly, what I found in each of them - that I visited when I was there.

My partner for the day was the lovely Tiny Twisst, who is a prolific vlogger - a veritable pro. And yes, she is that gorgeous, and that young, in real life. In our first meeting, I made it easy for everyone by mentioning I was more than aware that I was supposed to be championing shopping for the "more mature ladies". HA! Even though we both picked up the same things numerous times, we both do have a very different target market and actually, it does go to show that anyone can shop in any high street store. In fact, that's the beauty of a shopping centre. It works perfectly for mums and daughters (can I please point out, I was only *just* old enough to be her mum..) or friends who have different likes, to shop together, as there really is something for everyone, taste and budget wise.

So what did I pick from where?

Starting with what I will admit was a surprise for me as they had about 20 things I could have picked up. And that was at Next. With their current season's ranges in, we had the pick of the bunch.

Starting with the slouch trousers. Now these are the navy version but it was the black I picked up. These are perfect for every day with sneakers like here. This is the way I would definitely wear them.

Slouch Trousers in navy or black from Next £25



And never let it be said that I don't like a bit of bling for during the day - this top is amazing. Would work so well for a bit of daily sparkle but also for nights out (coated skinnies anyone? See New Look below!)
Black Metallic Wrap Back Top from Next £24 Ok so I appreciate that from this photo you can't actually see any sparkle but trust me when I say it's a deliciously subtle bling. Perfect to take you from day to night. They also do this in a pale gold.
With what could be a daring split back or you could just wear a vest under it (and I wonder why they picked me as the old gal - seriously, a vest?... obviously I don't mean a thermal number - just a plain black or even metallic number would look fab. Or a stripe... anything will do!)
Then there was the amazing full skirt also from Next.
Black Floral Full Skirt from Next £55
Which comes with pockets. Need I say more.
More dresses at House of Fraser. House of Fraser at Eden is great. An entire mecca of brands under one roof. It's a perfectly sized HofF which is great as you can actually see what there is, instead of being blinded by a sea of brands. Two of my favourites there - All Saints and Mango, as well as Jaeger, Biba, Ted Baker and Pied a Terre.
Discovered the most gorgeous dress at Mango. Perfect for wearing on its own or layering with a thin long sleeved tee or polo underneath. Which I obviously can't find online. Which I actually quite like (so get theeself to Mango at Eden as it's a fab fab dress. Pic of it on the Vlog!)
Hint of it here under the jacket actually.

It looked amazing when I put the All Saints biker jacket over it. But then, there isn't a lot that doesn't look sublime when dressed with an All Saints biker jacket. This is almost identical to the one I fell in love with (and had to leave... *sobs*).
All Saints Papin Leather Biker Jacket £358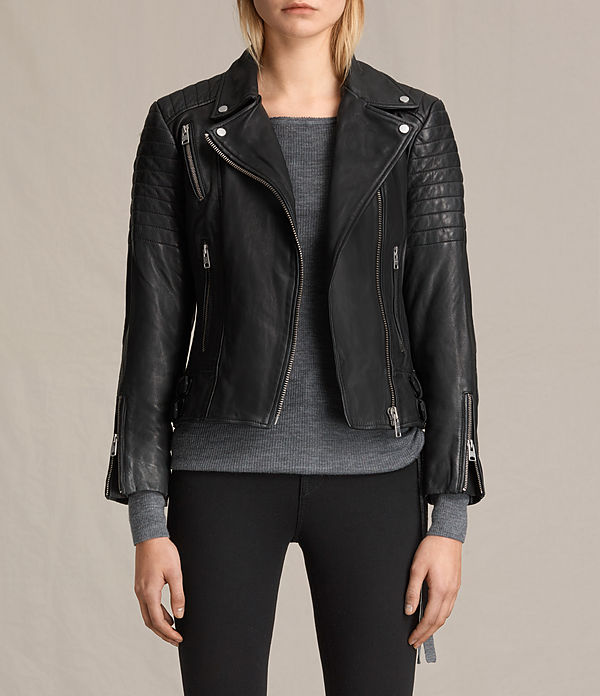 A shirt that I would absolutely wear under that jacket, was the first thing I spied in Monsoon. Beloved of Instragrammers, this would work well with jeans for during the day - with a leather skirt for evening - wear with it what you will, but wear it you definitely will. I can confirm it is even more lovely in the flesh than online.
Lace Victoriana Lace Frill Blouse from Monsoon £59
It was then onto shoes and into Schuh where, I will admit I don't often go. Will be remedying that, as I was in sneaker heaven. Yes, there are the usual beloved adidas and Nike selection, not to mention a collection of Dr Martin's which Tiny Twisst was drawn to like a magnet. For me though - I discovered a bit of vintage heaven. Move over Stans, there is a new player from the past in town.
Oh hello Ellesse. With or without silver trim (clearly I went with...)
Ellesse Anzia £55 from Schuh with disco (not the correct term) trim.
And then my must have boots of the season - yes, that's a velvet pair. Into Office and these were at the front of the shop - great minds think alike.
Office Literally High Cut Boots in Black Velvet £64
More velvet around the corner (literally around the corner - oh how I love a shopping centre!) at M&S. The party season is around the corner - will you wear velvet boots or a velvet jacket? Or both (yes, obviously that would be me with a big dose of metallic thrown in for good measure).
Soft Velvet Jacket in black £69 from M&S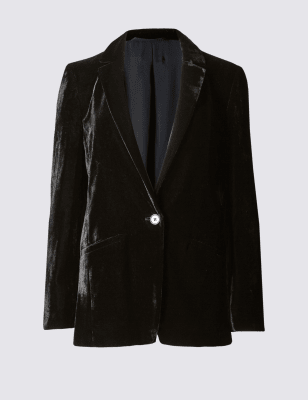 Jumper wise, I found the most ideal jumper at Gap. Again, this is somewhere that I never seem to end up but head there I will (on my Yoda days.. what was that?!) as this jumper is amazing. I have made no secret of the fact, I am a massive Intarsia Jumper fan - I even wrote a whole article on it for The Pool. But I hadn't seen these. Which are now in the sale. You're welcome. They seem to only have a limited size range online - one of the reasons to head into a store.
Intarsia Word Sweater was £34.95 now £27.99 from Gap They also do have a camel version in store and online which is only £17.99 in the sale!
And finally at New Look where there was only thing I could pick and that was my absolute favourite pick ever - the coated skinny jeans. This is another example of where actually heading to a store is worthwhile. The sizing is so difficult to predict and they seem to have precious few sizes online this year, whereas there were racks and racks of them at High Wycombe.
Black Coated Supersoft Super Skinny Jeans from New Look £24.99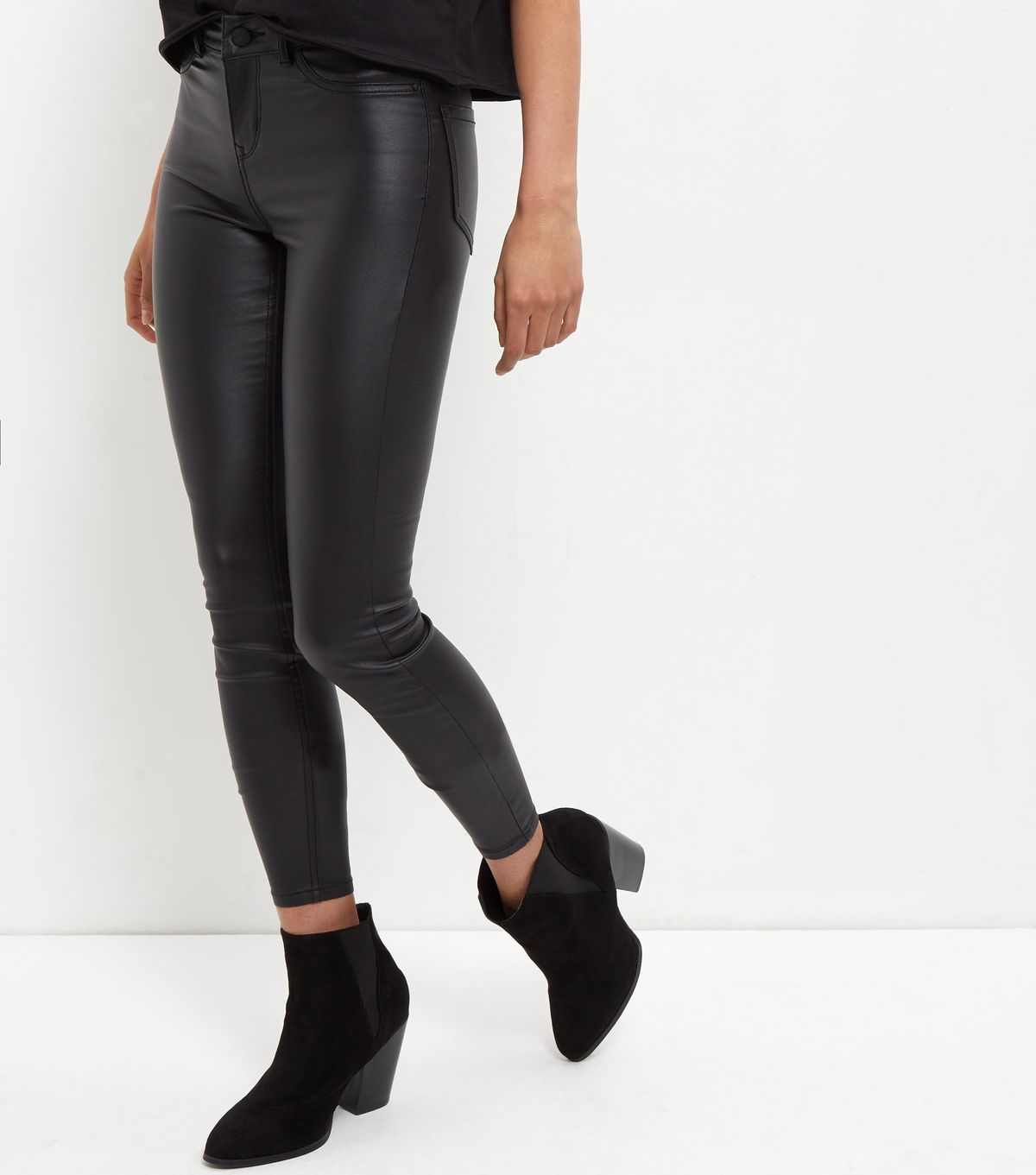 But that's not all the shops at Eden. Major reason for me to visit would be the newly opened TKMaxx. Oh how I love a good TKMaxx. Reasonably priced cashmere on tap, some of my favourite designer brands (Zadig & Voltaire and Zoe Karssen spring to mind) not to mention beauty products. Amongst other things, I treated myself to a pair of Gucci glasses from TK Maxx - not sunnies but proper glasses which I'm going to have my prescription lenses put into. For less than £100. Amazing. I am so chuffed with them.
Other stores worth visiting are H&M, Zara and the jewellery stores Swarovski and Pandora, (get in early as there is so so much to choose from with Christmas around the corner, they both get busy very early), not forgetting to mention the stores visited by Tiny Twist - River Island, Topshop and Jones the Bootmaker. There really is something for everyone. Will definitely be making a return visit next need to visit my family in that neck of the woods. It was such an easy drive, just off the M40, super easy parking or I know it's on the Chiltern line (which has THE best trains - seriously their regular carriages are better than South Eastern's First Class - not that I've ever sat in First Class can I please point out, but I have stood in on a packed journey). Plus I spied a Bill's which would definitely sweeten the trip for the kids and the husband.
These are the jeans that I picked up at Gap when I was there. I had completely forgotten about them until I remembered that I had had a flash of genius and picked up a petite pair of kick flares which result in being the perfect cropped length on me!
Cropped kick flare jeans - Gap
The Briggate Trench - Alexa Chung at M&S
White Autograph Trainers - M&S
Black Haworth bag - Village England
Would love to hear whether you're local to Eden? I have to say - it's days like today when the 12yr old had an Inset day and we were due to go to London. Cue torrential rain which meant the perfect option was our local shopping centre. Undercover. And all the shops she wanted to visit anyway. Result!