It's the last in my trilogy...
..of fawning over Dr Alexander. Ok so there's a very loose connection here but it is one that I was pondering all last series. And then when looking at new season footwear, I see a recurring theme.

Hello block heel boots. Ankle boots with a block heel (obvs).

These are what she wears aaaaaaaaalll the time. I seem to recall hers are either Acne or All Saints but either way, she rocks a pair of skinnies and ankle boots like no one else.

First up - a pair that I have had for years and wear a lot. I wish I wore them more but the heel.. meh...yes I have turned into an old lady and I tend to leave heels for nights out. Partially as I walk a lot - if I'm working in London, I walk miles, hence I have embraced flats, and partially because I find them.. old gimmer alert.. not as comfortable as my beloved trainers *my 30 yr old self weeps*. I have navy (I KNOW RIGHT?!) and must have bought them about four years ago from Bicester - maybe five.

Leather ankle boots from Rag & Bone in dark grey suede were £313 now £180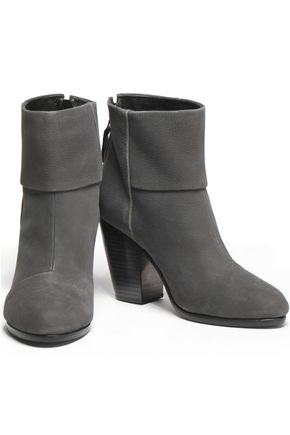 Newburys again in a cut out design in camel. I shouldn't love these but I absolutely do.
Classic Newbury Cut Out Boots were £375 now £208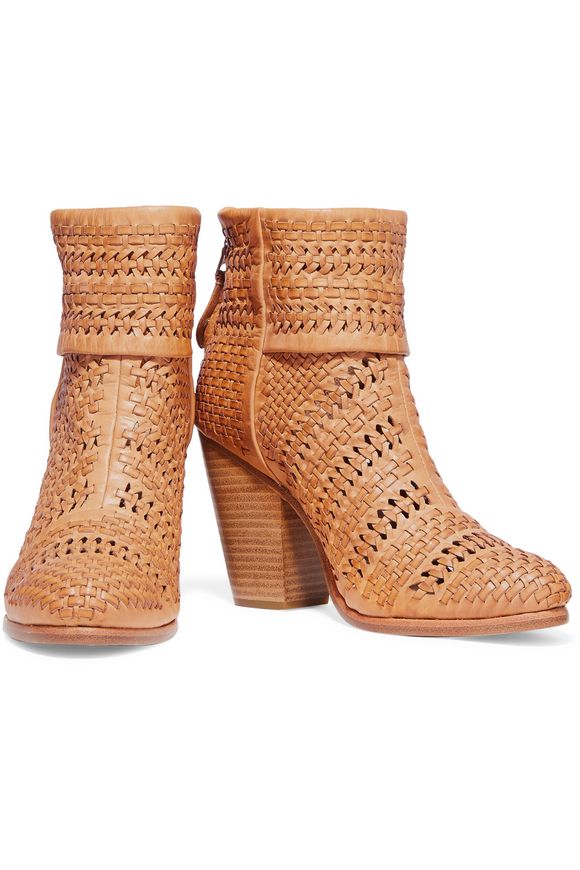 More grey and a bargain.. well, in the very relative sense of the word but they are reduced and then there's an extra 30% off the last price.
Ankle Boots from Rag & Bone in hammered light grey were £333 now £179 and then an extra 30% off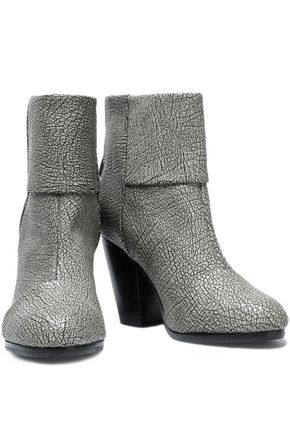 But fear not - I have found some amazing options on the high street.
These. Yes they're leather, yes they look a LOT more expensive!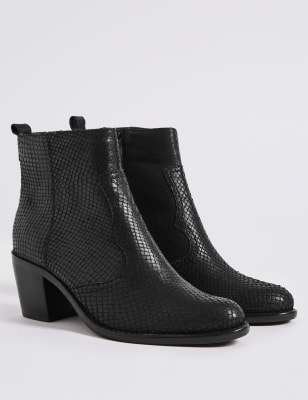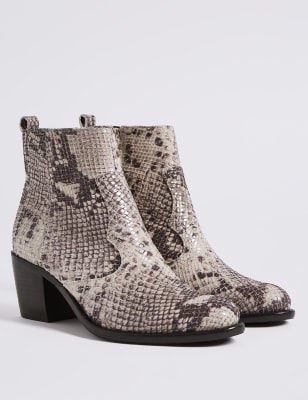 Different version at ASOS.
RAID Wendy Faux Snakeskin Boots £34.99
More faux snakeskin at New Look and THESE are the bargain of the day. LEATHER FOR UNDER £20! Yup. Yup Yup Yup.
Black leather faux snakeskin boots were £49.99 now £18.99
And ta dah... spookily they also do them in the same colour as the M&S ones. For EVEN LESS! Making zero apology for shouting as these need shouting about.
Leather boots were £49.99 now £15 from New Look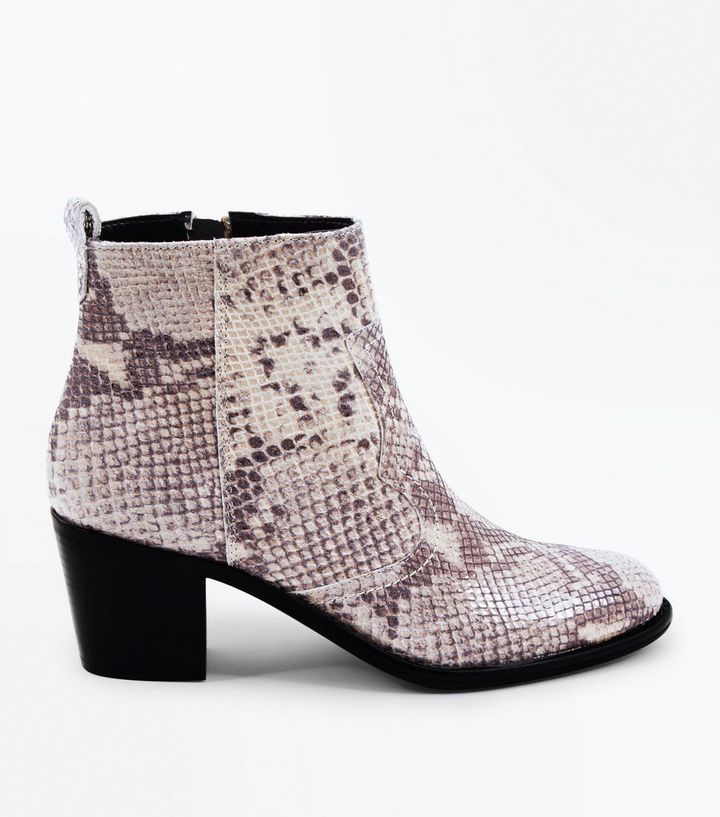 But the real reason for me writing this blog post is that I have fallen in love with a pair of... drum roll.. WHITE BOOTS. So this does all the wrong diddly. Not improved by me telling you that they're of the cowboy variety, I'm going to guess? YUP - you heard that right. White Western Boots. Yee ha.
White Callie 70 Leather Ankle Boots from Ganni at Browns £355
However... look what I've found which are the best alternative ever.
Leather Cowboy Ankle Boots in Mango in white £89.99
They also do them in black which may be more palatable for most but for me - LOVING the white.
Leather Cowboy Ankle Boots in Black from Mango £89.99
And whilst we're on the subject of Western style boots.. in for a penny, in for a gold coin. BOOM.
Ace Western Ankle Boots from Topshop £69
Just on a roll with the Western style...
Khaki Suedette Western Ankle Boots from New Look was £25.99 now £13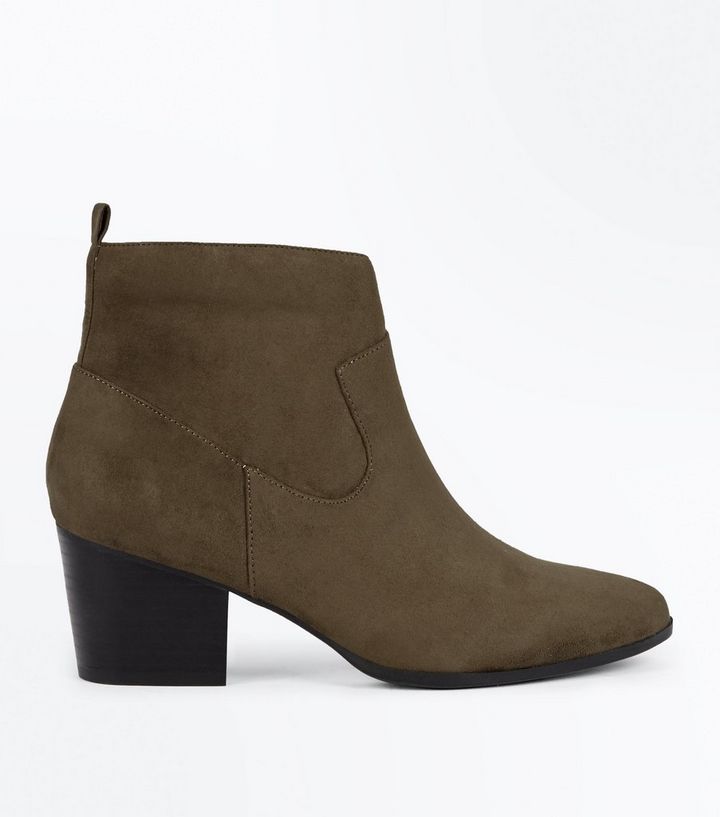 And here I am.. not in boots. As we went on a long walk (not in the country can I point out.. it is just a short stroll through some woods to walk into town) today and I needed practical footwear. YAWN.
Coat - Helene Berman from Anthropologie (aw17)
Jumper - Me+Em (aw15)
Jeans - AND/OR from John Lewis (from paid partnership aw17)
Trainers - Woden from The Dressing Room (gift aw17)
Bag - Tory Burch from Bicester (4 or 5 years ago)
So the boots - looking at the ones I've chosen here, I do seem to rather obsessed with the Western variety. What do we think? Have I lost my mind? I've actually looked back over my outfits from the last couple of days and the white pair.. YES, the WHITE pair would go with all of them. I think it's a sign... So, yay or nay?!