Talking about the things you love..
.. and things that come around again and again.
Trench coat? You're up. I have battered on about you already this Spring (although to be fair, it was at the back end of the Winter at the beginning of March) but they're too useful not to chat about again - plus there are new ones out now.
This is also a warning - I fear I may be about to channel all things 70s. It's almost as if I start embracing a look and before I know it, I've gone in, all guns blazing. Not that there is anything particularly 70s per se about a trench coat, it's more how I plan to wear it. With a floral midi dress and my good old (new) knee high boots.
Having said that, when I was packing to go away this weekend, it was this that I thought = perfect. I wanted something that I could layer under in case it was cold and something vaguely showerproof (vaguely...). Perfect with trousers and ideal with a jumpsuit. I was sorted.
It's also, as I've said before, the go to cover up for dresses or skirts. Mini, midi or maxi. I like both an oversized number - which I have in a tan and a more fitted version which I have in a navy.
I am still lamenting not being able to snag the Acne Lucie green trench (although at £700 it would have involved beans for the rest of the year) and I do still think an oversized green trench is something I would adore. Although khaki is probably more practical and one of the reasons for writing this blog now, is that I found one of these last week in Anthropologie. Which then made me remember how useful the tan one is that I have and hey presto - my packing problems for the weekend were sorted.
This is the one I found although I had to look twice as they say it's brown (but then it's listed as khaki... much confusion). It's GORGEOUS. I could have sworn I took a photo of me in it, but I can't find one anywhere. Boo. Trust me. Please. It's pretty awesome. (if you like an oversized look that is. If you don't, then move right along, nothing to see here).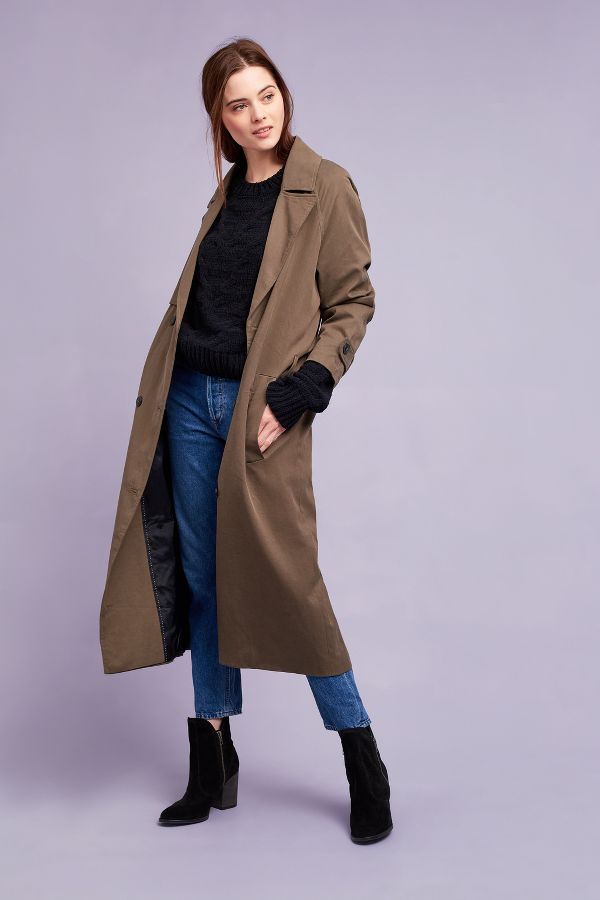 This is definitely a more accurate picture I would say, from the Selected Femme website but there's only a titchy size left there.
Khaki again but not quite as oversized from Mango.
I am always being asked where my Zara trench is from (duh - Zara!) but it was last season. This one is the most similar I could find. For a song.