Thanking you kindly La Redoute for giving us a distraction on this super sunny Bank Holiday Code is BIG25 and is off everything, even sales items.
I was up super early (ok - early "ish"...), cleaned the kitchen (as in, cleared up from last night's very, very late BBQ), had coffee and took advantage of the peace and quiet to peruse all things that are new and lovely - thinking that 25% off is not to be sniffed at.
So the obvious thing we want to think about on the hottest day of August is a shearling jacket. I remember having one of these when I was much, much younger. Like going on thirty years ago (oh my days, I didn't need to do those maths. EEK). I used to work on Wembley Market (on a Sunday and in M&S on a Saturday from 6 till 2. Even then, it was all about the clothes. And how I LOVED my "flying jacket".
Shearling Aviator Jacket £89 In an unusual navy shade.
Staying with navy.
Checked cotton blouse in navy £29
Blouses again and we're going for a bit more colour. Perfect lift to those evenings drawing in. The beauty of these is that they are so versatile. Ideal for wearing to work, throw on at the weekend with jeans, dress up with a midi skirt or coated skinnies for an evening out.
Floral Print Blouse in navy £45
And in the floral ecru - again £45
Loving a bit of star action.
Star print shirt £25
If we're talking about work - these are perfect. Also for the weekend with a tee, blazer and trainers. Into the evening, silk blouse and heels.
Cropped trousers in black £25 - with pockets. What's not to love?
Tapered now and again with pockets, which is great for the price.
Ankle grazer cigarette trousers £29
Faux leather versions. £29
And then another pair that I personally adore and will live in come the cooler weather. Wide leg crops.
7/8 length wide trousers £29
Moving onto trousers and I couldn't not mention joggers.
Slim fit joggers in black from R Edition £35
And whilst we're on the subject of all things comfy - oh hello lovely sweatshirt.
Star print sweatshirt £29
My other favourite outfit for dress down days is definitely a jumpsuit. Denim is a particular fave..
Denim Jumpsuit £49
Dresses. Now the thing that La Redoute do really well are dresses. And hold your horses, I'm not doing long dresses (well obviously I am but not just yet), I have some gorgeous short ones up.
Bird print v-neck dress in teal from R Edition £25 This also comes in burgundy.
Floral Print 3/4 midi dress £55
And I couldn't not mention a couple of superb (obviously long..) dresses for every day. Or dress them up with a pair of heeled velvet boots.
Printed folk dress from R Edition £49
And another printed maxi dress £55
But my favourite is this one, especially with 25% off.
Floral Print Maxi Dress in Navy £75
Not forgetting of course, the print maxi skirt...
Printed Maxi Skirt from Rene Derhy £89
Finishing with something you will thank me for come the Autumn. Could this be the perfect raincoat? Pared back, stylish, practical. With a hood. You're all welcome.
Long Length Raincoat in Black £69 It also comes in khaki.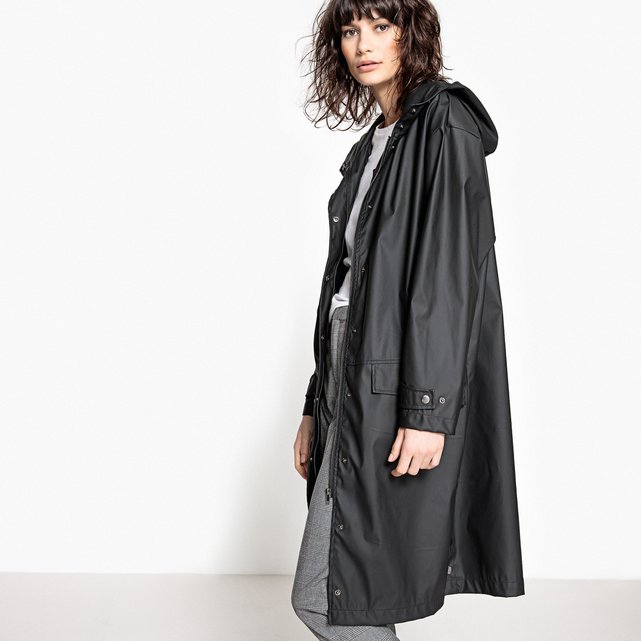 And here I am today for the glorious Bank Holiday which, has been on the challenging side, I will say. I'm not the biggest lover of Bank Holidays. Forced fun. You WILL spend fabulous quality time together as a family, as it's the law of Bank Holidays. Jog. On. Everywhere is absolutely rammed. Full. Even the park at the end of our road becomes hideously busy (National Trust first port of call for all forced fun outings...). I like hunkering down with tea and cake and movies. And I feel guilty for "wasting" it GAH.
Then, half way through writing this, my computer charger broke. Which means I can't use my computer which means I've had to use my daughter's (after MUCH stropping about on her part - as you can imagine...) which is like driving abroad in boxing gloves. It has taken me AGES. And I need to go and buy a new charger tomorrow which costs about £100. JOY.
Top - hush
Jeans - Current/Elliot
Sandals - What Frankie Did Next
Bag - Chloe
Glasses - Chloe