When it's not quite warm enough for sandals...
.. ok so I say, not quite warm enough. Clearly I actually mean, my feet are still in Winter Hobbit mode and I haven't hauled my sorry behind for a pedicure yet (although the husband - yes the husband - did purchase a foot spa thingy which my 10 and 8yr old adore - I know - but I have yet to partake in).

Yes I love my trainers. But there are times when perhaps you want something a bit more... dare I say boho? Perhaps not boho, perhaps less urban. (oh my lord - what do I sound like?).

Basically you want something slightly more feminine than a pair of good old leather trainers. Obviously I think you're mad as I could happily live in mine but there is a pair of shoes which are perfect for the Spring and into the Summer, that I can't ignore.

Espadrilles.

I'm going to hold my hands up and say this isn't something I have entirely embraced since I went inter-railing a million (in fact 28, so not far off) years ago. Maybe it was that I wasn't enamoured with the whole travelling debacle (all it did was cement my life time belief that God invented hotels for reason) and somewhere deep in my subconscious, I am still scarred by the whole experience.

Or maybe it's that I haven't tried hard enough. Maybe they are the perfect shoe for bridging that gap between boho and a more pared back Parisian chic look (I appreciate the latter is in my head - humour me).

Pictures all found on Pinterest.



So yes - I'm thinking a pair of jeans, a tee and espadrilles are the perfect pared back Summer shoe. They just add a bit of "holiday" to an outfit (or is that me overthinking the inter railing thing again?!) even with the addition of a trench.
Today I'm looking at ones that go round the ankle. As the other ones at the moment remind me too much of that "holiday" (less of a holiday, much more of a life experience which I have never needed to repeat. Valuable, valuable lessons learned though. One being, baby oil does not a sun tan produce. You can see why it was such a roaring success, can't you?).
For flat, plain, pared back but with my preferred ankle ties, there are the Jasmine from Seven Boot Lane. 10% off with the code SPRINGTIME until 17th April off all the espadrilles.
Pale grey suede £80 pre discount
Or in the, perhaps more wearable, black leather. Also £80 pre discount.
Variation on a theme with a slogan at Kurt Geiger.
Pierre Blue Espadrilles from Kurt Geiger in Blue £150 Also available in cream but cream canvas doesn't strike me as being the hardiest of fabrics.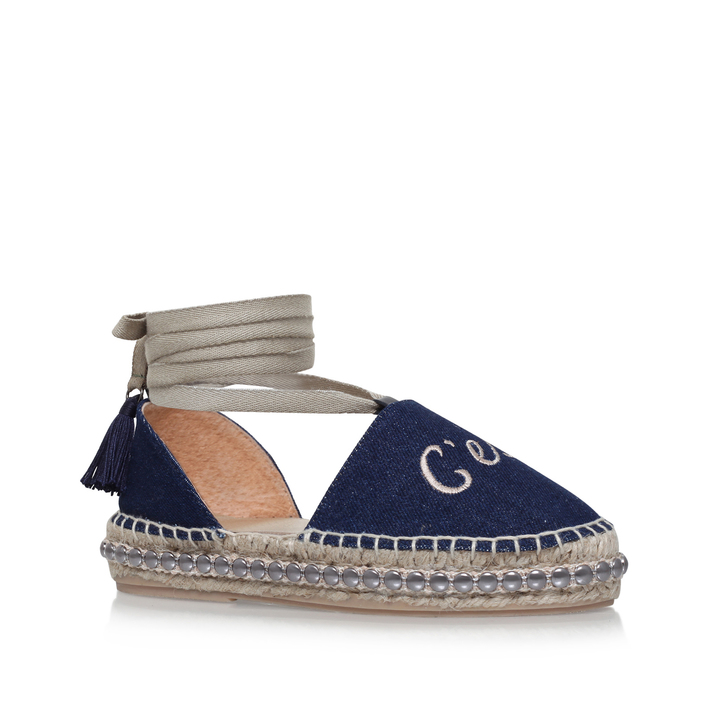 Upping the colour ante.
Dizzy in Orange Flat Espadrille from Miss KG at Kurt Geiger £54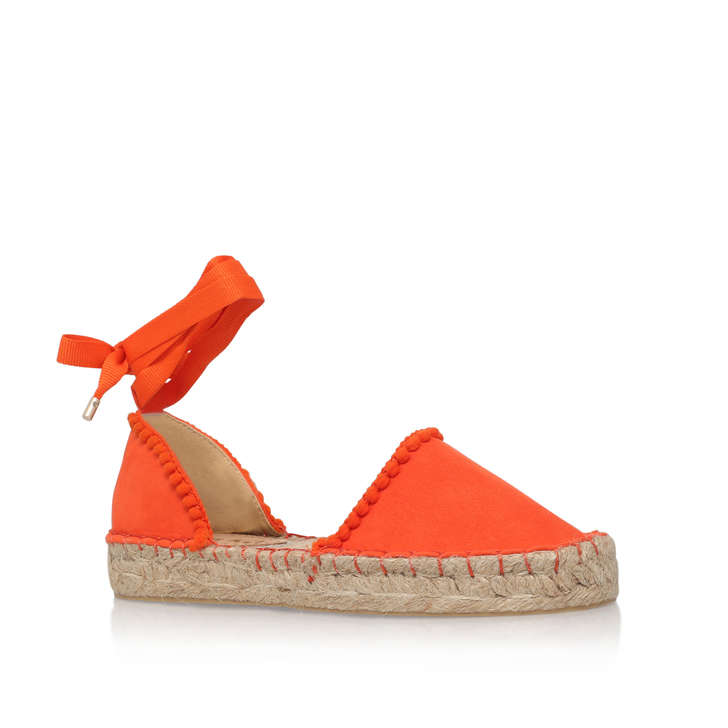 Or the multicoloured versions from Miss KG again £54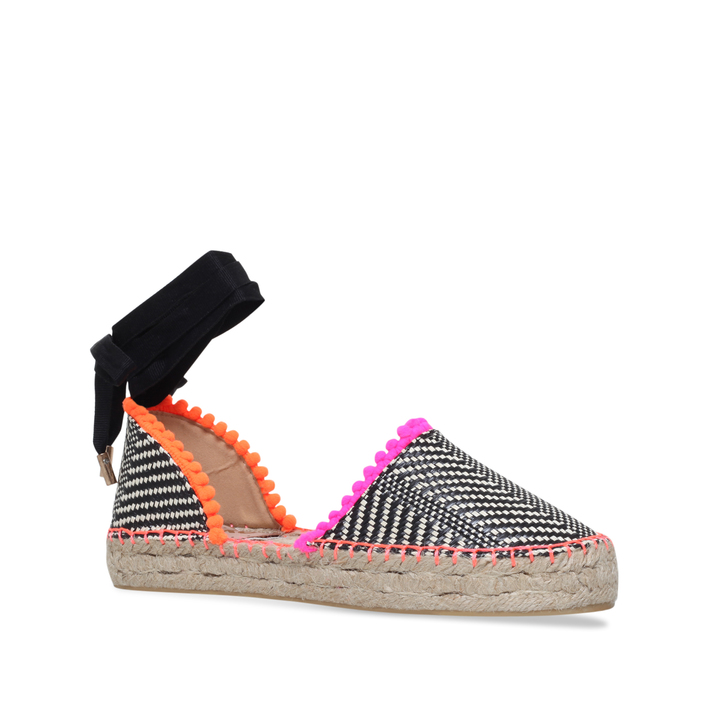 And then we have higher.
Black - good old plain black and we're starting at super high.
Reagan Black High Heel Wedge Espadrille from UGG Australia £130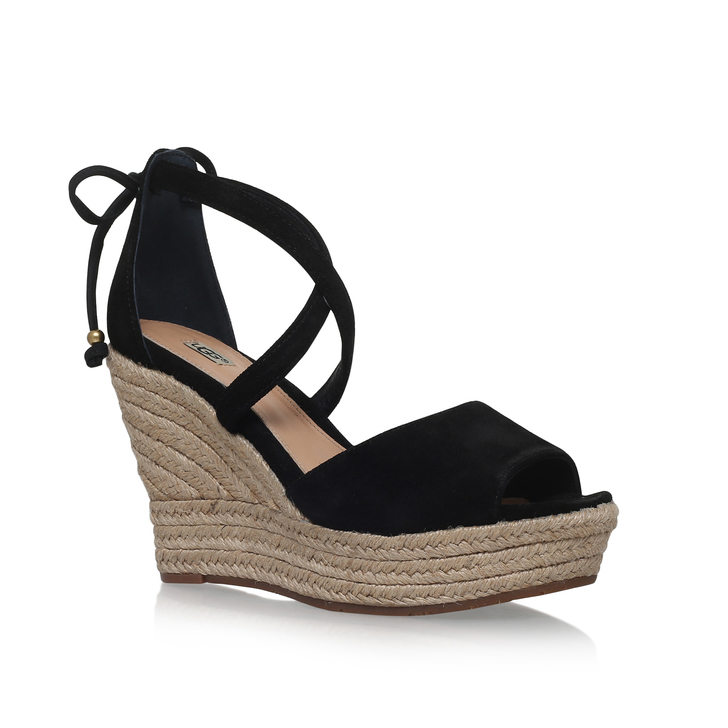 The classic Castaners at My Fashion Tribu with 10% off using the code Kat10.
Castaner Carina Black Canvas Espadrille £75 pre discount
A navy canvas version as well - again £75 pre discount
Getting slightly bolder, again from My Fashion Tribu so 10% off with the code Kat10.
Soludos Red Suede Wedge Espadrilles £105
Or of course, there are the ones that let your feet do the talking.
Air & Grace Shimmie Wedge Heeled Espadrille in Nude £99
Or in the bronze again £99
So talk to me about your espadrille successes or failures. Yay or nay? Heel or flat? Ankle tie or shoe version? This is me dipping my proverbial toe in the water but would love to know your thoughts.
Here I am in... errr boots. Still got to get my head around it being warm warm. And I was doing loads of walking today so needed something comfortable. Plus, I'm just breaking myself into Spring gently...
Black Onyx Jacket - hush
Dress - M&S
Leather belt - ASOS
Susanna Boots - Chloe
Hopefully everyone has had a good day. I've been working in London which gave me time to think how to respond to the 10yr old's early morning question "Mum, what's a bleached arseh*le?". Errrr WHAT???? "It's in an Ed Sheeran song". Thanks a bunch Ed.
Tonight though - holiday time for us. Friends of ours have been to France and bought back oysters and wine. BLISS. And on a school night. It doesn't get more decadent (well it does but when you're in the midst of school holidays and haven't gone away and are trying to juggle children and work - this is pure heaven). I am may even put a frock on for the occasion.