Black is black
I wonder if I can do a whole year of writing post titles as song lyrics.... half of me thinks that's a really good idea and the other half is screaming at the first half saying "seriously? SERIOUSLY?". Ok so not seriously but, well I do rather like a random song lyric.

What I also like is the colour black. Which, as I type, I'm not even sure if it's a colour. So this is going well, isn't it?

Let's start again. I adore black. As I always say when I mention black in my maturing years, we "should" theoretically be crushing on the navy but, well it's the black that has me coming back.

And why? There is nothing that makes me feel better. Or more glamourous or more put together or more polished.

So what I thought I'd do today (this post is courtesy of the adverts at the cinema yesterday as my mind was wandering and I was admiring my shoes) is a round up of my personal must have black items for my wardrobe.

I had thought of doing some sort of 2017 round up but I couldn't quite get my head around that and so thought I'd just do this as I love the idea and will perhaps do a round up in the next few weeks.. or maybe not. As last year is last year and we're looking forward. And, if we're being pedantic, this is a round up of sorts. The fact I originally called it a round up is sort of testimony to that... my favourite black things in my wardrobe. I think there are also some holes so that's perfect blog fodder for the coming weeks.

First up - the jeans. Ok beginning with...well skinny for a start. I will throw it out there that I have never been able to master anything loose and black in the denim department. But skinny? I would go so far as to say that skinny jeans are meant to be black.

Coated are always the ones I reach for. I mention these a lot as they are simply perfection in trousers. Now I will say that they probably won't work for everyone - but do make sure you get them in the right length. They are prone to wrinkle on the leg but I don't mind that personally. I first bought these a couple of years ago and have since also bought the plain black pair which are just as good (which don't wrinkle like the waxed pair do.. go figure).

Black Waxed Mayfair Skinny Jeans from Boden were £70 now £36 I wear the 10 in these and as 10s go, I would say the are on the generous side - so let's say a large 10. If between sizes, size down.



And in the plain black also from Boden now £35
Then there are the new straight leg jeans I got sent as part of my paid project with John Lewis that I did in December. These are incredible. THE perfect straight leg that are "actually" more on the skinny side (throwing back to when skinny jeans weren't spray on... which suits me just fine) but slightly looser at the bottom - the teensiest tiniest of kick flares that actually isn't a kick flare at all, it just doesn't cut off the circulation to your feet. Perfection in an Audrey Hepburn style pair of jeans. I just could have said that, couldn't I?
AND/OR Silverlake Straight Leg Jeans from John Lewis £85 Size wise, I took the 28 which I would say is the perfect 10. I don't find this make particularly generous.
The perfect polo neck. Perhaps not to be worn with the jeans above as that would be ever so slightly Milk Tray Man but with a fuller skirt or over a dress - this is sublime. I have had mine for over 4 years now and have never found any slim polo neck that does the job as well.
Silk Cotton Polo Neck from Jigsaw was £90 now £72
Another perfect jumper that I was sent last year that is pretty much identical to the above but IS perfect with skinnies as it has a loose swing to it. Ideal for hiding a multitude of sins. And extra long sleeves (this is the one I'm wearing in my outfit below).
Me+Em Full Swing Neck Roll Jumper £139 It's not as long as it looks here - if you look closely you will see there's a lace layer underneath. But it's perfect for hiding the junk in the trunk length.
If we're looking for a plain black crewneck jumper then my knitwear poison of choice is a man's jumper from Uniqlo. The Small is a perfect 10. I have had mine for three years now (I also have a navy) and they wash superbly well. No bobbling, no stretching.
Men's Extra Fine Merino Jumper in Black was £29.90 but on limited special offer at £24.90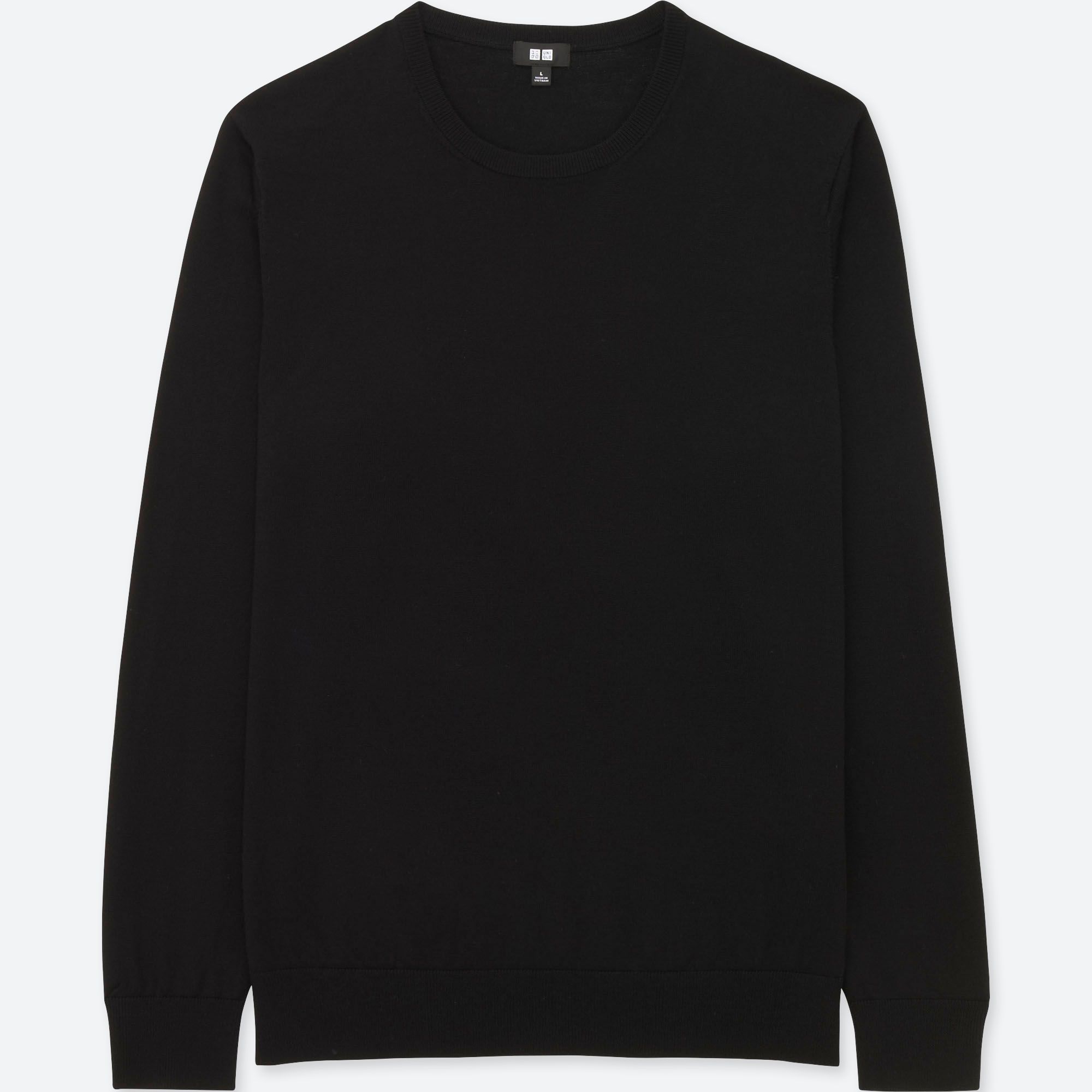 The perfect loose black blazer. I discovered this one as part of a paid project with M&S that I did in November. This is the only boyfriend style (it is a looser fit) that you will need for the coming year.
1 Button Tuxedo Blazer from M&S £69
Speaking of jackets - did someone mention a biker jacket? Oh yes, this I know a lot about. I have more than a few now, I wear them that often, they are all a slightly different shape, different sorts of leather, I don't have to justify this - I know you'll get it...you're not my husband!
But if I had to choose just the one, it would be the first one I had. I was first given this by hush - it must have been over three, maybe four years ago now and it has done nothing but improve with age. I wear this a lot. All year round.
And, since there is currently 20% off everything at the minute at hush (go go go), it would be rude not to mention it.
Onyx Leather Jacket from hush was £295 now £236
And the black trainers...I have tried loads. And I mean LOADS. And these are the ones that I have found the most comfortable and the ones I go back to and wear the most. These were a gift from a boutique in St Albans called The Dressing Room and are by the Scandi make Woden. Comfortable doesn't begin to describe them. Oh and the other benefit of black trainers if you're larger of foot - they make them look small! Size wise - I took my usual 40/7 - I would say they're true to size. They're ponyskin. Need I say more...
Woden Ydun II Pony Trainers from The Dressing Room £100
The outfit that inspired me to write this post from yesterday.
Black Swing Jumper - Me+Em (gift aw16)
Black Silverlake jeans - AND/OR John Lewis (c/o paid project this season)
Leopard Coat - Helene Berman from Anthropologie (this season)
Bag - Loewe (this season)
Sunglasses - Tom Ford from Very Exclusive (this season)
Trainers - Woden from The Dressing Room (gift this season)
Which leads me to the first two things on my wishlist for 2018. Black loafers (although to be honest, I think the red ones that I already own will just have to do the job as I don't wear them enough so justifying another pair... well...) and black ballet pumps. THESE are a must have. I know they're not remotely on trend but... bothered. I love these with black - you know I mentioned Audrey above? Let's all be more Audrey. So let the research begin.
And whilst we're here... an oversized black jumper and there was something else I thought of but I can't remember what it was. Talk me through anything you need on the black must have list.
Tomorrow there will be a Monday Must Have. Chances are after our party this evening it will be paracetamol and a McDonalds.
Hope everyone has an amazing New Year's Eve and see you on the other side, where I will be full of thanks for last year and remorse for last night...